'American Idol' Vet Didi Benami on the Difficulties of Hollywood Week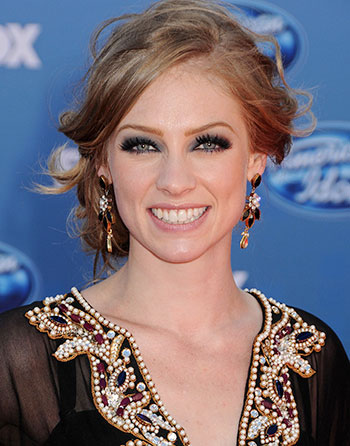 Having gone through Hollywood Week myself, I can say that it was the most intense experience ever, even more so than American Idol itself. Everybody loses their voice, you're singing all the time, it's where you prove yourself. It's insane, and it's just the beginning.
This year, they separated the guys and the girls for separate weeks in Hollywood. But the real twist is that the producers assigned people to groups rather than having them pick their own. I have no idea why they did that — I wonder how they ended up grouping everyone together. It seemed like it was pretty fair, and it actually could have been more of an advantage to the singers. It's really difficult when you're trying to choose somebody so fast, so late at night, and you don't know anybody there. You just form a group and sometimes there are no similarities whatsoever.
I was really impressed with a lot of kids. Micah, Elijah, Curtis Finch Jr. — he reminded me of Joshua Ledet. Wow, that guy's got some serious soul. Lazaro, though — he makes me cry every time I see him perform. He's so grateful and so sweet, and he just doesn't even know how good he is. He does something to your soul. He's like the embodiment of hope and inspiration and it's really moving to see somebody being so fearless and going forward. It's a really beautiful thing.
RELATED: Colton Dixon Blogs the 'American Idol' Season 12 Premiere
The way Lazaro's fellow group members acted when they didn't get through was terrible. It broke my heart. I couldn't believe there were really people like that in the world. I didn't want to see it. Watching Kayden go home really broke my heart, too. He was really sweet. He stood out to me, and I was really sad to see him go. I thought that whole group was really sweet.
It's really amazing to see these kids triumph regardless of what they're going through. There are some really great stories and some really inspirational stories — like Lazaro — but most importantly, I want to hear everybody sing and feel moved or get goosebumps because there is just something about that voice.
I think that real voices come from a place of pain, from somewhere really, really deep and unexplainable. In my opinion, a good voice is one that just pours out of your body, moves us, gives us chill bumps and makes our hearts beat fast. It's something that makes you feel. That's what I really appreciate, anyway. A lot of good singers just have that because of whatever they've been through.
RELATED: 'American Idol' Recap: Yeah, Dude Looks Like a Lady
Although I was sad to see Kayden go home, I understood what he went through. I auditioned two times before I actually made it through, so I had to develop and get better. I didn't make it past the first round, and then I made it all the way through to the top 10. You try and try and try again, and if you don't get through, it's probably because you're not ready and it's not because you're bad. I still feel like I maybe wasn't ready yet! It's crazy how much you develop even after that show.
It's a tough time, but I also have some great memories from Hollywood Week. I met Crystal Bowersox and Lee DeWyze sitting outside on the very first day. I remember singing right next to Crystal during the "sudden death" round, and she was so good that she got a standing ovation from the contestants waiting to audition. I remember when Siobhan Magnus fell down and skinned her knees and she had orange spider tights on. There was so much excitement, and it was really, really fun.
During our season we all got along really well. I think for anybody who does any season it's just a crazy experience. Having the same goal and dream as everybody, we're like gladiators fighting against each other. Keith Urban was right — it's like the Hunger Games. But you make so many great friends and you don't want to see them go!
Didi Benami finished 10th on Season 9 of 'American Idol.' She's currently working on her first album, which should be released independently by the summer of 2013. Follow her on Twitter @didibenami, visit her Facebook, or check out her website, www.officialdidibenami.com. You can buy her single, "Gasoline," on iTunes and Amazon.
[PHOTO CREDIT: AdMedia/WENN]
---
You Might Also Like:

 Adam Brody, Leighton Meester Dating?

'Smash' Crashes in Ratings: What Went Wrong

'Walking Dead' Tops Deadliest Shows: Exclusive