Watch Lazaro Arbos Deliver the Worst 'Idol' Performance Ever – VIDEO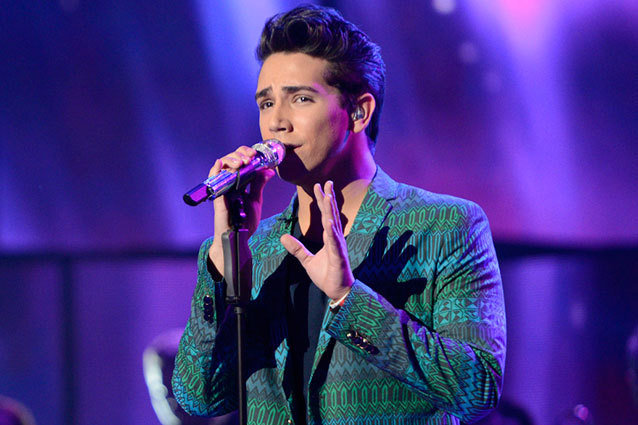 Pipe down, Lazzies. After Wednesday's night's performance of "(They Long to Be) Close to You," defending Lazaro Arbos from our criticisms is akin to trying to convince any sane person that Amanda Bynes' Twitter presence isn't a sign of potential insanity. Have we not ears? And more importantly, have you? Lazaro may have rocked his fancy green suit on that stage, but it was the only thing he did right. 
Randy Jackson quipped that this performance felt like a stroll back to the first auditions rounds, when someone sweet but untalented would be pummeled by the judges, and for once in my life I think that I couldn't have said it any better than the big Dawg. There's nothing redeeming about this performance, and unlike "worst performances" before him, it's not because he tackled a song beyond his abilities (Camile Velasco with "Goodbye Yellow Brick Road") or because he tried out a ridiculous theme (Kristy Lee Cook with "Eight Days a Week"). This Bacharach classic is a sweet, simple song. The key change wasn't all that taxing. The vibe is decidely old fashioned and prime for Lazaro's Ricky Ricardo style (as Nicki Minaj so often put it). If Lazaro was a skilled enough singer to be in the Top 6 this season, he wouldn't have had any issue with this song. 
When Mariah "Butterfly Wishes" Carey does verbal somersaults to explain to you that the way music works is that you have to sing it right (she even has to tell Lazaro that when the key in a song changes, you actually have to change keys too, as a singer), even Lazaro's biggest fans have to admit: that was horrible. In fact, it was the worst finals performance of all time. 
Lazzies, if you love this guy, let him go. Or we'll all be forced to watch him in pain on that stage week after week as the judges continue to tell him the hard truth. They're not harsh, and they're not picking on him. They're giving real talk to a kid who's lasted past singers with more talent than he has, and they're tired of sugar coating. And frankly, so are we. 
Follow Kelsea on Twitter @KelseaStahler
More:
'American Idol' Recap: Candice Glover Wins
'Idol' Voters, Invoking the Sympathy Vote for Lazaro is Cruel
'American Idol' Needs a Lazaro Arbos Every Year 
---
From Our Partners


Jessica Alba Bikinis in St. Barts (Celebuzz)


Pics of The Rock Making Things Look Small (Vulture)