10 'American Idol' Finalists Worse Than Zoanette Johnson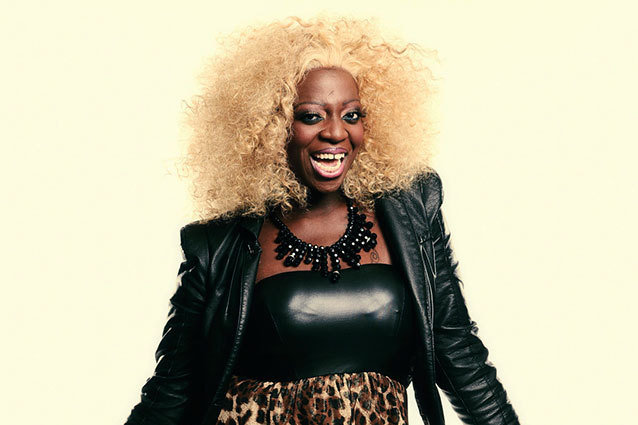 What's love got to do with it? Hopefully nothing, if you're Season 12's much-maligned contestant, Zoanette Johnson. Because following her painful performance of the Tina Turner hit Tuesday night, Zoanette seems all but poised to become simply a footnote in Season 12's history. (That is, if the tricky Vote for the Worst doesn't catapult her into the Top 10.) 
10. Sanjaya Malakar, Season 6
Zoanette's Season 6 spirit animal, Sanjaya, became just as reviled for his hairstyles and unfounded arrogance as his off-key renditions of songs he should never have been singing in the first place. (See his performance of No Doubt's "Bathwater" below.) There was no more just elimination than when Sanjaya was given the boot during Top 7 week, but his off-puttingly good performance of "Bésame Mucho" proved he's not quite worth the distinction of being Idol's worst finalist of all time. 
 9. Carmen Rasmusen, Season 2
A precursor to YouTube's hit Usher goat, Carmen bleated her way into Season 2's Top 12, despite getting cut in Hollywood earlier in the season. (She was brought back for drama's sake during the season's wildcard rounds.) And her performance in the finals only proved that Carmen should indeed have walked out the door during Hollywood Week. When Corey Clark is outperforming you, you know no beat can turn your Idol success around.
8. Ashthon Jones, Season 10
True, Jones' biggest offense is being forgettable, but, oh, how forgettable was she! Season 10's 13th place finisher might have impressed the judges who picked her as their wild card thanks to her clichéd reality TV attitude, but Ashthon proved to be television Ambien during her performances of "When You Tell Me That You Love Me" and "Love All Over Me." Consider yourself lucky FremantleMedia pulled all her performances off the Web for copyright's sake.
7.  Ryan Starr, Season 1
It's easier to tear up the Season 1 contestant than it was for her to tear up her own clothes — Ryan's on-stage demeanor was as obnoxious as her last name, and her singing as sharp as her looks. The singer's future as a tired reality star certainly didn't help matters (she appeared in series like The Surreal Life and Battle of the Network Reality Stars), but bonus points should be rewarded for the reported behind-the-scenes brawl with fellow Season 1 maligned singer Nikki McKibbin. 
6. John Stevens, Season 3
The ginger crooner's audition was a welcome change of pace among Idol's diva-friendly space, but no Sinatra-esque charm will ever forgive that ear-splitting performance of Elton John's "Crocodile Rock" during Top 9 week. (Even more unforgiveable was the fact that Stevens survived the week unscathed.) In fact, Stevens' tenure on the show — during which he mangled songs like "My Girl," "As Time Goes By," and "Music of My Heart" — was so painful, his audition is the only piece of it the Internet was willing to salvage.  
NEXT: The Worst Idol of All Time



5. EJay Day, Season 1
The contestant was dramatically brought back to Season 1 of Idol after Delano Cagnolatti was disqualified for lying about his age, and then fell flat during his first finalist performance. Even more offensive than a waste of TV drama was the fact that Day ever shared the stage with Idol behemoth Kelly Clarkson. 

 

4. Haley Scarnato, Season 6
Yes, there was someone worse on Season 6 than Sanjaya. Say what you will about the boy wonder, but at least he proved to be a conversation starter. Scarnato, on the other hand, was just as vocally spotty as her hated Season 6 cohort, with a personality as bland as her pageant song choices. There has been no Idol contestant more worthy of the fast-forward button. Nice legs, though. 

3. Camile Velasco, Season 3
On Idol, the Hawaiian-born Camile sold herself as Rasta (as evidenced by the red, yellow, and green wristband she wore throughout her tenure on the show), but came off as merely raspy. Not quite the cool chick we had hoped for, Velasco trotted out hackneyed and schmaltzy songs that didn't at all fit her vocal style, like "One Last Cry," "Son of a Preacher Man," and "Goodbye Yellow Brick Road" — to some, the worst performance in Idol history. A lethal combination of confusing and boring, viewers were ready to say "Aloha" to the singer after her disastrous Elton cover. 

2. Paige Miles, Season 9
Because there's nothing more ridiculous than claiming Michael Jackson's death was responsible for your unlistenable performance of Nat King Cole's "Smile." (And nothing more unforgiveable than being the 7th Idol to perform the groan-worthy "Against All Odds.")

1. Tim Urban, Season 9
The contestant had the looks… and absolutely nothing else. Dull, unoriginal, and average, Tim was the poster boy for Season 9's sad crop of talent. The fact that we had to endure nine live performances from the six-pack-rocking teenage dream was bad enough (do you remember "Under My Thumb"? No? Good!), but the fact that he outlasted the unceremoniously booted Lilly Scott, Katelyn Epperly, and Alex Lambert was nothing but a nightmare. No one Idol contestant turned the long-running reality series into must-miss television as Tim. 

[Image Credit: Michael Becker/Fox]
---
From Our Partners:


Seal Is Dating the Pink Power Ranger: Report (Vh1)


60 Celebrity Bikini Bodies: Guess Who! (Celebuzz)