The 10 Craziest Moments of 'America's Next Top Model' for Its 10th Anniversary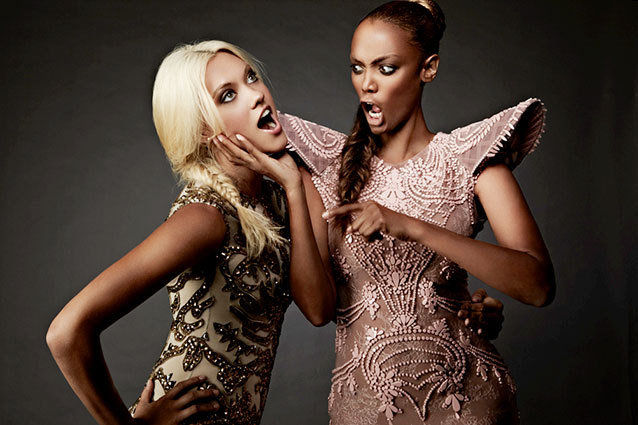 It's almost impossible to imagine a world where you couldn't spend a rainy Sunday afternoon lying on the couch watching an entire season — oh, sorry Tyra, "cycle" — of America's Next Top Model on cable. But that world existed just 10 years ago. Today, May 20th is in fact the anniversary of the show's premiere on UPN, a network that doesn't even exist anymore except as a vestigial appendage to The CW. 
To celebrate the 10 years and 19 seasons — haha, just kidding, "cycles" — here is a look back at the 10 craziest moments from this always zany show's past. 
1. Tyra Yells at Tiffany
The most infamous of all ANTM clips is this one where Tyra shouts about how she's never shouted at a girl before. I have a feeling that it was this very moment that made someone invent the reality TV GIF. 
2. Beer in Tiffany's Weave
Yes, it's Tiffany again, this time for the fight that got her kicked off the show. She would return later, only to be yelled at by Tyra. I think we need more occasions in which the phrase "bitch poured beer in my weave" is applicable.
3. Rebecca Passes Out
Nothing says "crazy moment" like a fit of narcolepsy in the middle of judging panel. This is one of the best falls of all time. 
4. Alexandra Falls Off Stage
Rebecca passing out from stress was far more graceful than this contestant falling on the catwalk not once, but twice. And the first time she wasn't even clobbered by a giant pendulum. 
5. Eva the Diva's Spider 
Sure, Eva Pigford went on to win the (best?) season, but no one thought she would make it through this challenge, where she cried over a spider for what seemed like 17 years. 
6. Top Model Backwards
The all-star season of the show was absolutely insane, but there was nothing crazier than when Tyra made everyone create music videos featuring her and a little person speaking in complete non sequetors while all the girls had to sing, "Pot Ledom, Top Model backwards." You just can't make that up. 
7. Joanie's Insane Tooth
Joanie was one of the sweetest girls ever on the show, and it was sweet for Tyra to take out her snaggletooth for free. But when they pulled that thing out, it was about 18 feet long. How did she have that much tooth hiding in her skull? 
8. Everything About Lisa
Lisa D'Amato went on to win the all-star season of the show. But when she was on originally, she made quite the ruckus. Not only did she pee in a diaper and have an extended conversation with a tree, she seemed to spend most nights getting drunk and disorderly. No wonder she's my favorite contestant of all time. 
9. Brides of Frankenstein
There have been tons of absolutely insane final runways on the show (remember the stilt walkers?), but none compares to Caridee and Melrose squaring off in some cave while running around as zombie brides. 
10. Danielle's Trecherous Heels
The girls have had to do lots of awful things over the years, but nothing was meaner than this pair of heels no one could stand in… especially Danielle (another future winner), who had to crawl off the catwalk in lieu of breaking her ankle. 
Follow Brian Moylan on Facebook and Twitter @BrianJMoylan
More:
The First Male Models on 'America's Next Top Model'
Tyra Banks Fires Everyone From 'America's Next Top Model'
Meet the Sexy New Judges from 'America's Next Top Model'
---
From Our Partners:


Zoe Saldana Strips Down For Magazine (Celebuzz)


33 Child Stars: Where Are They Now? (Celebuzz)