Amy Poehler and Tina Fey's Glorious Golden Globes Photo

We're so over January 1. Now, it's all about January 13. After all, that's when wonderful humans Amy Poehler and Tina Fey host the Golden Globes for what's bound to be the greatest event in television history. Nay, all of history. Okay, maybe we're overselling it a bit here, but after seeing this fantastic promo photo with the reigning comedy queens, our excitement for the awards ceremony is at an all-time high. 
We've already seen what the glamorous funny ladies sound like with their posh Hollywood accents in their posh Hollywood clothes in their first hilarious 
promo video
, now we see them in not-quite-posh, but undeniably adorable sneakers. The picture captures the very essence of longtime pals Poehler, 41, and Fey, 42: beautiful, yet down to Earth; famous (here, they are quite literally in the spotlight), but actually relevant and worthy of their fame; and tremendously talented (both the stars of 
Parks and Rec
and
30 Rock
, respectively, are nominees in addition to co-hosts), but humble. Hopefully the photo sparks a trend and Chuck Taylors become a staple on the Globes red carpet. If anyone can pull it off, it's these ladies. 
Check out the promo shot here: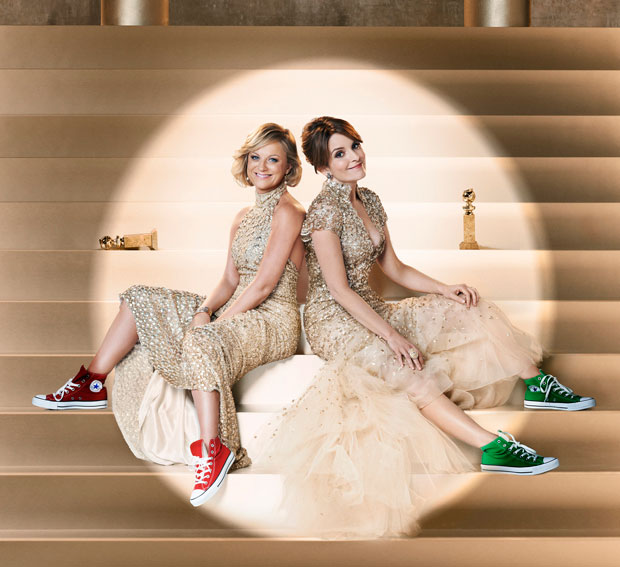 The 70th Annual Golden Globes air live on NBC at 8 PM ET on Sunday, January 13. [Photo credit: Gavin Bond/NBC] 
More:
First Golden Globes Promo: Watch Tina Fey and Amy Poehler Prove They'll Be Great

'Les Mis': Who's Who of the Cast — PICS