Amy Poehler & Jimmy Fallon Make Fake Movies That We Wish Were Real — VIDEO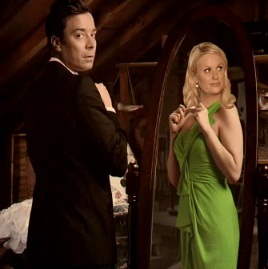 The reality that exists in the mind of Amy Poehler is the kind of reality that this world needs. The magnificent Leslie Knope reunited with her old Saturday Night Live costar Jimmy Fallon May 2 to grant Late Night audiences the sort of glory that only a pair of comedically ingenious best friends can supply.
Poehler and Fallon displayed several fake movie posters, improvising plot, character and production stories upon taking first look at the titles and artwork. The duo covers all grounds, with the cerebral Who's Mark Pelpy?, the gritty war film Connect Four, the romantic disaster film Third, the fantasy epic The Chronicles of Holkroft 3, and the British comedy Her Royal Heiny. Any one of these movies could outdo The Avengers any day of the week.
Take a brief vacation into the imaginations of Poehler and Fallon and enjoy these clips. You'll be depressed about returning to the real world afterwards, but the nine-minute respite will do you some good.
More:
Jimmy Fallon: 11 Impersonations in 3 Minutes in SNL Audition Tape
30 Rock Cast Plays Charades on Fallon –– VIDEO