An Open Letter to 'Orphan Black' Fans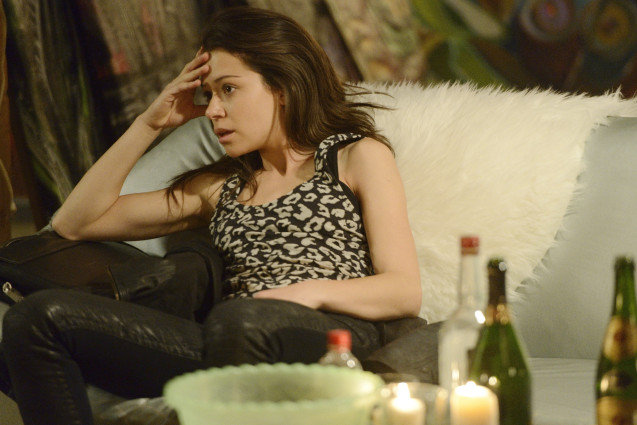 Steve Wilkie/BBC America
Anyone who has seen Tatiana Maslany's work in BBC America's sci-fi series Orphan Black can attest to her talent. It's because of these talents and the cult-like nature of the show's fans that they are hell-bent on making sure Maslany doesn't just win one award, but all the awards. As a fan myself, I can honestly say that I think she really deserves to win every single award for lead actress on a television series. However, I'm also here to tell my fellow fans that it's going to be okay even if she doesn't win anything this awards season.
When Emmy nominations were announced late last year, fans of Orphan Black were angered that Maslany didn't get a single one. But, when all seemed lost, she received a nomination for a Golden Globe award. Thank the award show gods! As fans, we gathered together on Twitter and Tumblr to watch our beloved leader of the Clone Club win her first Golden Globe. Of course, that didn't happen, and fans nearly rioted. While this last snub hurt the most — so close and yet so far — I promise it's going to be okay.
First off, let's remember that Orphan Black is still a young TV series; its second season hasn't even premiered yet. Meaning that Maslany has a whole other year to be nominated — and win — all the awards that we believe she missed out on this year. Secondly, the fans have made such a huge stink in the past few months about Maslany's lack of nominations, we've given the show some of the best press it has ever had (they should be thanking us). Because of our outrage, more and more people have watched the show, which will make it all the more likely to be nominated next year (hopefully).
Though this year's award season might seem bleak in terms of Maslany winning the awards we know she deserves, fans have to remember that there will be another year. We can take notes from everyone who believes Leonardo DiCaprio deserves an Oscar — those fans have been waiting for decades. (Besides, she has won Young Hollywood and Television Critics Association awards, so that's something.)