Anderson Cooper vs. Matt Lauer: Who's the Better Host?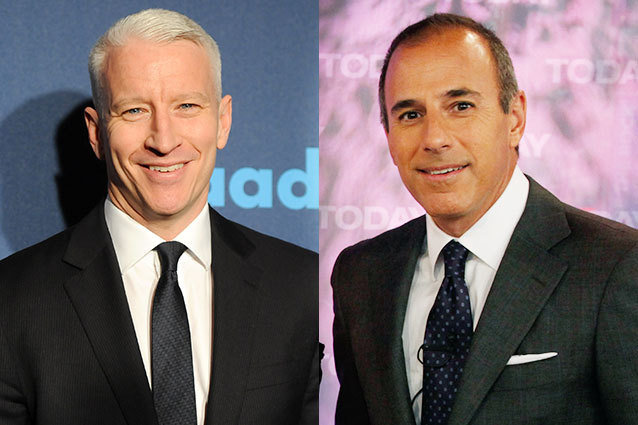 On Tuesday, early reports surfaced that Anderson Cooper would be the heir apparent to Today host Matt Lauer, whose own media rumblings had him taking over for Alex Trebek on Jeopardy!. But just as soon as your fantasy of the silver fox avenging Ann Curry began to unfold before you, NBC pretty much put the kibosh on the scenario — for now. 
RELATED: Matt Lauer Talks About Ann Curry's Firing 
While an NBC exec told The Hollywood Reporter that they were having "exploratory talks with talent inside and outside of the network," the company said they have no plans to give Lauer the boot, no matter how many ill-advised New York magazine interviews he gives or tabloid reports that shed even more unflattering lights on him.
"We want him in the Today show anchor chair for many years to come," NBC told THR of Lauer's secured spot. The site also notes that CNN's Cooper — who had a failed talk show but is reportedly trying it again, this time with his New Year's Eve leading lady Kathy Griffin — doesn't want to make the move to morning programming.
RELATED: Anderson Cooper: 'The Fact is…I'm Gay' 
There's no question that Cooper is the more beloved of the two at this point, but who is the man best suited for the job as a television news program host? Lauer may dress up in silly costumes on Halloween, but he's also handled heavy breaking news as it unfolds, such as the events of the morning of September 11, 2001, with dignity. And don't let those pun-filled Ridiculists on Anderson Cooper 360 fool you, Cooper has gone to the front line as journalist and delivered hard-hitting news with grace under pressure. (He just kept up with business as usual after an explosion went off behind him in Gaza City). 
RELATED: 'Today' Outdone By GMA's Tender Farewell to Ann Curry
So in case a Today show shake-up with Cooper and Lauer ever actually comes to fruition, we wanted to know who you think is the better host/reporter when it comes to certain topics. Would you pick Lauer or Cooper when it comes to…
World Travels:
Lauer 
Cooper
Interviewing Scientologists: 
Lauer
Cooper
Grilling Presidents: 
Lauer
Cooper
Having a Giggle Fit: 
Lauer
Cooper
Their Stance on Brad Pitt: 
Lauer
Visit NBCNews.com for breaking news, world news, and news about the economy
Cooper
 Vote above and then tell us who you prefer when it comes to being a host and reporter on these topics in the comments below!
[Photo credits: Evan Agostini/Invision/AP; Virginia Sherwood/NBC]
---
You Might Also Like:


Topanga's Revealing Lingerie Shoot: Hello '90s!


13 Most WTF Fan Tributes