'Brooklyn Nine-Nine' Ready to Break Out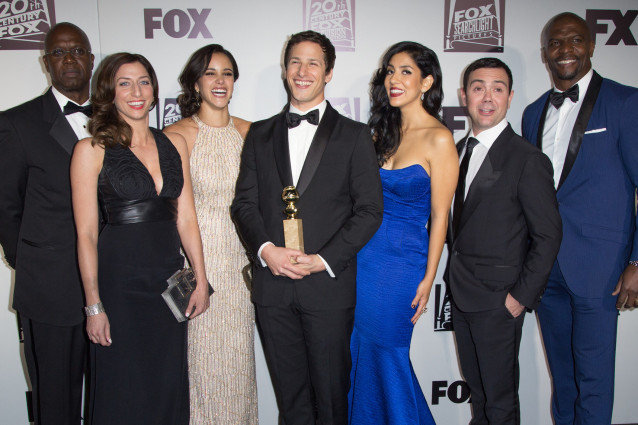 SplashNews
When Andy Samberg was announced as the winner of the Golden Globe for Best Actor in a Comedy Series, there was a collective "Huh?" from the audience, both at home and in the auditorium. That reaction was doubled when Samberg's show, Brooklyn Nine-Nine took home the award for Best Television Show — Comedy or Musical. Those surprised viewers apparently have not seen the show.
The freshman sitcom's ratings have been, at best, middling, but the comedy has risen well above average. While Samberg essentially does … well, Andy Samberg, as a detective who has seen one too many movies about cops that don't play by the rules, it's the strength of the ensemble that has pushed the show beyond just being a place holder lead-in for New Girl.
Andre Braugher does a magnificent job playing off of the ultra-intense cop persona that he initially developed on Homicide: Life on the Street as Samberg's boss, an ultra-intense police captain who also happens to be gay. The gravitas that Braugher brings to the role keeps that from being a one-note joke, and instead sets him up as a near-perfect straight man. There could easily be a drinking game developed that puts to good use the number of times that Braugher just stares, unmoved, at Samberg's antics.
Equally welcome is the return of Joe Lo Truglio, late of The State, as a hopelessly optimistic and love-struck detective. The fact that his crush is on Stephanie Beatriz's mysterious Detective Diaz, who's both tougher and taller, gets used for standard comedic effect, but also allows the show a sweeter side that it might not otherwise have.
The rest of the cast is uniformly strong, whether that's Terry Crews' muscle-bound desk jockey, who's afraid to draw his gun yet has daughters named Cagney and Lacey, or Chelsea Peretti's bored and trouble-making secretary. Only Melissa Fumero as the go-getter foil to Samberg's slacker has hit some false notes, but the show's writers have left themselves plenty of wiggle room to find a more stable comedy rhythm with the character.
With a plum spot after Fox's broadcast of the Super Bowl — an episode that will reunite Samberg with at least one of his old SNL cohorts, Fred Armisen — Brooklyn Nine-Nine has a chance to parlay the Golden Globes statues into a breakout success. Informed television viewers, however, should get a head start prior to the big game and check it out now.