Ann Curry: A Week in Review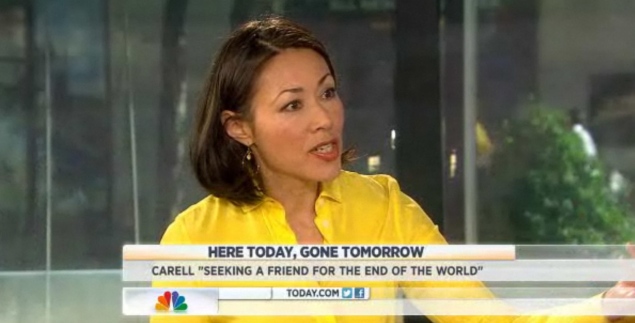 "Have you ever walked into a room and realized that everyone was talking about you? Have you ever had it happen 10 times in a row?" Actually, now that you mention it, The Lindsay Lohan From Mean Girls We All Choose To Remember Instead, Ann Curry knows exactly what you're talking about. But she didn't have the chatter of a few mean-spirited high schoolers to deal with. No, the Today co-host had the entire media talking about her fate on the morning show. 
Earlier in the week it was reported that, after just a year as
Matt Lauer
's co-anchor, NBC was planning to replace Curry, possibly with fellow
Today
anchor
Savannah Guthrie
or even, as rumors suggested, the woman she replaced,
Meredith Vieria
. (According to
TMZ.com
, Vieria turned down an offer to reclaim her post.) 
Talk of dissatisfaction on both sides (some at the network openly criticized the 55-year-old's hosting style, while she wanted to veer from
Today
's lighthearted manner and back into serious journalism) in the midst of slipping ratings, could mean that Curry is, in fact, going to be shown the door. (Curry haters, keep in mind,
The Soup
will suffer in all this!) 
Still, the Today veteran (she has been with the show for 14 years) handled it all like a pro and carried on at work, even under some very awkward circumstances. Take for instance Thursday morning when, during an interview with guest Steve Carell, the graphics department flashed an unfortunate scroll that read "Here Today, Gone Tomorrow." Sure, it was referencing Carell's apocalyptic comedy Seeking a Friend for the End of the World, but it felt an awful lot like an uncomfortable foreshadowing. 
In another instance of interesting timing, excerpts from the August issue of
Ladies' Home Journal
, which features a beaming Curry on the cover (with the accompanying cover line "The Confidence To Just Be Herself") and hits newsstands July 10 has some rather telling quotes. When it came to the topic of
Today
falling in the ratings, for the first time, to rival
Good Morning America
, Curry told the magazine, "It's hard not to take it personally. You worry, 'Am I not good enough? Am I not what people need? Am I asking the right questions?' When people say negative things or speculate, you can't help but feel hurt. I know NBC pays my salary but I have never doubted who I work for." Curry continued in the piece, "I've been at
Today
for 15 years and I'd to make it to 20." All together now:
Ooooooooooooof
. 
Curry has kept things relatively quiet on
her Twitter
page over the past few days, with posts like "Good morning twitterverse." But Curry did repsond to a follower who told her "You are a great journalist no matter who or what the subject," to which she simply replied, "aw. Thank you." Whether support like that will change the fate of Curry, who seems to draw extreme opinions from both sides, remains to be seen. Either way, it seems like morning wars have officially replaced the 
late night wars
. 
How do you think Ann Curry handled herself during this week's media frenzy regarding her possible departure? Share your thoughts in the comments section.