Anne Hathaway Heads to Broadway in 'Cabaret,' The World Groans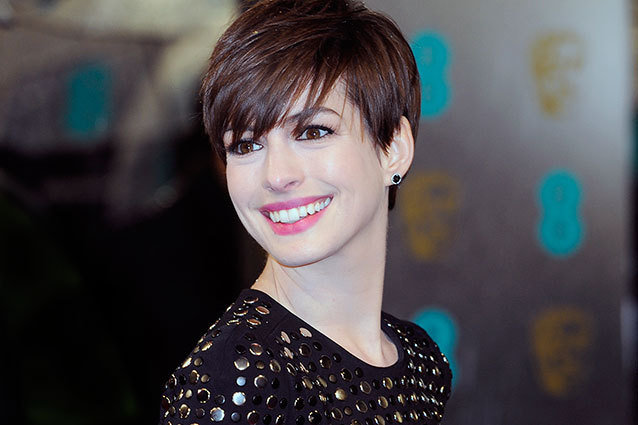 Update: Ha ha. April Fools! This isn't happening at all. Liza Minnelli is so releived. 
Listen here, Anne Hathaway, just because you have the same haircut as Liza Minnelli doesn't mean you can go around taking the role that made her a star and won her an Oscar. I'm talking about Sally Bowles in Cabaret, of course. Apparently, Hathaway — debatably the most hated women in Hollywood — is following up her Oscar win for Les Miserables by taking on the lead role of this Broadway favorite. Liza is probably spitting sequins somewhere on the Upper East Side right now just thinking about it. 
Hathaway will reportedly be joined by Alan Cumming, who will reprise the role of the Emcee, which won him a Tony when the show was revived on Broadway in 1998. But where is Cumming going to find the time to do eight shows a week? He's on The Good Wife, starring on Broadway in a one-man version of "The Scottish Play," and is just wrapping up a concert engagement with Liza herself on Broadway. How does the man sleep? Not well, since Liza is probably going to start making his phone ring off the hook chastising him for singing "Money Makes the World Go Around" with anyone else. Oh please — who am I fooling? Liza doesn't care about Anne Hathaway. Well… not until she EGOTs, anyway.
But Hathaway isn't the worst choice for the role, and will probably sell tickets. She does have a great voice that people love. But have you seen her dance? How will she do in the love scenes? How many gay bars in Hell's Kitchen will she terrorize after the show? We'll have to wait to see. 
Follow Brian Moylan on Twitter @BrianJMoylan
More:
Why Does Everyone Hate Anne Hathaway?
Anne Hathaway's 'Les Mis' Do Voted Most Influential
Anne Hathaway Your Turn Is Over!
---
From Our Partners:


Eva Longoria Bikinis on Spring Break (Celebuzz)


33 Child Stars: Where Are They Now? (Celebuzz)