Anne Hathaway, Your Turn Is Over! — 5 Biggest Faux Pas of the Golden Globes

The 70th Annual Golden Globe Awards ceremony gave us a great deal to celebrate. We saw the HBO dramedy Girls and its star and creator Lena Dunham earn due recognition for everything they've accomplished since the show's series premiere. We watched the marvelous Adele graciously accept a sparkling statue for her shoe-in titular musical number in this year's James Bond exploit Skyfall. And of course, we reveled in the honor bestowed unto the great Jessica Chastain for her work in the all-important Zero Dark Thirty. But among these wonderful triumphs, there too existed some colossal failures — agonizing face-palm moments, cringe-worthy faux pas, good old fashioned screw-ups that made the show that much more painful (or, if you're in the variety who just loves a good awkward moment, enjoyable) to watch.
As any awards show is wont to do, this year's Golden Globes exhibited a wide range of faux pas, erring with gawdy acceptance speeches, misplaced jokes, and a few technical glitches. Here's a quick rundown of the five biggest eye-rollers to catch our attention at this year's ceremony…
RELATED: 'Argo,' Jodie, Tina, and Amy: The Golden Globes Gave Us a Crazy Night
Anne Hathaway's Second Speech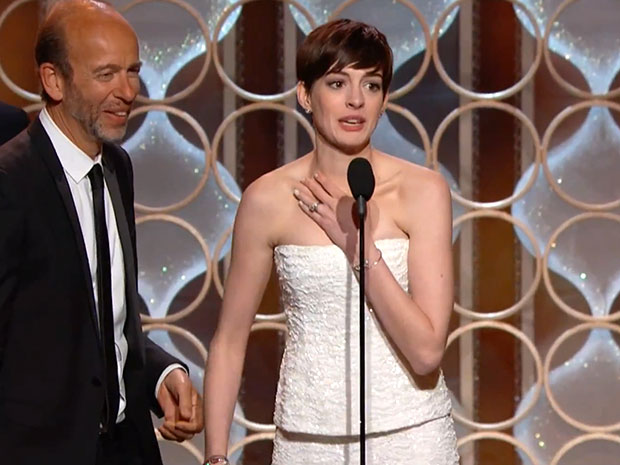 We weren't all too crazy about Les Miserables Supporting Actress Anne Hathaway's first go at an acceptance speech (that wasn't even the appropriate use of "blerg," Selina). But when she rushed the mic after the film's victory of the Best Motion Picture – Comedy or Musical during what was supposed to be producer Tim Fellner's big moment, even those set staunchly in the Hathaway camp had to hang their heads in shame.
Quentin Tarantino's Fist Bump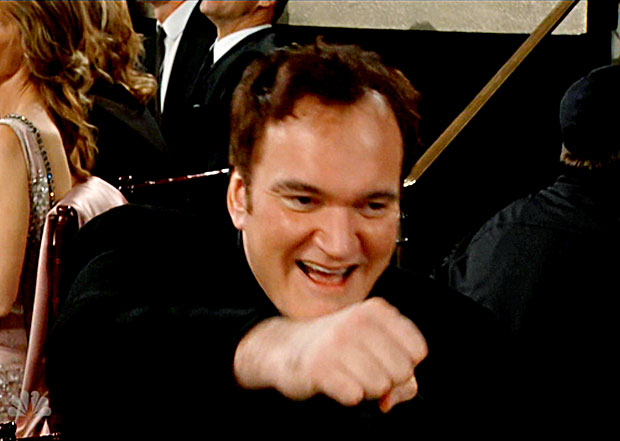 Tina Fey and Amy Poehler opened the show with one of the greatest introductory routines we've seen in years, kicking off the speech with a jab at their fellow "rat-faced" television people who will forever live in the shadow of "beautiful" film folk. An odd choice, then, for those operating the camera to cut to none other than Quentin Tarantino, midway through a fist bump with an off screen party. Was he really celebrating his designation as a beautiful film type? Or could the identity of his fellow fist bumper explain it as simply an act of self-deprecating comedy?
RELATED: Golden Globes 2013: Watch All of the Acceptance Speeches — VIDEO
Catherine Zeta-Jones' Les Mis 2 Audition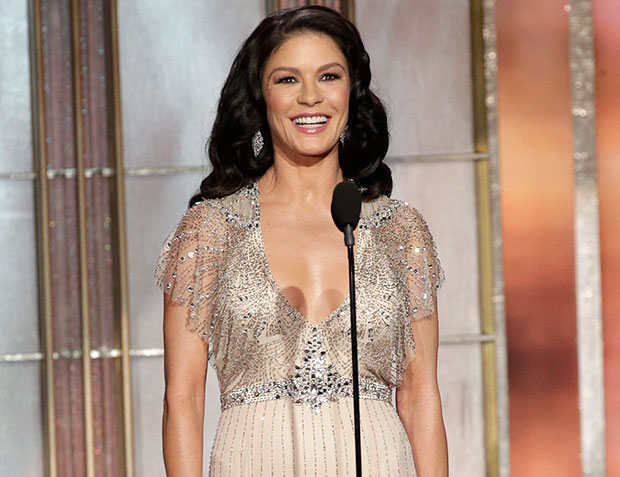 When Amy Poehler gave us her own tight-lipped rendition of "I Dreamed a Dream" during the show's introduction, it was funny (and Mandy Patinkin approved! Maybe he's just used to hanging out with people who barely open their mouths). But when Catherine Zeta-Jones tried to steal the show with a few bars from "Do You Hear the People Sing?" it was just a bit uncomfortable. We hear you, Catherine. Take it down a notch.
Dustin Hoffman's Unknown Movie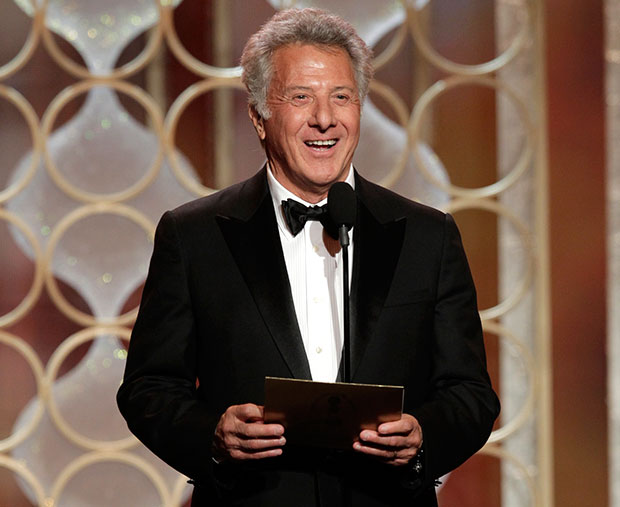 The awards circuit is no stranger to the shameless plug. When handled with self-aware humor, the ordeal can work just fine: Oscar hosts Billy Crystal and Steve Martin have pulled off the antic with aplomb. But when Dustin Hoffman, introducing the nominees for Best Motion Picture – Comedy or Musical, attempted to throw in a joke about his latest film and directorial debut Quartet, it didn't quite land. Largely because no one has even heard of that movie.
RELATED: Oops! The Top 10 Awards Shows Wardrobe Malfunctions
Paul Rudd's "Hello!"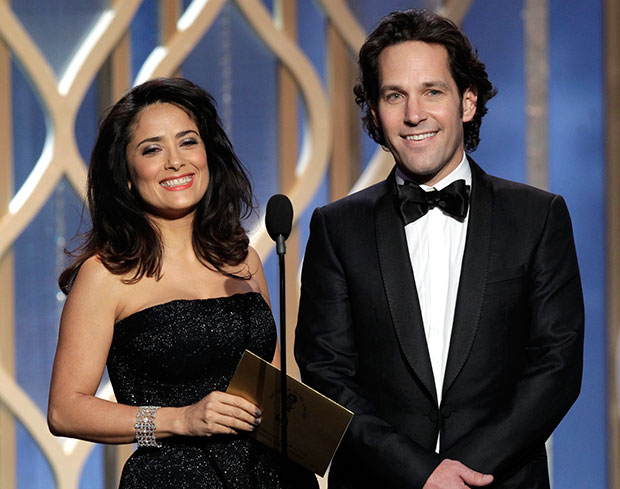 Okay, we have to admit. This one was kind of adorable. But you're lucky, Globes, that you had the likes of the incurably affable Paul Rudd on stage during a malfunction of this caliber. Following a so-bad-it-was-kinda-funny joke by the man himself, the ceremony's teleprompter seemed to give out, leaving Rudd and co-presenter Salma Hayek without a script to introduce the nominees for Best TV Series – Drama. Rudd's spur-of-the-moment ad lib: "…Hello!"
[Photo Credit: NBC (5)]