Anthony Bourdain on the 'Hipster Apocalypse,' 'No Reservations,' & Moving to CNN — EXCLUSIVE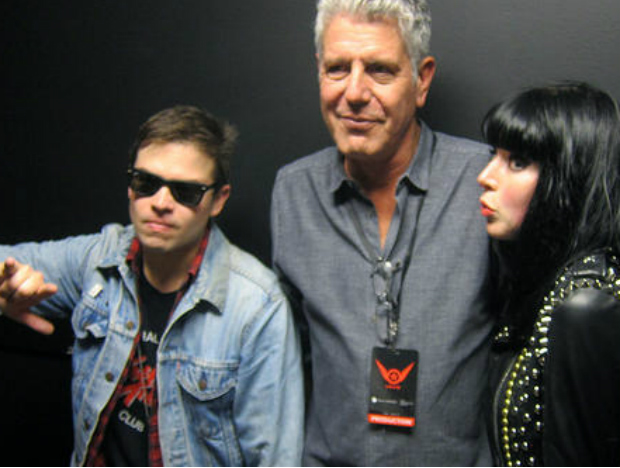 Anthony Bourdain is, without a doubt, the punk rock travel show host and celebrity chef. No matter how many TV series he hosts, cooking classes he teaches, books he writes, and comics he authors, he doesn't subscribe to any genre — anything and everything he does is very specifically Bourdainian. So that's why the fact that his first episode of the final season of No Reservations takes place at the "hipster apocalypse" that is Austin's annual South by Southwest music festival (heck, he even posed for the picture above, alongside staple indie band Sleigh Bells) may have his fans scratching their heads. Luckily, Bourdain took some time to chat with Hollywood.com and explain the reasoning behind the choice. He also talks about why he's switching to CNN, as well as his "ironic" status as a celebrity chef and how the Kardashians are ruining cooking shows for everyone… well, sort of.
Hollywood.com: You start off this last season of No Reservations in Austin at South by Southwest. It's a hipster smorgasbord there. Was it your idea to start off there?
Anthony Bourdain: We've done the show in Saudi Arabia and in many ways – I'm not saying it's "enemy territory" – but in a lot of ways it's a completely different culture. It's just not my natural environment. You know, hipster apocalypse. But my crew, we're very tight. The camera people, the post-production and production people. And we are all active users of the social media, both for fun and [because] it's really part of the process of making the show. So we were invited to do a panel at South by Southwest. So already, we were going to be there, doing a panel during South by Southwest. I'm a guy who likes music, I like Austin a whole hell of a lot, and I thought this was a good opportunity to tell an interesting story in an interesting place. And I think the contrast between a crotchety guy in his 50s and a bunch of hipsters – this could be entertaining. It also points at what I've sort of reluctantly come around to believe, that for all of the humor to be had at their expense, the movement and the direction of gastronomy and even fine dining right now is very much hipster-driven.
Might you find yourself exploring the Williamsburg neighborhood in Brooklyn at some point?
The last show, our last show. Look, it's an inevitability. To end a series without having explored Brooklyn, right next door to my own town, would have been an egregious oversight. It would have been snobbery and willful blindness and stupidity. I've made shows in gun country, Red State America, and some of it in Saudi Arabia, in socialist Nicaragua. I guess I should, I think I could probably handle the culture clash in Brooklyn. Especially due to the fact that so many exciting things are happening out there foodwise.
Was there a "bucket list" going into the last season?
There's always sort of a list in my head of things I'd like to do if the opportunity presents itself. I mean, I met Ludo Levevbre at Top Chef a few years ago, and I asking him where he was from and he said, 'A small town in Burgundy.' And right away, I said, 'Oh, we should do a show where we go together back to where you grew up. That would be a great show.' So, we did that this year. Going back, with Chef Michael White, back to Emilia-Romagna in Italy, where he came up as a young chef. Those were on my list. My bucket list? I filled in my bucket list eight years ago. I'm kind of beyond that now. I've jumped out of a plane and I've been on The Simpsons and write for David Simon. There's nowhere else to go but down. If I get hit by a car tomorrow, I'm not going to be laying there as I bleed out on the street, bemoaning that I never got a chance to live.
With being on CNN, there's a show I'm looking forward to doing, they will be able to enable me to … go up the Congo River. That is on my bucket list.
Is that for sure or is that something you're trying to get going with them?
It's for sure that sooner or later. With an organization like CNN, I will get that done. I've been trying to do it for years.
Is that the appeal of switching over to CNN? The fact that they can offer these opportunities to you?
They're a worldwide news organization with a structure on the ground and experienced connections. Their ability research, to provide experienced professionals on the ground, like in the Congo – they've sent reporters there, they've done stories there. They know how to get things done. That's a huge, very attractive feature of CNN. Also the fact that show will air simultaneously all over the world as opposed to being sold piece-mail to various networks all over the world – I like that people like our show in Malaysia, and Singapore, and Taipei, and Latin America, and we don't have to wait two years to see how they like the show now. It's nice knowing, "Did we do it right or did we screw it up?" Because we hear those things right away. It's like, "How could you come to Singapore and not eat Chicken-rice?"
In the past, and in your book, you've talked about the idea of the celebrity chef and how that's not your thing, but it's kind of interesting now that you're arguably more famous than many "celebrity chefs" because of your anti-celebrity standpoint. What do you make of that?
Irony sucks, but there it is. I've gotten used to the fact that I've become part of the problem.
Do you think that maybe instead of "becoming part of the problem," you're actually offering a better way of going about the celebrity chef idea?
When I wake up every day, I don't look in the mirror and say, "Okay, today, I am going to be sure to not be a role model, not be an advocate." TV has allowed me — whatever my job is, it's allowed me to see the world, work with a lot of really interesting people, and just do a lot of cool stuff, and have an interesting time, have a fun time. And at the end of the day, amass interesting stories to tell. That's what it's all about for me. And having woke up for much of my younger, previous life, I don't like to wake up ashamed of what I did the night before. So whatever I do, I try hard to not do anything today that I might feel ashamed of tomorrow. Hence, you don't see the pots and pans line. I don't have a spice mix. There aren't Anthony Bourdain flame-encrusted knives. There's no merch. That's not integrity on my part; it's vanity. I just – no can do.
Are there any food-themed shows that you like to watch or can stand to watch?
I do think there are shows that are valuable. I don't want to live in Ina Garten's world, necessarily, but I think she knows how to cook. If you watch Ina Garten's show, chances are at the end of the day, you'll be better at cooking chicken than you were before. That's not necessarily the case with a lot of cooking shows. I sorely miss Mario Batali's Molto Mario show. I thought that was a terrific standard for a cooking show. I thought that was good for the world. I like Eric Ripert's show, his new one … Look, it's possible. I think the instinct to give people what they want is a really fatal one when you're trying to make good television. It's something I've tried to never think about. Whether it's books or anything else, I never sit down and think, "What do my fans expect? What do they like, what do they want?" That's not how I got here. I got here by doing the other thing. I try to make television that's interesting to me and tell stories that are interesting to me and the people that I like working with … I'll do the very best I can at it. And if people like that, that's fantastic.

I've talked to cooking experts for another piece a while back, and many of them noted that the problem with a lot of the shows on Food Network and similar networks is that they perpetuate myths about cooking. Do you think that problem exists? Do you see it as a problem?
With the language of television right now, there's sort of a Kardashian-ization of everything. There's this notion on a lot of shows that there's no cooking without drama. It's not enough to have people cook their hearts as best as they can anymore, they have to be rolling around on the floor, tearing each other's hair extension out … People are trying to do what works. They're trying to squeeze drama into something … Good cooking is not enough. That decision was clearly made a long time ago … They want drama, they want heart-wrenching personal backstories, they want a shouting chef screaming at people to the extent that that perpetuates stereotypes? Sure. At the end of the day, people actually care a little more about who's cooking than they used to. Being a chef, being a cook enjoys a social status it did not when I started out for sure – when it was dead-end position for low-lifes. Now there's a certain glamor attached, to the extent that people walk into a restaurants now and are actually interested in what the chef thinks they should eat. That's a positive result of even the worst food television.
You're an expert on all things New York and there's a concept emerging now that more and more TV shows are taking place here, and that's this phenomenon of trying to experience like a real, authentic New York night. Do you think that that still exists? And if so, what do you think that looks like?
Look, New York is at its most authentic in the morning. Going to Russ and Daughters or Barney Greengrass and getting a toasted bagel or a bialy with smoked fish and cream cheese – the New York breakfast, the New York deli. Sure, those things exist. Whatever the restaurant of the moment is, that's rarely going to be what you'd call a real New York anything.
Do you think the real New York is ever shown in media?
There's a lot of really vibrant, exciting stuff going on right now. I mean, anything April Bloomfied [who started The Spotted Pig] or David Chang [who started Momofuku] does is going to be interesting. There are a lot of chefs out there doing really exciting things. Andy Ricker has opened up a New York chain of a Portland Thai restaurant – that's about as New York as it gets. New York was always about people from someplace else coming to New York and doing something cool and interesting that New Yorkers enjoy. It's a pretty low threshold to be considered a New Yorker or to be considered "real New York" because we've always been such a melting pot. And if you're crazy enough to love New York after two years here, that pretty much makes you a New Yorker. But old school New York? Sure. There are still old school, unchanged-by-time New York institutions that seem to be hanging on.
I want to touch on the comic book you wrote, Get Jiro. You went to Comic-Con for it this year. Was that the first time you had been?
I was at Comic-Con in 1976 – it had to be one of the first ones in New York – when I was a young, wannabe comic artist. But yeah, since then, it was my first, and I had a ridiculously good time. I fully exercised my inner nerd and comic enthusiast. I had so much fun.
Having been there in the '70s, what do you make of what Comic-Con has become now that it's focused on a lot of TV and big studio films?
I don't care. For me, it was a gigantic space filled with vendors selling really, really cool products and beautifully bound, in-color graphic works of art. All in one place. So, bigger is better as far as I'm concerned. And I was treated really well. I was concerned that I'd be treated as sort of an outsider. I put a mask on at one point and walked around the floor, buying comic books. I just had the best time. So much fun. And it's a boy's dream come true; I'm in my 50s and yet, I just did a comic book. That's so awesome.
Did you have any favorite purchases from walking the floor?
Yes. I got an anthology of classic Richard Corben works … I bought a new Gary Larson book. I reconstituted my old underground comics collection of late '60s and '70s SAP comics. So I was very, very pleased with my purchases.
Would you ever be interested in turning your comic book into a TV series or a movie?
I have very low expectations for any of these things. I don't care. I just don't care. I don't care at all. I'd like to do another comic book because it was really, really fun and deeply satisfying to write a story and work on it and see it come together with the art and the structure and the color. It was very creatively satisfying for me, and ridiculously so. I'd do another graphic novel in a minute. Whether I ever make a dime, or it ever becomes a movie or TV show, I really could care less … I very much hope to [do another comic].
The final season of No Reservations premieres Sept. 3 at 9 PM ET on Travel Channel.
Follow Kelsea on Twitter @KelseaStahler
[Photo Credit: Travel Channel (2)]
More:
Why Anthony Bourdain's 'The Layover' Actually Works
Anthony Bourdain Leaves Travel for CNN: Will He Take His Edge With Him?