'Apt. 23' Recap: The Emotional Sacagawea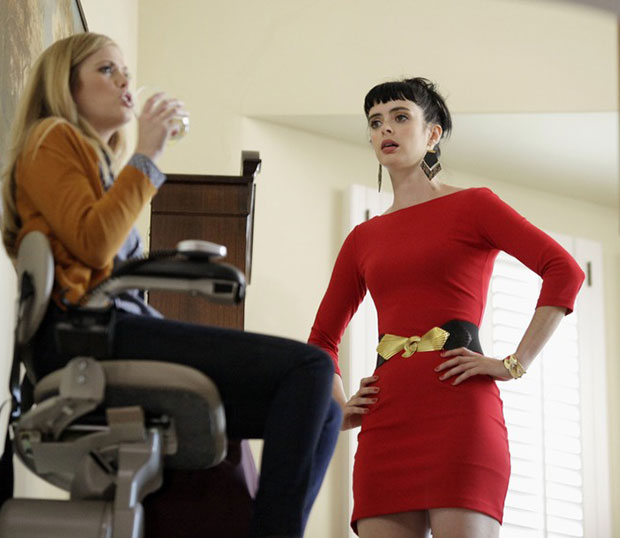 Thanksgiving episodes can be scary. If not done in the right way, you're left with a bad, old, fatty Turkey and aluminum-like Cranberry taste. A sappy and all "I'm thankful for family" plot line is almost as bad as the trifle. Luckily for us, The B doesn't allow for any sappiness or genuine hugging. There will be no tears or belly laughs or gift-giving. Only cold hearts and sarcasm, the meat of any family holiday, wouldn't you say? Quite honestly, this 'Don't Trust the B' episode may just be the best Thanksgiving episode in the history of Thanksgiving episodes. So, let's get started.
Chloe has a Thanksgiving tradition. No, it doesn't involve football or cozy sweatshirts or a heaping plate of sweet mashed potatoes. Instead, she rings all the married men she's slept with over the past year and plays clever little pranks on them. Cute messages like, "Did you see the parade? Get tested!" and "There's a baby inside me!" It's a fun game, really, and one that actually has a good purpose. When Junebug says she's appalled at Chloe's favorite pastime, the B simply says that these men don't deserve to play the "Family Man" one day a year, while sleeping around every other day. She kind of has a point, no? And anyway, Chloe hates Thanksgiving so it doesn't really matter to her if she's ruining the lives of dozens of people. She hates how everyone is fake and the fact that Ugg boots suddenly become acceptable (RIGHT?!). She'd much rather be shoplifting bandage dresses and hair dye and small children. Anything to keep her away from a fuzzy moment.
But you see, June is different. Thanksgiving is her absolute all-time favorite holiday. But she's poor. She's so poor she can't afford a blowout or decent pair of jeans or a flight home to see her family. Whatever will she do? As if sent from the land of dreams and double rainbows, Dawson and sidekick enter revealing their plans to volunteer at only the coolest homeless shelter. It's super exclusive – it's the 78th Street shelter for crying out loud! – so unfortunately June is not invited. No way. Even Dawson had to sign up a year in advance to get on the soup pouring list. And so June is left to walk the streets, helping out where she can. But not even the one-legged homeless man sprawled on the sidewalk wants her help. See, he's gluten-free now and June's basket full of white carbs is like satan's wish. June just can't catch a break. In fact, when she simply tries to help her elderly neighbor with her groceries, the woman cries "RAPE" so loudly her husband comes running out and slams a can into dear June's face. She's not having a very good day. Not at all. But that's not going to stop her. She won't rest until she helps someone. And Chloe is prepared to take advantage of that.
PHOTOS: TV's Most Ridiculous Apartments
The B convinces June that the best and essentially only way to have a good Thanksgiving while helping others is to go to an Indian casino and gamble away all of her money. June's blackjack skills are far from stellar, but she doesn't care. Giving away money to Indians on Thanksgiving sounds perfectly fine to her. So the two hop in a cab and before June knows it, they're pulled up in front of a house in suburbia with no casino in sight. That's right, Chloe has brought them to her parents' house, where they'll be stuck well into Black Friday (which by the way doesn't mean the day to bone black men). The only problem is June totally banged Chloe's dad while he was "on a break" from his cripple wife and she hasn't talked to him since. Chloe demands that June hop in a wheelchair she just so happened to have handy, telling June that she's informed her whole family that her roommate is also crippled. Because why the hell not. She deems her "emotional Sacagawea" and now there's really no turning back. Chloe pushes June up to her house and in they roll for what's high up there on the most demented and awkward family Thanksgivings in pop culture history. There are strangers lurking in the dining room dressed as present-day pilgrims maybe, but no one cares about them. Nope. All there is to care about is Chloe's blood red spandex dress and her dad's peppered hair and chiseled jawline. He sees June – I mean, it's hard to miss her in that wheelchair – calls her "handsome" and then skips away. Typical. Chloe's mom, however, extends a helping hand to her fellow cripple and goes in for a big, bizarre embrace involving tampon holders or something. While June rolls through the house, pounding wine and cursing Chloe's dad's existence, Chloe is popping "ibuprofen" like any other normal twentysomething girl home for the holidays. Just when you think things couldn't get any more buckwild, June falls to the ground at the table after everyone says Grace (which included a Syracuse basketball shoutout, whatwhat), but before shouting into her wine cup  "I'm Sacajawea. I'm on a coin. I'm money, bitch!" and then stands up on her two working feet and claims a Thanksgiving miracle. Oh, and everyone finds out she's the "whore" who nearly broke up Chloe's parents' marriage. The guests turns down to their plates experiencing what can only be utter shock and the comfort of f***ed up holiday gatherings at the same time. Stuffing for everyone!
PHOTOS: The Best Bitchfaces on TV
Back at the homeless shelter, Dawson is SO OVER being a volunteer. GOD he is annoyed. How STUPID of an idea was this. He even peaces out after the paps snap a few photos of him half-serving people. But of course guards from the shelter come to his apartment to bring him back, because that would obviously happen. He whips back on his soft leather jacket with embellished lining and heads back to the exclusive 78th St. shelter. He's going to try again, he hopes to convince himself.
Joey will see these photos. And then she will be mine forever
. But it's all too much for our creek friend. When he's informed that he'll be eating lunch with the plebeians he whines and whines and tries to think of
his happy place
. He finally takes a seat across from a young boy who begins telling a tale of his poverty, only Dawson can't concentrate. All he can do is think about the potential turkey tendon he's chewing on and the cup of "orange drink" that's smeared with lipstick. Ah, so many things to be thankful for. We end up with no real resolution, no table lined with beautiful food and certainly no happy ending. And don't you think it's sometimes better that way? Sound off in the comments below! [Image Credit: Kelsey McNeal/ABC]
Follow Anna on Twitter @thebrandedgirl
More:
'Apt. 23' Recap: Dawson Leery's Funeral
This 'Bitch' Is Gonna Be Your New Best Friend
'Apt. 23' Recap: Dawson Leery Is Sexiest Man Alive?!

Jennifer Lawrence Bikinis in Hawaii (PICS)

Best and Worst of the Thanksgiving Parade