Are 'Community' and 'Whitney' Getting Pushed Back?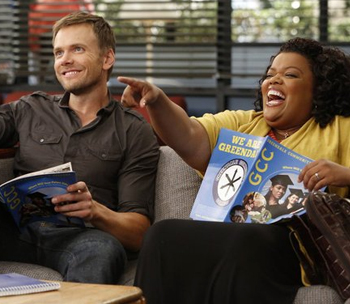 UPDATE: NBC has released a statement to Hollywood.com regarding the postponement: "Given the success we've had for the past four weeks – including winning the first week of the season in A18-49 – we've decided to continue to concentrate our promotional strength on our new NBC shows that are scheduled Monday through Wednesday and have therefore decided to hold Community and Whitney from their previously announced premieres of October 19th. Without having to launch these comedies on Friday at this time, we can keep our promotion focused on earlier in the week — plus we will have both comedies in our back pocket if we need to make any schedule changes on those nights. When we have a better idea of viewing patterns in the next few weeks, we will announce new season premieres of Whitney and Community."
EARLIER: As if being a fan of NBC's cult-comedy Community wasn't hard enough! Sources confirmed to Hollywood.com that the show (as well as another Friday returnee, Whitney) is being pushed back until further notice. Nooooooooo!!!!!
Not all hope is lost, as it said that the peacock made the decision on Monday in order to allow additional time for marketing efforts. Still, fans of the show are more likely than not still smarting from last season's midseason pull from the schedule to allow room for the return of 30 Rock.
Conspiracy theories abound when things like this happen to well-loved but ratings-challenged programs. Some fans are holding out hope, though, and believe that the reason for the push may be to see how NBC's new comedies fare in the war for ratings. Perhaps a cancel for a ratings lowballer will allow for Community or Whitney to come back to Thursday nights: a much stronger evening for programming in general than a Friday.
Still, fans are anxious to see how the crew at Greendale have fared over the summer since the removal of its creator/showrunner Dan Harmon. Perhaps in another timeline, everything is fine. We just need to get there, you guys.
Are you nervous about the future of Community or Whitney? Sound off in the comments!
[Photo Credit: NBC]
Follow Alicia on Twitter @alicialutes
More:
Community' Casts James Brolin as Jeff's Father, Embarks on Most Important Arc of the Series
'Community' Creator Dan Harmon: 'I Would Have Fired Me, Too'