Are Game Shows Sexist? 'Price is Right' Seeks Its First-Ever Male Model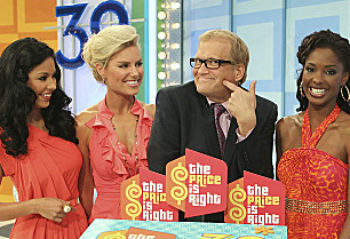 Did you know that waving your hands in front of pretty cars and vacation packages is not a female-only skill? Probably not, because if you've seen a game show in the past 30 years, most of the folks doing the prize-enticement duties are pretty ladies in pretty dresses. Well, that's all about to change because CBS' The Price is Right is about to hire its first male model… for a week. Hey, it's a start. 
The long-lived game show announced on its website that starting August 30, the search is on. After the casting calls and various elimination rounds, CBS will air the search as a five-episode web series in which the winner will be chosen via fan votes. That winner will then be on the Price is Right for a whopping week. 
Now, before we get all up in arms about how a week with a male model on the show isn't going to change anything, it is actually a start. It's the series' way of admitting: we've been one-sided, and we're working on it. Besides, the show got it honestly. The current iteration has been around since the early '70s and its biggest change was the addition of Drew Carey as the host. Admitting to and taking steps to fix the male model deficiency is a big step, okay? Let's just hope the following step is permanent male models on the PIR stage. 
Follow Kelsea on Twitter @KelseaStahler

---
You Might Also Like:


Topanga's Revealing Lingerie Shoot: Hello '90s!


13 Most WTF Fan Tributes