Arie Luyendyk Jr.'s 'Bachelor' Blog: 'Tierra's Eyebrow Exits Stage High Right'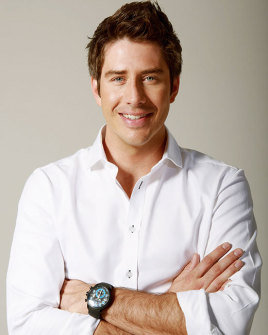 Okay, so I've realized after reading some of my past blogs that I'm really hard on the girls. But after this week, I probably won't have anything bad to say. Sean has redeemed himself from last week.
AshLee's One-On-One
Let's start with AshLee and a beach scene that made me a bit jealous that I wasn't rolling around in the sand. This had the potential for some killer kissing moves! Sean is improving, and like any good coach, I was rewinding tape and taking down some notes. Perfection never sleeps, people, but I am happy he brought his A-game to St. Croix. The Bachelor proclaimed kissing expert is liking what he is seeing.
I won't give you the play-by-play on everything, but what I loved about AshLee was this: When I watched her on their date, I saw so much in the way she looked at Sean. AshLee was so vulnerable when she talked about her marriage. And she was so cute with her hair parted in the middle, just like all the girls we fell in love with in middle school. She made me really love her. I can tell she is so open and willing to let Sean in. That's the first step to being crazy in love with someone.
RELATED: Arie's Blog: Tierra Is Just Tierrable
Tierra's One-On-One
Next up, Tierrable got a one-on-one, and all of America died a little inside. She got the "Let's walk around the city" date, which is never a good sign. (I had this when Emily was upset at me about Cassie.) At that point, I was waiting for him to let her go, but that eyebrow of hers seemed to have some sort of wicked spell on Sean, and he ended up saying he was crazy about her. What?
I'd have to say, during this crazy show, that this is the point when it really hits you. You have been in this parallel world, and now it's almost time for that to mesh with reality and you start freaking out. Well, at least this is when I started realizing that sh** was getting real.
NEXT: Who Did the Best on the Group Date…



Group Date

The pressure was hitting the girls on the group date. They spent the whole day hanging with Sean, and all the girls had great conversations. But Sean had the best physical connection with Lindsay. She always looks up at Sean with her big eyes, and you can tell how much she's into him.

Catherine and Sean had the best conversation. Normally, we see Sean only respond to the girls in a few short words, but during this date, we saw him open up a little.

Desiree was by Sean's side all day, but sadly, I didn't see much of a spark there. Lindsay ended up with the rose. I'm happy for her. She has really turned it up the last two episodes.

RELATED: Arie's Blog: On Kisses, Bikinis, And Insane Meltdowns

Lesley's One-On-One

Lesley's date was last but not least. Sean expressed that she was a bit behind the other girls (uh oh!). These two were going really strong in the beginning, but those awkward silences were not helping anyone. I will say from experience, you can fill that silence with kissing, but at some point you have to hit on other levels. Back to the kissing, though: Lesley has mad skills! I vote the kiss against the log as "best kiss of the season." Good job, girl! A + in my book.

I don't know if it's me or if this is how The Bachelor is compared to The Bachelorette, but I'm not seeing that much of a love story unfold.

We cut back to Tierrable arguing again. I loved that AshLee was over her sh**, because, honestly, we all were. Between Tierra screaming about her eyebrow and yelling about how no one can take her "sparkle," I immediately felt bad for whoever gave her that ring on Instagram. I mean, "Who would wife that?" (I borrowed that line from the beautiful Selma). She finally went home and I did an imaginary fist bump to Sean. Good call, my friend!

At the rose ceremony, I was shocked Lesley went home because I really thought Desiree's time with him wasn't too special.

I guess being an amazing kisser only counts for so much, right?

Follow Arie on Twitter @Ariejr.

[Photo Credit: Voorhees Studios]
---
From Our Partners:

40 Hottest Celeb Twitpics of the Month (Vh1)

'Sports Illustrated' Swimsuit Issue: A Visual History (Celebuzz)