Arie Luyendyk Jr.: Predicting AshLee's Future and Some Advice for Sean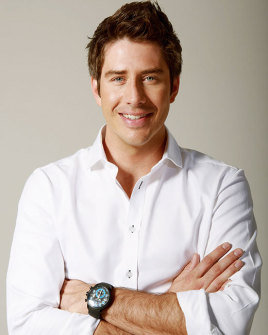 Sean Lowe's journey as The Bachelor is coming to a close. On Tuesday night, Sean sat down with host Chris Harrison to discuss the girls he sent home in tears throughout the season and to talk about the remaining episodes (which will feature the fantasy dates and finale rose).
But as the end approaches, there are still a ton of questions that need to be answered. Who will Sean end up with, if anyone at all? Who else will go home with a broken heart? And who will be the next Bachelorette? (Because if the trajectory of casting this franchise has taught us anything, she'll be in this bunch of disappointed women.) Hollywood.com's resident Bachelor blogger, Arie Luyendyk Jr., predicts the outcome of the season and shares a bit of sensible advice for Sean to follow once the season is over.
Who is "the One" for Sean?
Arie thinks that AshLee is the leader in this Bachelor pack. "If I had to guess anyone right now, I would say AshLee," he says. "She just seems like she is the most invested in him. And their time together [during] the hometown dates went really well with AshLee's father."
"The difficult part is that Sean is very hard to read," Arie says. "So when watching the show, it's very hard for me to tell who he's into — but I can easily see which girls are emotionally invested. AshLee seems like she is the most in love with Sean."
RELATED: Arie's Blog: Picking The Next 'Bachelorette'
The Next Bachelorette
But if AshLee doesn't win Sean's heart in the end, she will definitely make a strong candidate for The Bachelorette. "She's very open and ready," Arie says. "You can tell that she wants to be married. She's a little bit more mature. She's a little older, so she has experienced a lot in her life. You can tell that she's just ready to be in that place in her life."
According to Arie, AshLee has the characteristics needed to take on the leading role. "She's a beautiful girl," Arie says. "[The Bachelorette producers] just look for somebody who believes in the experience, and she's very open."
AshLee's tough childhood and her story of going through the adoption process also appeal to Americans who watch The Bachelorette. "I root for her just because she has had a tough background," Arie says. "So it just makes me want to see her happy, and I think that other people would as well. She'd be a good fit because of what she's been through."
RELATED: Arie's Blog: 'A Rose Is A Tierrable Thing to Waste'
Is Bachelor Pad in Anyone's Future?
While AshLee may be fit to hold the title of Bachelorette, it would be more appropriate to cast some contestants from Sean's season on Bachelor Pad. "Obviously from this season, Tierra would be the most entertaining," Arie says. "I'm trying to think of bold personalities in the show — Tierra stole the spotlight the whole time." But a recent development in Tierra's love life may prevent her from appearing on the show. "She's engaged, so I don't know if that would work," Arie says.
Arie suggests that Lesley M. might be a good choice if Tierra can't do it. "It would be cool to see Lesley again just because we didn't get to see enough of her," he says. "She is such a good kisser — and then we could watch kiss some more! That would be cool."
Would Arie be willing to test out Lesley M.'s kissing skills on Bachelor Pad? "I don't think I would go on Bachelor Pad," he says.
RELATED: Arie's Blog: Tierra Is Just Tierrable
Some Advice for Sean
As Sean's finale grows nearer, Arie shares some advice for handling the upcoming days if he is in fact engaged. "The best thing they can do as far as when the show wraps is to take a nice long vacation and try to limit the amount of media they do," he says. "For example, my family has a house in Europe. I would just leave and go to Europe for a little bit and just hide out. The best thing [Sean] can do after the show is to go away with [the woman he chooses] and try to get away from all the attention for a little until their relationship is solid enough for all of that. I would say just take a really long vacation and spend time with each other."
"Everyone has a good chance to make it work," Arie adds. "They just have to work hard at it."
Follow Lindsey on Twitter @LDiMat.
[Photo Credit: Voorhees Studios]
---
From Our Partners:


Bradley Cooper Dancing Is Surprisingly Awkward, Sweaty (Vh1)


Kate Upton Bares All in Nothing But Body Paint: Video (Celebuzz)