Arie Luyendyk Jr.'s 'Bachelor' Blog: 'That's Not What You Said in the Fantasy Suite'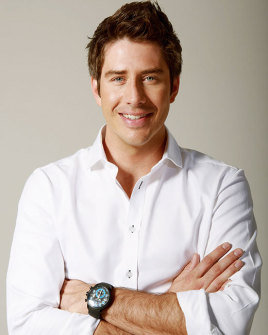 It was that time again, everyone, for a super dramatic wrap up of all the craziness. That's what we got with The Bachelor: The Women Tell All.
Tierrable's Take
I was hoping to see my girl Tierra show up and surprise us — and there she was again on my TV! Apparently, she had nothing to apologize for — and why would she? She's happily engaged, and even Chris Harrison cares about her crazy eyebrow. Life is good in TierraVille!
All that talking about herself in third person and loving the fact that her eyebrow has its own Twitter handle has only increased her sparkle. Want my opinion on Tierra? All I can say is that she is living in her own blissful world. Let's hope she stays there.
Now, onto the other 25 women. Yes, there were other people on the show. Apparently, there was a girl named Brooke on the show, and she had a lot to say. It's funny — I can't even remember this girl. Wow, it's been a long 10 weeks. And I really enjoyed Sarah's talk. I think she'll find someone. Hey, Chris Harrison is still single right?
RELATED: Arie Picks The Next 'Bachelorette'
The Next Bachelorette…
Desiree came across very sweet and lovable. And, after watching AshLee cling onto the past and not getting the closure she craved, my bet for the next Bachelorette may be off. Desiree can be forgiven for having crazy family members. I mean, how many of us are embarrassed by our siblings? I love the fact that she stood up for her brother. It shows good character.
AshLee's Confrontation
Back to AshLee. How about that talk with Sean while the two thought they were on commercial break? She was obviously still hurt and searching for closure. That exchange with AshLee and how Sean came back on air to clarify his explanation to the audience shows what a sincere and genuine guy he is. A clean break is the best when dealing with heartache, so Sean's breakup with her was the right approach. Nothing good can come out of keeping contact if the heart needs to heal.
AshLee told Sean, "That's not what you said in the fantasy suite." That statement strikes a cord with any contestant that makes it to the final three. That's why I laughed so hard with Sean during the first episode when I said that. Sometimes, you hear what you want to hear. This may have been the case with AshLee.
RELATED: Arie's Blog: Tierra Is Just Tierrable
Final Two
Just two women left: Catherine and Lindsay! Could Sean have picked two girls more different?
Catherine and Sean have a great friendship and are total nerds together. It's cute, in a middle school kind of way. That being said, it's always best to marry your best friend. And I can see they have a lot of fun together.
Lindsay and Sean are also a great match. There's a physical spark that's undeniable. Lindsay's eyes are filled with love when she looks up at him. In my opinion, they are the best match because I could see Sean fitting so well into her family life. My only concern is that Lindsay seems very young. She has to convince him she is ready for this next step.
Until next week! If you're in the Chicago area Monday, come watch The Bachelor with me live at Park West! Details and tickets available at Thebachelorfinale.com.
Follow Arie on Twitter @Ariejr.
[Photo Credit: Voorhees Studios]
---
From Our Partners:


Seal Is Dating the Pink Power Ranger: Report (Vh1)


60 Celebrity Bikini Bodies: Guess Who! (Celebuzz)