Arie Luyendyk Jr.'s 'Bachelor' Blog: Sean Had Sincere Intentions on the Fantasy Dates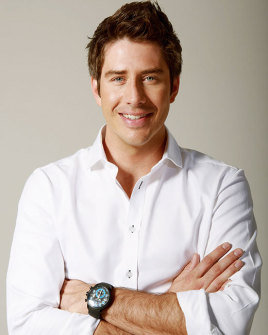 When I think of fantasy suites dates, I think of rose pedals laid over a warm bed and champagne near a hot tub in the middle of a huge room with chocolate, lots of chocolate. I think of an open window with a slight, warm breeze and the anticipation of alone time. But how the hell would I know? The best part about all of this it that no one knows because it's "none of your business," as Sean told Chris Harrison.
I can honestly say after living with Sean and watching closely all season, I can see when Sean is sincere and when Sean may be hiding something. Why is this important? Because what I saw last night was a very sincere and honest explanation of what he intended to do with his time with the girls on their overnight dates. Always a true gentleman, Sean invited Lindsay, AshLee and Catherine into the fantasy suite with good intentions. Get your minds out of the gutter, people!
There were so many great moments in this episode where I could tell that, without a shadow of a doubt (stolen from Sean's vocabulary), Sean is falling hard for these three women.
RELATED: Arie Picks The Next 'Bachelorette
AshLee's Fantasy Date
AshLee started out really strong, and Sean himself described their relationship as the strongest going into Thailand. But during her date, things seemed to slip away. It felt as if AshLee was doing all the talking, and Sean was not reciprocating all of the compliments and expressions of strong feelings. The ring comment couldn't have helped either; I immediately made one of those "eeeeek" faces.
Lindsay's Fantasy Date
Lindsay's date was really sweet, but I can't help but think that her inability to express how she feels may be her downfall in the end. I can sense how strongly she does feel, and I have to assume Sean does as well.
During her date, she finally said, "I love you." It's better to say it once than to overdo it.
RELATED: Arie's Blog: Tierra Is Just Tierrable
Catherine's Fantasy Date
Catherine and Sean are total nerds together. I don't know whether to laugh and smile or cry and call for help. I did, however, catch the chemistry before the overnight portion. Sean and Catherine looked really good together — a total change in events from last week.
I don't know if I'm onboard with Catherine. I was on #teamAshley, so now I'm all confused.
Three Down to Two
The video messages were all really good, but AshLee's line got me: "I am no longer broken, and for that, I will always love you." Let's all just pause and let that sink in.
I remember sitting in my room during Emily's season and trying to write the perfect message so I could express my feelings to her. It can be really hard to sum things up in a few short words. For me, AshLee had the most emotional message for Sean.
RELATED: Arie's Blog: Tierra Could Turn Into Courtney Robertson
As quick as those walls came down, they shot back up faster than the words came out of Sean's mouth. I was shocked. And AshLee was so angered by Sean's decision that it sent chills through my TV screen. Sometimes, the obvious choice isn't the best choice — and although AshLee and Sean seemed great on paper, great on paper rarely works out.
I could see the pain Sean felt by letting her go. I do think AshLee could tell he was honestly conflicted. But at that point, she probably didn't hear what Sean had to say because her walls were already up. Sadly, who knows when those walls will ever come down completely again.
Follow Arie on Twitter @Ariejr.
[Photo Credit: Voorhees Studios]
---
From Our Partners:


25 Most Scandalous Celeb Twitpics (Vh1)


33 Child Stars: Where Are They Now? (Celebuzz)