Arie Luyendyk Jr.'s 'Bachelor' Blog: Picking the Next 'Bachelorette'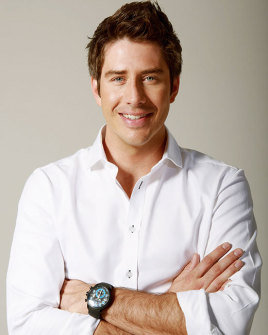 After Monday's episode I really don't have anything witty or sarcastic to say. Did I lose my sparkle? Did Tierra suck the humor out of me and the show, thus making my blog nearly unreadable? No. This show is about love, people!
With all the drama, we almost forgot that Sean is actually getting engaged. It was a good thing that some seriously awkward family conversations brought us back in check. All joking aside, Sean was very poised and handled himself really well. He impressed me.
RELATED: Arie's Blog: 'A Rose Is A Tierrable Thing to Waste'
Hometown Date 1: AshLee
It's safe to say AshLee is stealing all of our hearts. Pastor Frazier's banter with Sean was great, and I really liked how Sean was asking a lot of the tough questions regarding AshLee's marriage as a 17-year-old. Pastor Frazier stole the show — and I can see there is a lot of love in that family.
Five foster homes can affect someone's sparkle, but AshLee is shining bright. If she gets sent home in the coming weeks, I'd love to see her as The Bachelorette. I can't imagine a girl who'd deserve it more.
Hometown Date 2: Catherine
Catherine and Sean had a blast at Fisherman's Wharf. After the day portion of the date, I was sold: They are a definite match. Even when Sean met the family, my first thought was, "This is going well." But then the sisters dug in, calling Catherine "dirty" and the conversation with her mother was just off. I just don't know how I see him fitting into this situation… Trouble in paradise.
RELATED: Arie's Blog: Tierra Is Just Tierrable
Hometown Date 3: Lindsay
"Kiss me harder!" Lindsay demanded, while putting Sean through army drills. Their date was very sweet and I liked their playfulness. Sean was seriously sweating it when it came to meeting Lindsay's father, but he turned out to be really easygoing. Everything seemed very effortless when it came to their date. I can hear it already: "SeanSay."
Hometown Date 4: Desiree
Can someone make Nate (Desiree's brother) the next Bachelor? We need to make this skeptic a believer. I wouldn't go as far as to say that he killed it for Des, but Nate definitely didn't help her chances. You marry the girl. You marry the family. And this was awkward to say the least.
RELATED: Arie's Blog: Tierra Could Turn Into Courtney Robertson
I really felt for Desiree when Sean let her go at the rose ceremony, and I sincerely thought she was going to stay after the long goodbye. I mean, what's the harm in inviting four girls to Thailand? Everyone felt for her, but Sean seemed pretty confident in his decision. The heart wants what the heart wants, and for Desiree, it wasn't meant to be.
Follow Arie on Twitter @Ariejr.
[Photo Credit: Voorhees Studios]
---
From Our Partners:

Kate Upton Bares All in Nothing But Body Paint: Video (Celebuzz)

Bradley Cooper Dancing Is Surprisingly Awkward, Sweaty (Vh1)