Arie Luyendyk Jr. on Life After Emily Maynard and 'Bachelor' Prospects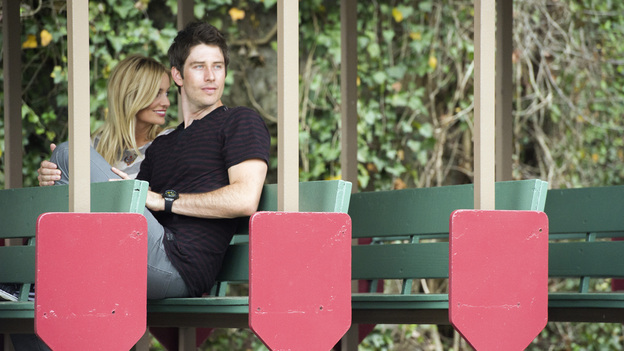 After coming in second place for Emily Maynard's heart on The Bachelorette, questions arose about Arie Luyendyk Jr.'s potential to be the man du jour on their other show, The Bachelor (from which The Bachelorette spin-off originated). And as is the natural course for the ABC family of romantic hopefuls after a season ends, comes the speculation about which of the contestants may get their chance at finding love again. Enter attractive race car driver and runner-up: Arie. Not only does he have an already established career (with a high-enough profile image to bring in fans from his other career), but he has plenty of fans from the show who wouldn't hate watching him make-out a little bit more on national television.
But he's not the only fellow from Emily's season with buzz on him with Bachelor potential: another runner-up, Sean Lowe is also fan favorite for the chance to hand out roses.
Hollywood.com got a chance to chat with Arie, as well as loved-up fiancés/Kewpie dolls Emily and Jef Holm about all of this, and their answers might surprise you.
As far as Arie goes on the Bachelor rumors, he's pretty tight-lipped, explaining that it would be a "very tough decision and I'd really have to put a lot of thought to that." And while "months have gone by since the taping," Arie still has a bit of mending to do regarding the break-up. "It is a very emotional journey. And it would be a very tough decision for me … I have to give it a lot of thought."
But does Arie believe in the show's ability to find love, especially when so many couples in its past have not been able to really make it last? Well, yes! He explained that he "realize[ed] through the experience, I did find love. And it was a really great experience for me because it opened me up and it really allowed me to self reflect a lot." Arie's words are only vaguely similar to Sean's, who–when we spoke to him earlier in the season–felt strongly on both ends of the spectrum: "It was so emotionally taxing and I don't know if could go through that again. On the flip side of the coin, I understand that the process works. I believe in the process and ultimately if I were to find my wife, it would certainly all be worth it."
So would Arie do it? While he explained that he "would be very flattered if they asked," he did admit that he was unsure "what the future holds" for him at this point, but does admit he thinks he could be a good fit–along with his fellow former contestant, Sean. "Sean is a great guy," Arie explained, "and I think we'd both be great. But I think it's a tough decision. And once you've been through it and realized how emotional it is, it is a very unique experience, it's a very hard decision to make. I think Sean or myself would be good for that."
When it comes to which team Jef and Emily are on, though, they're both pretty mum, but agree that Arie would be a good choice:"I think Arie is so funny, and I think it would be entertaining just as a viewer of the show … I got to know them both, and so did Jef just living with them. I think they both would be so much fun to watch in different ways. They are both very different from each other, you can't go wrong." Jef agreed about Arie as a potential Bachelor man, and added "I would love it!"
But would it be weird, watching someone you used to kiss on the mouth kiss a bunch of other girls on the mouth? Not so, says Emily: "It wouldn't be hard for me at all." Sounds like Arie has some potential viewers if he were to be cast on the show to look for love once more.
What do you think about Arie's chances of being The Bachelor? Would you watch if he was on, or are you more of a Sean fan? Sound off in the comments!
Reporting by Lindsey DiMattina
Follow Alicia on Twitter @alicialutes
[Photo Credit: ABC]
More:
Predicting The Next 'Bachelor': How ABC Makes Its Decision
We Want You! To Choose The Next 'Bachelor'
'Bachelorette' Emily Maynard: Ricki Doesn't Know I'm Engaged to Jef Holm