Arie Luyendyk Jr.'s 'Bachelor' Blog: 'A Rose Is A Tierrable Thing to Waste'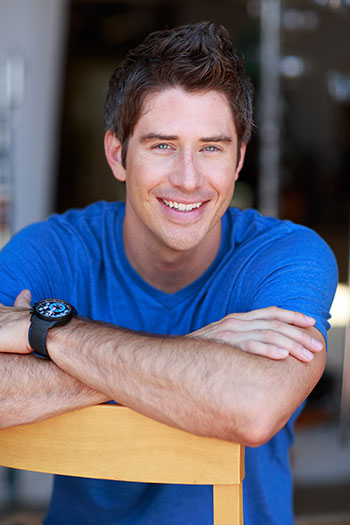 Let's all take a moment of silence and be thankful Sean completed his work out and got a shower in before the episode started. I'm sure everyone else was bummed, but all the husbands watching were starting to boycott.
First off, can we talk about how excited these girls were to leave the mansion and head to… (Insert drum roll here, please) Whitefish, Mont.?
I'm sorry, where? I immediately thought back to where we went my season, then pictured myself spitting up my water if I had heard I would be going to Montana. But hey, it's a good excuse for Sean to rock all of the plaid shirts in his wardrobe. (He has a lot of plaid.)
RELATED: Arie's Blog: Tierra Could Turn Into Courtney Robertson
Lindsay's One-On-One
So we cut to Lindsay's date. This is getting serious, everyone! That was pretty adorable when she got the date card and teared up. On the date, she put it down with the kissing — and I'm starting to feel like I underestimated her. The girl that walked out of the limo all Patrick Swazted has come a long way, and I like her more and more.
Group Date Drama
Group Date! These are my favorites. I can't get over Selma and Robyn. How did this team win after they rowed in circles for 15 minutes? I was laughing at how pumped Selma got — she turned all ghetto fabulous. Competitive much? The shot of Desiree slamming that goat milk down her throat was so sick. And after all that, she didn't even get the rose. Whaaaaat? I'm calling out a Bachelor conspiracy on this one.
RELATED: Arie's Blog: Tierra Is Just Tierrable
Two-On-One Date
Let's move onto the infamous two-on-one date. The date card was a total a Mad Max reference (It was a late '70s movie, and it was awesome, by the way). What it should have read is: "A Rose Is A Tierrable Thing to Waste." Let's face it, that is exactly what Sean did. Tierra needs to go! I don't know how much more America can take. (Cut to the preview of her freezing half to death — is this the end finally?)
Jackie was a bit stiff and the conversation was forced, but she is SO. MUCH. HOTTER. Maybe with time she could have felt more comfortable. Oh well, I guess we'll never find out.
Time for the rose ceremony, and Tierra was at it again! The one thing that I took from all the Tie-antrims was that Sean is finally getting to the bottom of Tierra's nonsense. It said a lot that he confided in Leslie about the situation. She gave him some good insight. Let's just hope Sean listens soon, or we are all going to be yelling at our TVs for weeks to come!
RELATED: Arie's Blog: On Kisses, Bikinis, And Insane Meltdowns
Oh and Robyn went home…
Another episode Tuesday night!
Follow Arie on Twitter @Ariejr.
[Photo Credit: Voorhees Studios]
---
You Might Also Like:

Biden? Ford? Surprisingly Hot Young Pics of Politicians

Who Wore This Crazy Hat?

Stars Who Changed Their Look After Love