Arie Luyendyk Jr.'s 'Bachelor' Blog: On Kisses, Bikinis, and Insane Meltdowns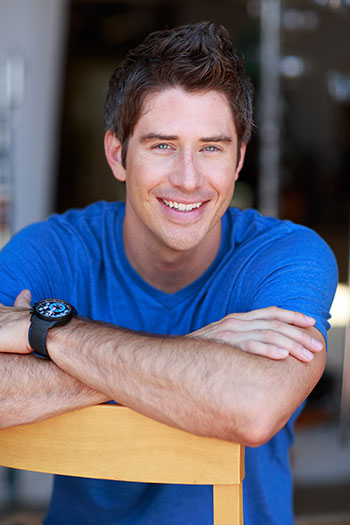 Well, it was another #BachS**tCray night on ABC. 
First off, let me state the obvious: Apparently, we are opening up each episode with a shirtless workout montage or a beach scene. I have been following along with this tradition by doing push-ups shirtless at the same time. This was awkward because I watched the show with a few dudes and some girl I barely know. Okay, that was a random story. Let's get onto the actual show.
Sean's One-on-One with Lesley M.
Sean's first date was with Lesley M., and they attempted to break The Guinness Book of World Records' record for longest on-screen kiss. A few thoughts on this topic:
1. I believe editing prevented me from breaking this record last season with Emily (Sorry Jef, I know you're reading this). I mean, three minutes and 15 seconds, that's child's play!
2. If I were in Sean's position, I would have been way too handsy.
3. Who is down to break this record on YouTube this week? I may be game.
Alright, moving forward to the actual kiss. I hate to say it because Sean is my buddy, but what a missed opportunity! It was his time to shine. He had had her locked in for three-plus minutes, and she was leading him! (Nice hair grabbing, Lesley. You have some style, girl.)
Overall, the date went well. The night portion really showed that Sean is feeling her. I only say this because he really wanted Lesley to reassure him that she had strong feelings for him. Men don't do this unless they want to feel confident. So, I wonder if her being so nervous made him question her feelings?
Group Date Bikini Action and Kacie's Crazy Confrontation
Just when I was cutting through the awkwardness by eating RedVines and checking Twitter, everyone changed into bikinis. Now that got my attention! My only wish was that everyone could have been on that date. Oh well, back to the show.
My favorite line from the group date: "This game is the most important game of my life." Okay, you may need to reevaluate things a bit then. And then, watching the losing team have a meltdown and breaking into tears… Wow! Kristy just lost it.
So everyone put some normal clothes on, and then it was on to Kacie's one-on-one scene. I was so confused by Kacie's decision to talk to Sean about Desiree and Amanda's drama, and judging by the look on Sean's face, so was he. It's safe to say men don't like drama. Kacie should have just concentrated on their connection, and not warned Sean about that nonsense. That pretty much sealed her fate. Did you hear him call her "crazy?" By the way, girls, when a man calls you "crazy," it's safe to say it's over.
AshLee F.'s One-On-One
Let's cut to AshLee F.'s date because the whole Tierra drama was a waste of time. On the show, and off, Tierra is sliding downhill fast.
I was really moved by AshLee's date. Having those two girls join them was really sweet of Sean. I loved how AshLee was so open and caring towards them. It really made me like her. The date reminded me a bit of my Dollywood date with Emily. It's so amazing to have a theme park to yourself. It brings out the big kid in you. Sean and AshLee were all smiles, and the two girls had the time of their lives — it warmed my heart.
When Sean and AshLee had dinner, she opened up to him. Everyone has a story to tell, and AshLee has been through quite a lot. It was good to see how positive she remains after her experiences, and more than anything, she wants someone to love. That person could be Sean.
Back to the mansion. Cocktail parties before a rose ceremony were always my favorite. People start freaking out! It's just fun to watch the meltdowns. Monday's meltdown wasn't too crazy, though. Selma looked AhhMazing, and we all knew Kacie was out of there. It was a bit of a surprise that Sean eliminated Kristy, but hey, she lost her cool a few times.
Until next week everyone! This show is #BachS**tCray, and we just can't take our eyes off of it.
Follow Arie on Twitter @Ariejr.
[Photo Credit: Voorhees Studios]
More:
Arie Luyendyk Jr.'s 'Bachelor' Blog: Tierra 'Could Turn Into Courtney Robertson'
'The Bachelor' Recap: Hunk and His Punks
'The Bachelor' Recap: Every Rose is 50 Shades of Nuts

Craziest Celebrity Swimsuits Ever (Celebuzz)

Child Stars: Where Are They Now? (Celebuzz)