Arie Luyendyk Jr.'s 'Bachelor' Blog: Tierra Is Just Plain Tierrable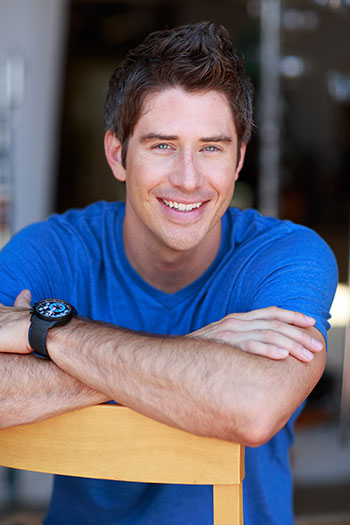 Let me digest what happened on my TV screen. Hot workout clothes, roller derby, girls hitting the deck, big teeth, and not a lot of romance — but all in all, an awesome episode.
To Kiss or Not to Kiss
Lets start with Selma saying, "I want to have babies!" Then cut to her skipping off into Bachelor euphoria. I loved Selma's sense of humor during her date with Sean. Not too many girls are this witty, and I loved that she was completely herself in front of him. She had no filter.
Now, swap out those six-inch heels for hiking shoes and that girl can show you what's up. Sean's 17-inch biceps were no match for Selma's 5'2" frame, and believe me, I'm sure he loved the view as they scaled up the rock.
Onto the night portion of the date, I applauded her for holding back and telling Sean that she couldn't kiss him yet. But I can't believe how hard it would be not to kiss when you just had such an amazing date. (Though, no one said anything about getting handsy under that blanket.)
A New 'Bachelor' Audience and Tierra's Tierrable Ways
Next up was my favorite pastime (not really): Roller Derby! The Bachelor just gained thousands of lesbian fans after that scene. By the way, no one looks good in those helmets. Adriana Lima could have been there and I wouldn't have noticed.
During the day portion of the date, nothing too interesting happened besides Amanda's teeth almost getting knocked out. She then had to go to the hospital — a move she basically took straight out of Tierra's playbook from last week's episode.
The night's activities lead to the real drama of this episode. Just when Sean started kissing one woman (buddy, great improvement by the way!) and was about to get down in some classic Bachelor hot tub/make-out bliss, Tierra totally pulled the robbery. Tierrable, as I'm going to call her from now on, cried a bit and pulled Sean away. She basically stopped him from actually starting to form a connection with anyone.
I really could go on, but I'm Tierrafied, and I can't believe he gave her a rose on that group date. The whole thing was Tierrable, just plain Tierrable.
Heartbreak Time
Leslie H. got the last one-on-one, and Sean took her on the classic Bachelor shopping date. I was really rooting for her!
But the magic started to drain from the scene after the shopping was done and they sat down for dinner. While Leslie looked quite odd with a massive bow on her dress, she rolled with it and seemed happier than ever… at first. I loved her energy. But then Sean started giving standard one-word answers, which is never a great sign. And just when you thought she would get a shot at being Sean's gal… BAM! He lifted the rose and simultaneously broke her heart by not giving it to her.
I felt so sad in that moment. Leslie's big eyes lit up and not seconds later, all that happiness went away. Breakups suck. Breakups on The Bachelor suck even more.
One Last Goodbye
At the rose ceremony, Amanda, who went to the hospital on the derby date, got all dressed up. But her stunt didn't get her the sympathy rose. After that, everyone toasted to another #bachs**tcray week.
At this point, Sean is doing an awesome job juggling all the craziness. And the whole country is wondering what Tierrable is still doing there.
I had no filter this week, so hopefully you guys don't think less of me. Check back next week and I'll try to be a bit more PC.
Be sure to follow me on Twitter!. Lots of love!
Follow Arie on Twitter @Ariejr.
[Photo Credit: Voorhees Studios]
More:
Arie Luyendyk Jr.'s 'Bachelor' Blog: On Kisses, Bikinis, and Insane Meltdowns
Arie Luyendyk Jr.'s 'Bachelor' Blog: Tierra 'Could Turn Into Courtney Robertson'
'The Bachelor' Recap: Wheelin' and Dealin'

20 Hottest Celebrity Bikini Bodies