Arie Luyendyk Jr.'s 'Bachelor' Blog: Ugly Christmas Sweaters in Canada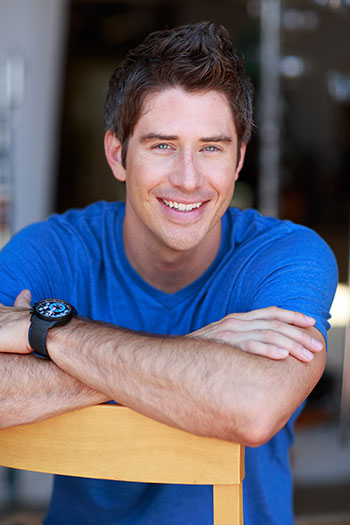 Two nights of The Bachelor, and two nights of Tierrable decisions. Tired of that joke? Well, I'm tired of having to use it. But apparently, Sean is not ready to let her go. Yes, I've ruined the suspense of the rest of the blog, because that's all I can think about since my wine buzz has faded.
Date One: Catherine's One-On-One
Tuesday night, The Bachelor headed to Banff, Canada. I have to say, the scenery was breathtaking.
Catherine received the first date, and they showed all of two seconds of the blizzard they "romantically" hung out in. I can just see Sean and Catherine grabbing two or three shots and peacin' out. Dinner was much better, and I really liked how Catherine opened up. She gets more beautiful every episode. She shared a very touching story about her friend passing away, and I was a bit disappointed Sean didn't really interact as much. Maybe we didn't see the whole conversation?
RELATED: Arie's Blog: 'A Rose Is A Tierrable Thing to Waste'
Group Date: Tierrable Drama
Alright, enough of that. Let's get to the drama: Cue Tierra. The group date had the girls getting into their bikinis and taking a polar bear plunge. Selma wasn't having any of it. (Don't worry, girl. I would have hung out with you in the tent.)
After everyone jumped into the water and came out all smiles, Tierra started running around, looking for attention (cough), I mean a paramedic. Tierra was then put on oxygen for what seemed to be a missed diagnosis of hypothermia. Then, 15 minutes later, she strapped some boots on and crashed the cocktail party. This girl is full-throttle crazy, and there is no stopping her. Thankfully, she didn't get a pity rose, but sadly this wasn't the last of her.
RELATED: Arie's Blog: Tierra Could Turn Into Courtney Robertson
Date Three: Desiree's One-On-One
Desiree's date went well, but I couldn't concentrate because of Sean's ugly Christmas sweater. I mean, I know this is Canada, but this just was not acceptable. We may forgive Sean for keeping Tierra, but we will never forgive him for wearing that sweater. Sorry, bud.
At the cocktail party, Selma went 90-10 and gave Sean a kiss. (Did that peck even really count?) Don't worry, Selma. I think your mom would approve.
During the party, AshLee also gave Sean a scarf that apparently represented 20 or so things really important to her (Sean, don't ever lose that scarf). And Lindsay and Sean shared a really good kiss — the best one yet. Maybe he is finally learning?
RELATED: Arie's Blog: Tierra Is Just Tierrable
I don't really know what to say about Tierra getting a rose over Selma. Ke$ha I would get, but Selma? If you guys follow me on Twitter you know I have a crush on Selma, but regardless, did you see that dress? Was she too much for Sean to handle or did that peck just not peak Sean's "interest?"
There are six women left, and apparently they are all the woman for Sean. Only on The Bachelor can you ever say that to six women.
Follow Arie on Twitter @Ariejr.
[Photo Credit: Voorhees Studios]
---
You Might Also Like:

Biden? Ford? Surprisingly Hot Young Pics of Politicians

Who Wore This Crazy Hat?

Stars Who Changed Their Look After Love