'Arrested Development' Counter-Programming: 'Star Trek,' Muscle Cars, & Memorial Day Marathons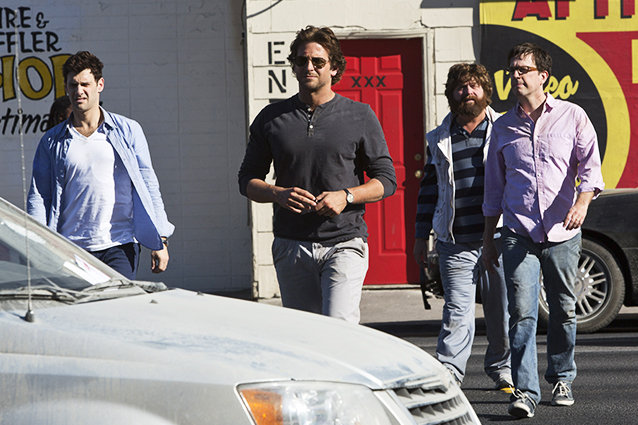 "Now the story of a wealthy family who lost everything and the one son who had no choice but to keep them all together." If that quote means nothing to you, then you've made a huge mistake: you've never watched Arrested Development and probably don't intend on watching its relaunch on Netflix. It also means your water-cooler conversations are going to suffer. But never fear! We've prepped a guide for you on what to say to act like you're an Arrested expert. And you've also got a ton of other pop culture choices for today and Memorial Day to binge on. If you're smart, once you've quoted "There's always money in the banana stand" to your co-workers, redirect the conversation to one of these topics. Consider this your guide to Arrested Development counter-programming this Memorial Day weekend.
MOVIES TO WATCH
The Hangover Part III — Yep, Todd Phillips' explosive conclusion to the Wolf Pack trilogy pulled tepid box office and far worse reviews. If you reveal to your hipper friends that you saw Hangover Part III instead of Arrested Development, you may lose your pop-culture-consumer cred entirely. That said, you can make a joke about how both Hangover Part III and Arrested Development involve tall vehicles with height-clearance issues. Admittedly, though, only one of them — Hangover — thinks a giraffe getting decapitated after slamming into a highway overpass is funny.
Fast & Furious 6 — Arrested Development is all brain, the Fast & Furious franchise all brawn. The sequel may be such counter-AD programming, so radically different, that it might be the only legitimately cool thing to watch instead.
Star Trek Into Darkness — The original Star Trek series was, in essence, the first Arrested Development: A cultishly scrutinized three-season series with a small but rabid fanbase that grew its following in re-runs until it relaunched a decade later as a tentpole franchise everybody loved.
Epic — Need to entertain the kids? Fox Animation Studios' Epic is a surprisingly poignant father-daughter bonding tale that's also like 3-D Fern Gully for the computer animation age. The visuals are pretty stunning, even if the plot — it's like Avatar meets The Borrowers — leaves something to be desired.
TV MARATHONS TO WATCH
TCM War Movie Marathon (All day Sunday and Monday) — Remember our glorious dead with Turner Classic Movies' annual Memorial Day Weekend tribute. Sunday's offerings include John Ford's They Were Expendable (1945, 1:00 p.m. ET), a strong contender for the title of "greatest war movie ever," the classic documentary-style World War II epic Battleground (1949, 8:00 p.m. ET), and a screening in tribute to our Russian allies during WWII, Mikhail Kalatozov's heartbreaking The Cranes Are Flying (1957, 4:30 a.m. Sunday). TCM's saving some of their biggest titles for Monday, such as The Bridge on the River Kwai (1957, 6:15 a.m.), The Guns of Navarone (1961, 9:00 a.m.), the profoundly affecting returning-soldiers drama The Best Years of Our Lives (1946, 5:00 p.m.), and Howard Hawks' Air Force (1943, 8:00 p.m.).
Mad Men, AMC, 1:30 p.m. Sunday- 1:12 a.m. Monday — Get caught up on Seasons 5 & 6 with AMC's marathon. Because if there's one show cooler than Arrested Development, it's Mad Men.
Falling Skies, TNT 10 a.m.- 8 p.m. — Season 3's just around the corner for the better-and-better alien-invasion drama. Might as well immerse yourself in a ten-hour marathon!
Clint Eastwood Marathon, Reelz — Feeling lucky? Well sure we do, punks, because Reelz is offering an all-day lineup of Clint Eastwood classics, including his iconic Dollars Trilogy, a whole bunch of Dirty Harry movies, and the underrated Ted Post Western Hang 'Em High.
James Bond, G4 — An all-day, decades-spanning marathon on Monday of Agent 007. Never seen the unfairly overlooked Timothy Dalton Bond flick License to Kill? It's included in G4's lineup, and it's a revealing precursor to today's "gritty reimagining" aesthetic, with Dalton as Daniel Craig for an audience that wasn't ready for Daniel Craig. It's plane-hijacks-plane opening was totally ripped off for the beginning of The Dark Knight Rises.
AMC's War Movie Marathon — Sunday on AMC is all Mad Men, Monday is all war movies. Do yourself a favor: if you've never seen The Longest Day, the star-studded real-time reenactment of the June 6, 1944 D-Day invasion, check it out. And they'll also be showing The Dirty Dozen, of course, the ultimate male weepie.
Veronica Mars, SOAPnet, 10 a.m.-7 p.m. — SOAPnet's determined to fill the time between now and the Kickstarter-funded Veronica Mars movie by giving you a medley of its very best episodes, Monday.
What will you be watching? 
Follow Christian Blauvelt on Twitter @Ctblauvelt | Follow Hollywood.com on Twitter @Hollywood_com
More:
Play the 'Arrested Development' Game of Life: Print our Boardgame!
'Arrested Development' Creator Mitch Hurwitz Says Not to Binge-Watch
How to Act Like You're in on the Known on 'Arrested Development' If You've Never Watched an Episode
---
From Our Partners:


Zoe Saldana Strips Down For Magazine (Celebuzz)


33 Child Stars: Where Are They Now? (Celebuzz)