'Arrested Development': Henry Winkler to Appear in Season 4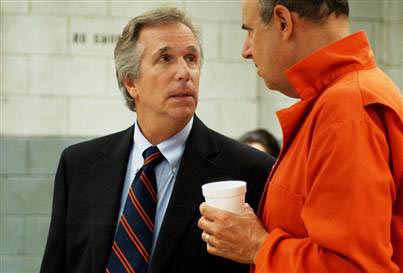 For making such an astute decision to revive Arrested Development for a much-desired fourth season, Netflix has hired one inept lawyer. The Hollywood Reporter has confirmed that Henry Winkler, who played Bluth family attorney Barry Zuckerkorn, will appear in "multiple episodes" of the series.
Winkler's addition is adding to the Arrested fandom frenzy that began earlier this summer when pictures from the set found their way onto the Internet. The actor tweeted Friday, "I AM SUPPOSED TO BE MEMORIZING an ARRESTED DEVELOPMENT scene with MAYBE for today … don't tell anyone I was here OK?????"
But the tweet-happy Winkler also revealed another lawyer back in the Bluths' life — Scott Baio, who played Zuckerkorn's replacement, Bob Loblaw (owner of Bob Loblaw's Law Blog), is also appearing on the series, which will premiere this spring.
New faces, however, are poised to join Season 4, including John Slattery , who's role has not yet been released. Still, though Netflix has confirmed the entire cast will return for its revival, we're still waiting for word on whether we can expect to see Franklin and Ann. Yes, her?
[Image Credit: FOX]
More:
It's Arrested Development: A Gallery of Set Photos from the New Season
Arrested Development: 20 Running Jokes We Hope Keep Running
Tony Hale Talks Arrested Development, Veep, and His Pop Culture Dreams