'Arrow': Catch Up Before the Next Bullseye Hits Its Mark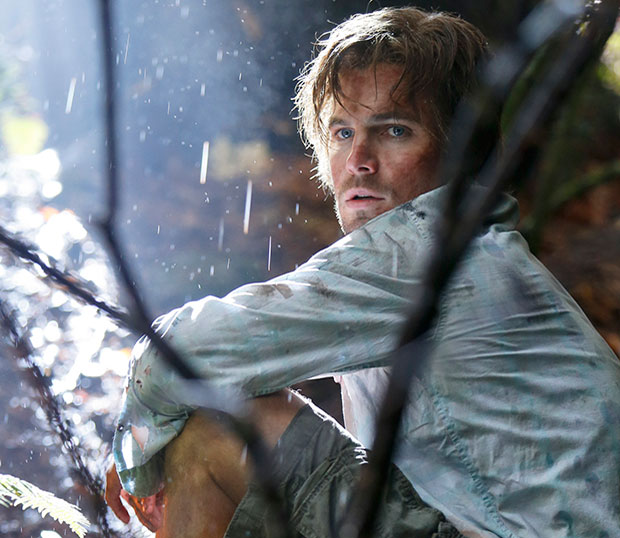 Has it really been only 9 episodes? With its genius writing, compelling story, complex characters, best use of a mysterious island since Lost, and passionate fan base, it seems as if The CW's fall superstar, Arrow, has been on the air for many seasons. It is without a doubt the winner out of all the new shows, both in ratings and critical response. Ever since The CW lost its superhero origin story Smallville after 10 seasons, the need for an interesting, intelligent look at how a normal person becomes a hero has grown, and Arrow has finally filled that role. Before Arrow returns tonight with the first new episode of 2013, let's take a look at the wildly successful first 9 episodes and catch up on all things Oliver Queen.
Where we left off: Oliver got the absolute s**t kicked out of him by the Dark Archer — who was revealed to be Malcolm Merlyn, Tommy's father — and found himself waking up in a hospital bed surrounded by his family. Thanks to Diggle's quick thinking, Moira, Walter, and Thea think he crashed his motorcycle so his secret is still that: a secret from his family (and from Malcolm, since he never got the chance to see Arrow's face). Walter found out about The List thanks to quirky, clever IT girl Felicity, and that led to Moira/Malcolm having him drugged and kidnapped. Laurel and Tommy are dating for real, and Tommy's been cut off from his funds, making him – gasp! – poor. Det. Lance slightly got over his prejudice of Arrow and actually teamed up with him to try and take down the Dark Archer. And thanks to the Dark Archer, Oliver found out that his father wasn't the creator of The List… meaning that someone else is actually to blame for the corruption of Starling City, completely changing Oliver's target and his overall mission.
Biggest Jaw-Dropper of the fall: The reveal of the Dark Archer as Malcolm Merlyn (we were sure it was going to be Tommy, even though it makes more sense as Malcolm since he's already been established as evil).
Biggest Let-Down of the fall: Oliver needs to get more action — and we don't mean the fist-fighting kind! Sure, he got with the Huntress… but we didn't actually see any of it. One makeout, then a cut to the next morning. If The Vampire Diaries can show hot vamp sex all the time, why can't we get human sex on Arrow? Really, anything to see more of Stephen Amell naked will do.
Most Improved Character: Tommy has already matured so much, both in his relationship with Laurel and in wanting to make an honest living (well, that wasn't a choice so much as a necessity after being cut off).
Least Improved Character: Thea. Enough whining! Give this girl some substance (and we don't mean drugs… or do we? Her nickname is Speedy after all…)!
5 Reasons You Should Keep Watching: 1. We are about to meet Seth Gabel's villain, The Count, who is a street thug slash drug kingpin pushing a new drug on Starling City, and this is one villain Arrow can't knock down easily. "The Count is definitely willing to be cheap, and not very honorable in his battle tactics," Gabel told Hollywood.com. "He welcomes the challenge of the Arrow character, and is not afraid of that conflict. [He] actually welcomes that opportunity to prove that [he is] greater [than Arrow]." 2. We haven't seen the last of the Huntress, Oliver's revenge-obsessed ex. "She's going to come back," said executive producer Greg Berlanti at TCA. "We like to think of her as the crazy ex-girlfriend." 3. David Anders will be playing a character that is completely new, created just for the show. Anders' Cyrus Vanch is a villain with no conscience, making him absolutely ruthless. 4. Spartacus' Manu Bennett will take on the role of Slade Wilson, who will become Deathstroke, the menacing, violent masked man who tortured Oliver on the island. 5. Colton Haynes will play Roy Harper, who is known in the DC comics franchise as Speedy. Wait… isn't that Thea's nickname on the show? Coincidence… we think not. Thea meets Roy – who is from the rough part of town—after he steals her purse, and he is a potential love interest for her.
What we ultimately want to see: Now that Arrow is widening his vision on what kind of vigilante he will be — sticking to taking down the names on The List vs. taking down all street crime — we want to see his evolution from the Hood to Arrow, and how that affects everyone around him. He also starts off the second half of the season in a major funk after getting knocked down by the Dark Archer, so seeing him pull himself back up and into the vigilante saddle is going to be very interesting. What will motivate him to get back out there? Plus, you know, more abs.
Arrow returns with "Burned" tonight at 8 PM ET/PT on the CW.
[Photo Credit: James Dittiger/The CW]
Follow Sydney on Twitter @SydneyBucksbaum
More:
'Arrow' React: Revenge Vs. Justice
'Arrow' React: Sleeping With the Enemy… Literally
'Arrow' React: I See Your List of Evil People, and I Raise You Street Crime

Craziest Celebrity Swimsuits (Celebuzz)