'Arrow' Showrunner Teases 'Insane' Final Two Episodes, Oliver/Laurel Resolution and 'Olicity' Chemistry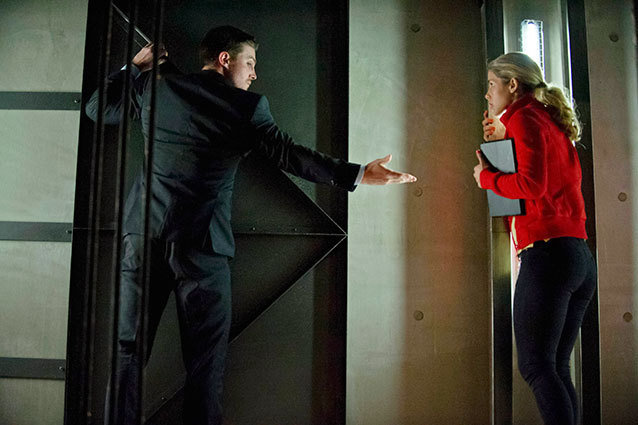 All the pieces are in place for an explosive final two episodes of Arrow. Oliver (Stephen Amell) knows his mother Moira (Susanna Thompson) is up to something nefarious with Malcolm Merlyn (John Barrowman), Laurel (Katie Cassidy) knows that Oliver still loves her after Tommy Merlyn (Colin Donnell) dumped her and told her the truth, and Thea (Willa Holland) agreed to help Roy Harper (Colton Haynes) find the vigilante. Plus, The Undertaking is finally upon us! 
Executive producer Marc Guggenheim knows that he and the rest of the Arrow showrunners have a lot of balls up in the air when the penultimate episode, "Darkness On the Edge of Town," airs on Wednesday night, and he couldn't be more excited for fans to watch them fall.
"It's insane. The story line I'm most excited for fans to see play out is the resolution of the Oliver/Laurel/Tommy love triangle," Guggenheim tells Hollywood.com. "I think that's the character story line that gets the most exciting in the final two episodes."
Now that Laurel knows that Oliver still loves her, expect the drama to heat up again between the exes. "I think that she had always thought that Oliver had moved on. That whether he loved her or not, once you sleep with someone's sister, you're not getting back together anytime soon or ever," Guggenheim says. "She thought, at the very least, that whether Oliver had feelings for her or not it was very much a moot point. Obviously she was shocked to discover in 21 that it is very much not a moot point. That's the quandary she finds herself in at the top of 22."
Will Laurel choose get back together with Oliver now that she knows the truth? "Well, the world as she understood it has changed. It's been upended," Guggenheim explains. "She never thought that Oliver would try to get back together with her or acknowledge feelings that would open that door. It's a development that she certainly didn't expect and thus is trying to wrap her brain around it when 22 begins."
While Laurel struggles with her romantic relationships, Oliver will have his hands full with his familial relationships… specifically, with his mother Moira. "He hasn't even learned the complete truth about her yet. He's learned that she's been lying, that she's been working with Malcolm Merlyn, but he doesn't know that they plan to destroy the city," Guggenheim reveals. "And he doesn't know the connection that his father had to this whole Undertaking. So there's still a lot of bombs left to explode, and we're actually going to blow them all up in Episode 22."
One of those bombs is the result of Thea and Roy's search for the vigilante. "22 features the first time that Oliver and Roy meet, and it's a fun moment," Guggenheim reveals. "It's a big moment in the life of our series and it will have pretty big repercussions for the Roy/Thea relationship."
Another shocking, upcoming moment has already been teased thanks to some spoiler-filled finale photos The CW released. We already know Malcolm will somehow capture the vigilante, tie him up and de-hood him. But how will Oliver get into that situation? "It's certainly a spoiler for sure. I don't want to spoil it even further by saying how he specifically got there but there will be no doubt by the end of Episode 22 how he got there," Guggenheim teases. "There are so many spoiler-worthy moments in these last two episodes that we decided that we could afford to spin one. And even with that spoiler out there, there's still plenty in the last two hours of the show to be shocked by."
That's quite the understatement, and according to Guggenheim, fans of Oliver/Felicity relationship should definitely not miss Wednesday's episode – as if any Arrow fan would ever miss an episode! "Episode 22 features a moment between the two of them where I think it will only pour gasoline on the fire because the chemistry between them is so palpable," Guggenheim reveals. "I think 22 will increase the number of people shipping Oliver and Felicity."
Guggenheim himself has been feeding the flames of "Olicity" shippers in the past month since he has been tweeting out lines of dialogue between Felicity and Oliver that could only be described as incredibly flirtatious and teasing. "I love doing it. When I did the very first one it was this lark, and then it started this mini Twitter fire storm," Guggenheim says. "What I really love, and quite frankly am appreciative of, is the fact that everyone is in on the game. They know it's a tease, they know that we all share a love of Felicity, and I love the fact that people are shipping Oliver and Felicity and coining the term 'Olicity.' It makes me really happy."
Arrow airs Wednesdays at 8 PM ET/PT on The CW.
Follow Sydney on Twitter: @SydneyBucksbaum
More:
'Arrow' Sneak Peek: Don't Ever Do a Favor For Malcolm Merlyn
'Arrow' Season Finale First Look: Oliver's Secret Is Out!
'Arrow': Emily Bett Rickards Teases Major 'Olicity' Action 
---
From Our Partners:


Watch Justin Bieber Attacked in Dubai (Celebuzz)


33 Child Stars: Where Are They Now? (Celebuzz)