'Arrow' Episode 2: Steering Clear of the 'Secret Circle' Conundrum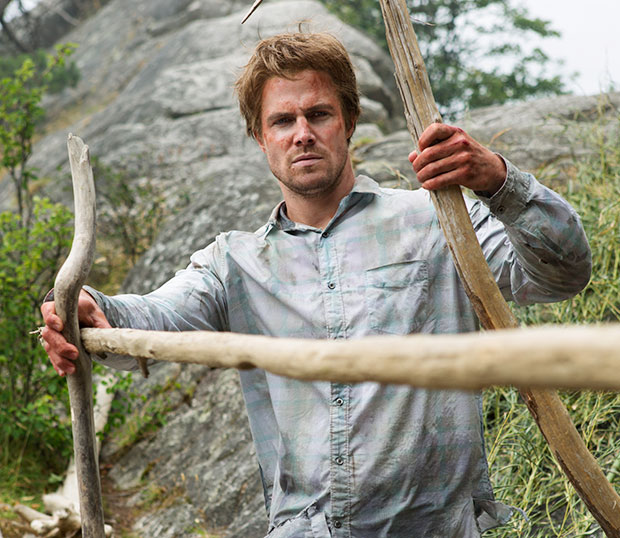 Guys, it was clear from my Arrow review last week that I love this show. But even though I had made the commitment to tune in for an hour every week on my already TV-packed Wednesday nights, I still had some reservations. There were a couple things I was apprehensive about and hoped with all my heart that could and would be fixed ASAP. These were things that could potentially kill the show's chances at making it past the first season and developing into a long-running CW darling (see: Smallville, Supernatural). And in case I didn't make it clear enough for you in last week's review, I really, REALLY want to see Stephen Amell's abs acting skills on my TV every week. If this show does get the chance to keep going, it looks like I'll be getting my eye-candy on a weekly basis.
It may not have been as epic as the pilot's beautiful portrayal of the canary ladder, but last night we did get a nice sequence of Oliver Queen working his way up a rope (those ARMS, I mean come on!) and a shirtless moment so sister Thea got the chance to see the extent of Ollie's scars. Yeah, girl, they're pretty bad. But it'll take a lot more than that to make Amell's chest ugly. Swoon.
I was worried that Arrow would make the same mistake as another dark CW show that was canceled last year after only one season. I'm talking, of course, about the teen witch drama Secret Circle. Now the reason the Britt Robertson-vehicle failed is what I am going to call the Secret Circle Conundrum (mainly because I like the word conundrum and have wanted to fit it into an article for some time now. Victory!). The SCC: having too many high stakes too often and trying too hard to work the supernatural aspect.
Let me explain both aspects of the SCC. First of all, Secret Circle, every week, had one or more of the main characters vying for their lives. Every new piece of information they discovered led to a huge life or death situation. It got to the point where every single day of their lives was a huge event. We, as viewers, were so accustomed to this that it became the norm. We no longer feared for the witches, and the show became boring – despite the fact that the subject matter was thrilling and dangerous. There was just too much, too often.
And the other half of the SCC: trying too hard to be supernatural. I mean, yes, the entire show was about supernatural witchcraft, but there were so many loopholes and rules to keep track of that at some point I just stopped caring. When the majority of your episodes consist of the characters expositing on all the rules and reasons why they can't or won't do something, you're telling, not showing. The most important aspect of a successful show is to show, not tell.
I had my reasons to worry that Arrow would go this route. For the five years Oliver was marooned on an island, he somehow picked up two different languages, the ability to be an expert archer, and a fancy-schmancy bow and arrow. If he was really and truly alone on the island, like the first episode led us to believe, then how the hell did he accomplish these things? Answer: supernaturally. And that leads us dangerously into SCC territory.
Now, I was quickly reassured in the beginning of last night's episode that at least half of the SCC wasn't going to be an issue. Yes, the show has high stakes – Arrow indeed kills people, and thus could be killed himself – but these high stakes were cool action scenes. The parkour and violence is what makes the show so dark and gritty. Better yet, one of his takedowns happened in the first few minutes, and we were never even worried for Arrow. He knows what he's doing. But as for the second half of the SCC, I was still concerned for most of episode two. What happened on that island?
Thankfully, in one quick scene, at the very end of the hour, all my concerns vanished. Obviously SPOILER ALERT!, Oliver was not alone on that island. After dragging his father's body inland and giving him the best burial he could, a hooded archer shot an arrow through Oliver's shoulder. And there you have it: the beginning of the explanation of who the new Oliver/Arrow is. His scars, archery skills, language skills–we're left to assume this new mysterious archer is Oliver's mentor.
Now that we have established another human being as the reason behind Oliver's transformation into Arrow, I can breathe a huge sigh of relief. A human explanation grounds the show in reality, and steers it away from being too supernatural and suffering from the fate of the SCC. The island was dangerously close to being a supernatural entity.
Thank you, Arrow, for reaffirming why I love you. See you next Wednesday, and every Wednesday after that!
Follow Sydney on Twitter @SydneyBucksbaum
[Photo Credit: Jack Rowand/The CW]
More:
'Arrow': Why You Need To Be Watching
Is 'Arrow' a Bullseye? Everything You Need to Know Before the Premiere
'Arrow' Premiere: Stephen Amell and Cast Tease Sex, Violence, and Family Drama
From Our Partners:

Giuliana and Bill Rancic Planning for Baby No. 2: 'I Would Love a Girl,' Says E Host
(Celebuzz)

Kate Upton Flaunts Major Cleavage in Vogue's November Issue — PHOTOS
(Celebuzz)