'Arrow' Star Stephen Amell Reveals the Aftermath of [SPOILER] Finding Out Oliver's Secret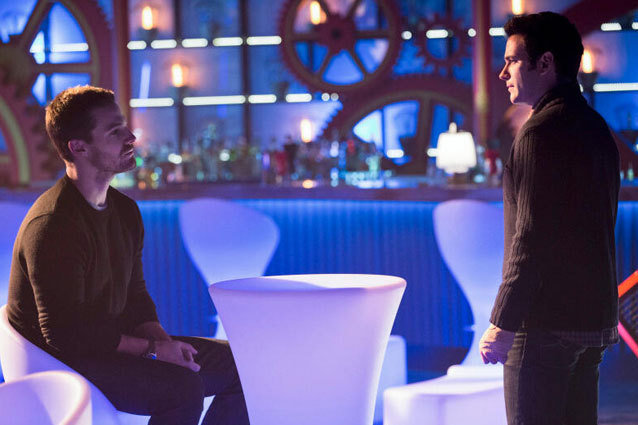 The audience went crazy when they were treated to a new, extended promo of the next batch of Arrow episodes that showed footage of Seth Gabel's disturbingly brilliant return as an even more unhinged The Count, as well as The Huntress giving up Oliver's name as the vigilante to the police. But that wasn't all we learned at the Arrow PaleyFest on Saturday night.
Executive producer Andrew Kreisberg also revealed to Hollywood.com that we'll be meeting a new villain in Episode 18 — "Salvation" — called The Savior, a vigilante who dishes out death sentences via the internet. The internet? Sounds like a job for our favorite intrepid Queen Consolidated IT girl-turned-Team Arrow tech wizard, newly-crowned series regular Felicity Smoake (Emily Bett Rickards).
Oliver Queen himself, Stephen Amell, agrees that Felicity is the right person for taking down this particular vigilante. "She brings an expertise that is immediately necessary in our pursuit," Amell says.
But enough about Felicity (we thought we'd never type that sentence!): what we really wanted to know more about was how Tommy (Colin Donnell) will deal with the knowledge that Oliver is the vigilante after his big reveal in "Dead to Rights." And Amell was more than happy to tease how Tommy won't be as accepting as Diggle (David Ramsey) and Felicity were when they found out.
RELATED: 'Arrow' Recap: [SPOILER] Finds Out Oliver's Secret Identity!
"He did not want to tell Tommy for a variety of reasons and all of those reasons unfortunately prove true very soon," Amell says. "It totally affects [their friendship]. It fundamentally changes every single aspect of their relationship and puts Tommy in almost immediate, imminent danger because of his proximity to me as the vigilante. We see that almost immediately in Episode 17."
Kreisberg agrees that Tommy's feelings of betrayal and hurt will be a large part of the rest of the season. "A lot of what we're seeing in the back half of the season is how Tommy and Oliver's relationship has changed by this revelation that Oliver is the vigilante," Kreisberg says. "They had always just been party guys, and Tommy assumed Oliver came back [from the island] the same way. Now he's finding out that's not the case."
Surprisingly, Oliver's evolution from party boy to vigilante won't be the only obstacle in their way. "Despite, obviously, how much Oliver has changed, Oliver's not going to realize how much Tommy has changed," Kreisberg says. "That's going to cause a lot of friction between them."
Exciting stuff, right? Unfortunately, we're going to have to wait a little longer to see the aftermath of "Holy S*** Balls," – um, we mean "Dead to Rights." Arrow will return with "The Huntress Returns" on Wednesday, March 20 at 8 PM ET/PT on The CW. 
Follow Sydney on Twitter: @SydneyBucksbaum
[Photo Credit: The CW]
---
From Our Partners:


Kim Kardashian's Maternity Style: So Wrong? (Vh1)


60 Celebrity Bikini Bodies: Guess Who! (Celebuzz)