'Arrow' Producer Talks Villains; Says Moira Confrontation Happens 'A Lot Sooner Than You Think'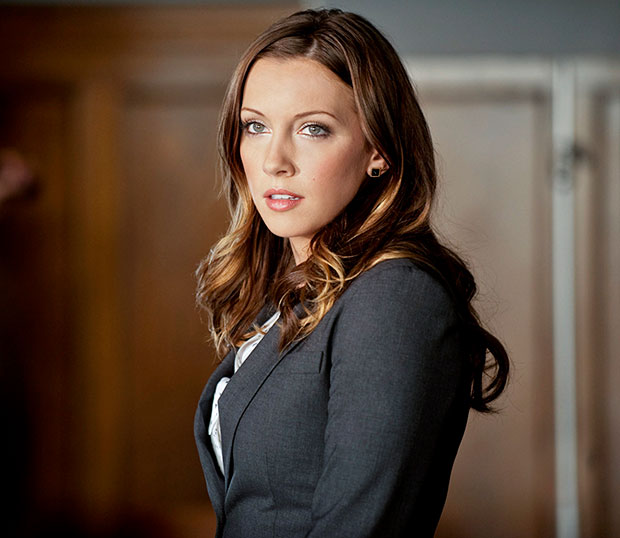 Relatively speaking, things seemed pretty okay at the end of last week's Arrow: Moira was out of her funk, Laurel was beginning a working relationship with The Arrow, Tommy was being useful, and The Huntress was nowhere to be found. But, alas — producer Andrew Kreisberg and Mr. Diggle himself, David Ramsey, recently told Hollywood.com that the peace will come crashing down sooner rather than later.
First, there's the drama in tonight's episode, which will largely center around a spat between Diggle and Oliver — who, once again, have a different opinion on how Starling City should be saved. "There will be more [confrontation between them], which I think is great," Ramsey says. "It serves our hero well. It serves the show well, just in terms of how [Diggle and Oliver] see this city being saved. Diggle has his own philosophy of how the city can be helped, and so does Oliver. Diggle sees things that Oliver just can't, at the end of the day. Because it's a burden that's been placed on him — Like Hamlet. The burden of fulfilling his father's dying wish lies heavy on this man who is suffering from post-traumatic syndrome in a serious way. Diggle sees that. It's not that Oliver is not intelligent and can't, he's just not emotionally in a place where he can."
But the two men are going to have to work it out, because the a new villain from the comic books — Seth Gabel's Vertigo — will soon appear with a nasty street drug that wreaks havoc on one beloved member of the Queen family. "[Vertigo is] like Cillian Murphy's scarecrow [from Christopher Nolan's Batman series] — he's got a wicked look in his eye, and he's a little bit demented," Kreisberg says. "He has a provocative allure, and that's what Seth does so well. Our Vertigo is different from the comic book Count Vertigo — in the comic book he was literally a Count, [which is] a little bit fantastical for the world of Arrow we've created. He's going to be playing a dealer who is peddling a new narcotic called Vertigo that Thea runs afoul of. It's going to make Arrow taking down the Count extremely personal."
Which doesn't mean that you should count out the Dark Archer, who was recently revealed to be Tommy's dad, Malcom Merlyn. "John Barrowman [who plays Malcolm] is really our big bad of the season, but as far as long-term villains, we're excited about what the Count could be for the Arrow-verse," Kreisberg says. But does this mean that Barrowman, who currently only recurs on the show, could be upgraded to regular status? "Anything is possible!" Kreisberg teases.
To add to the headache, Oliver — not Arrow, though the two are very much entwined — will deal with personal drama from two very important ladies in his life (well, three, if we're counting Thea's drug issues). The confrontation between Oliver and his mother is coming a lot sooner than you may think," Kreisberg says, referring to the fact that Moira is somehow in cahoots with Malcom, and knows a lot more than she's telling.
In semi-related news, The Huntress will also rear her not-so-ugly head — just as things start to go well in Oliver's romantic life. "The Huntress is going to make a return appearance in a story that we broke down in the writer's room as what happens when your crazy ex girlfriend shows up when you're finally dating someone nice and new," Kreisberg says, referring to True Blood's Janina Gavankar, who will soon recur as a love interest for Oliver. "Oliver is going to try and date her, and then finds out that she is now a police officer, and she's assigned to the task force to bring the Arrow down," he says. "He's dating her by day, and she's hunting him at night."
Do things ever go well for Oliver? Not at the moment, but Kreisberg promises that there is a silver lining for the hood: "Throughout all of this [drama], there's Oliver and Laurel. They're star-crossed lovers. Their friendship, their chemistry, their love, their affection, their anger — it's always present in a scene that they're in together, so that will always be in the background."
Watch Arrow Wednesdays at 8PM on The CW.
Follow Shaunna on Twitter @HWShaunna
[PHOTO CREDIT: Cate Cameron/The CW]
MORE:
'Arrow' Premiere: Stephen Amell and Cast Tease Sex, Violence, and Family Drama
Leanne's Spoiler List: Seth Gabel Spills 'Arrow' Secrets, 'The Vampire Diaries' Gets Darker

Child Stars: Where Are They Now? (Celebuzz)