'Arrow' Season Finale First Look: Oliver's Secret Is Out!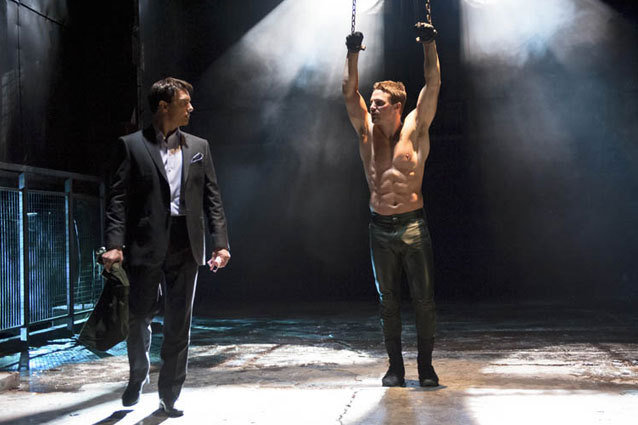 We've been warning you for weeks that s**t's about to get crazy on Arrow, and here's your proof! In these first look photos from the season 1 finale, "Sacrifice," we see Malcolm Merlyn (John Barrowman) gloating alongside a chained-up Oliver (Stephen Amell), who's been de-hooded and de-shirted. What is going on?!
Thankfully, the muscle behind the vigilante, Amell, sat down with a small group of reporters to discuss the jam-packed, intense season finale of Arrow and to shine a little light on these spoilery photos. Turns out, Oliver's secret won't stay a secret much longer thanks to his arch enemy, Malcolm, a.k.a. The Dark Archer.
"I start the season finale chained up and left for dead," Amell reveals. "I am chained up by Mr. Barrowman [aka Malcolm Merlyn]. Now, in the photos he is not wearing a mask and neither am I, although I don't ever wear a mask. Everything is out in the open between us."
You read that right: Malcolm and Oliver will learn the truth about each other, bow-and-arrow secrets and all. Needless to say, Ollie's got different attitude toward the elder Merlyn than he did in episode 16 when he encouraged his then-best friend Tommy (Colin Donnell) to give his father a chance.
"Oliver, we saw in Episode 16, actually encouraged Tommy to develop a relationship with his father. He doesn't know anything about Malcolm Merlyn other than maybe he could be a better dad," Amell says. "He certainly doesn't suspect anything to the effect of him being slightly evil, let alone the other archer."
Once Oliver learns Malcolm's other identity, some major drama will go down. "I think Oliver will support [Tommy working for Malcolm] because ultimately Oliver wants Tommy to be happy and he wants him to stand on his own," Amell adds. "Should he come to learn anything about Tommy's father, he may feel differently."
That's an understatement, and not the only drama going down in the season finale. When "Sacrifice" shoots onto our TV screens on May 15, Oliver and Diggle (David Ramsey) race to stop the Dark Archer from unleashing his vengeance on The Glades. However, they run into a road block after Detective Lance (Paul Blackthorne) picks up Felicity for questioning. Tommy and Oliver's already tumultuous relationship takes a turn for the worse after Oliver makes a confession about Laurel (Katie Cassidy). After hearing of the danger in The Glades, Thea (Willa Holland) races to find Roy (Colton Haynes), inadvertently putting herself directly in the line of fire of Malcolm's devious plan. On the island, Oliver, Slade (Manu Bennett) and Shado (Celina Jade) are locked in a life-or-death struggle against Fyers as his missiles lock on a full Ferris Air jetliner.
Check out two more first look photos from "Sacrifice" below: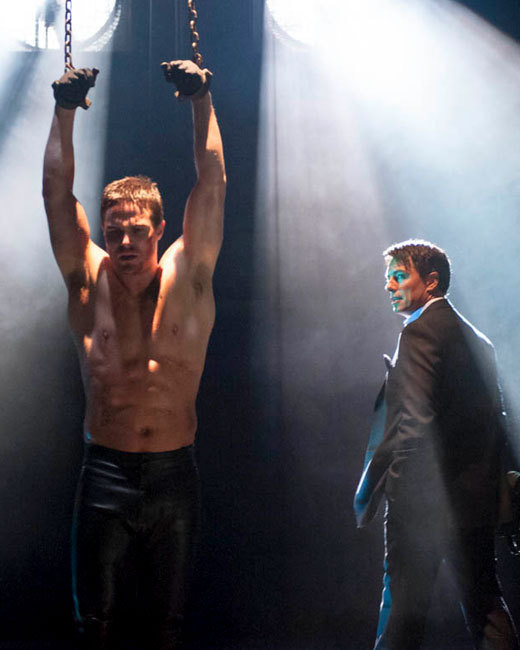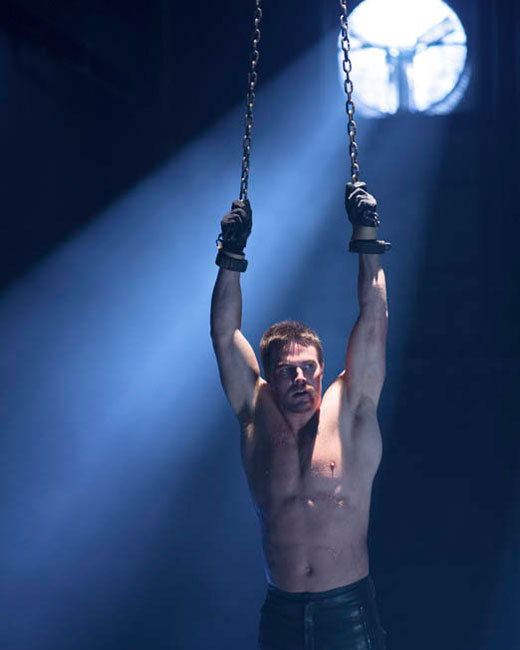 Arrow airs on Wednesdays at 8 PM ET/PT on The CW.
Reporting by Leanne Aguilera
Follow Leanne on Twitter: @leanneaguilera
Follow Sydney on Twitter: @SydneyBucksbaum
More:
'Arrow' Scoop: A Pair of Villains Threaten to Tear the Team Apart 
'Arrow' Star Stephen Amell Previews Olicity Overload
'Arrow' Season 2 Scoop: Will Seth Gabel's The Count Return? 
---
From Our Partners:


Miley Goes Braless for Magazine Cover (Celebuzz)


33 Child Stars: Where Are They Now? (Celebuzz)