How Will the Big Death on 'Arrow' Affect Season 2? Producers and Cast Weigh In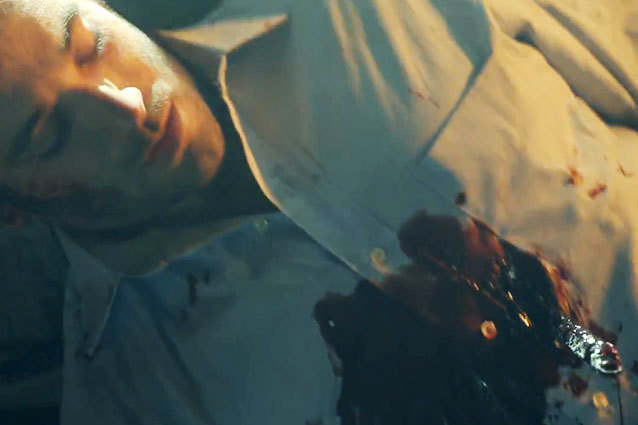 There was a lot of death and destruction in the Season 1 finale of Arrow, "Sacrifice," but no one paid a bigger price than Tommy (Colin Donnell). Fans everywhere screamed at their TVs as they watched Oliver's (Stephen Amell) best friend save Laurel's life only to get trapped in a collapsing building. Oliver arrived just in time to trade tearful goodbyes as Tommy bled out, and with his final breath, Arrow Season 1 ended. 
"It was really tough," Amell tells us of learning Tommy's fate. "When [Donnell] found out, I was the next person to find out. We went for coffee." Sounds like their bromance carries over into real life!
Tommy's demise was the death no one saw coming. "I'm very gratified and happy because it is so hard in today's Internet world to actually surprise an audience. We managed to surprise a fair chunk of people," executive producer Marc Guggenheim says. "As far as why Tommy, we wanted Oliver to face a crisis in the last episode and basically face defeat and a loss … [Tommy's death] is the one loss that affects all the characters. It affects Oliver and Laurel, obviously, but it even affects Thea — and it affects Moira because now she's partially responsible for the death of Oliver's best friend. Tommy's death sends a ripple effect throughout the entire cast."
Losing Tommy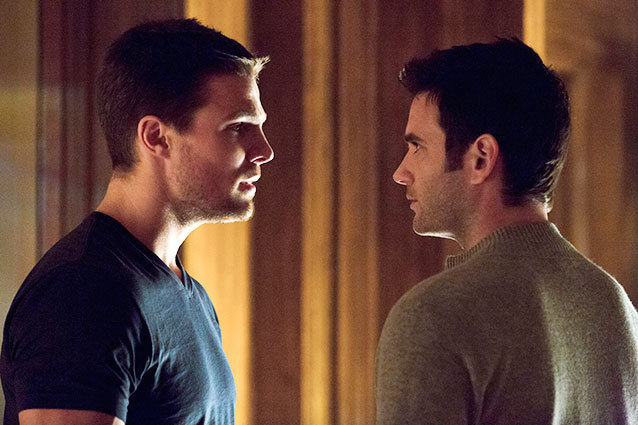 Tommy's death thwarted most fans' hypothesis that Tommy would take up his father's Dark Archer cause. "The ancillary effect is that everyone expected us to pull a Sam Raimi Spider-man thing where Tommy tries to avenge his father's death, or because of the love triangle with Oliver and Laurel, so it paid the dividend of surprising people to go this route," Guggenheim says. "But at the end of the day, it's not about just surprising people, it's about the creative map. When you make the decision to kill off a character, you don't undertake that lightly. You want to make sure that killing off a character has a greater creative benefit than keeping the character on the show."
What does Tommy's death mean for Season 2, especially amid all the destruction The Undertaking earthquake caused in The Glades? "We're back in the writers room on Season 2 already and one of the things that we are very committed to is that Tommy is a specter throughout Season 2," Guggenheim reveals. "His death has had repercussions and will continue to have repercussions, mostly on Oliver and Laurel … It's going to drive how Laurel feels about the Arrow, it's going to drive how Oliver feels about himself as the Arrow, it's going to drive how Thea has reacted to The Undertaking and the earthquake that her mom was involved with."
Amell says of Tommy's death, "Purely from a creative standpoint, if I just view it in a vacuum, it's really exciting because people were worrying that we're burning through story because a lot happened this year, but everything is reset … There are so many new opportunities between me and Susanna [Thompson], between me and Willa [Holland], between me and Laurel. We're going to need to Oliver Queen in the real world because of everything that happened with the Queen family. It's not all pancakes and roses  — pancakes and roses, is that even a thing?" 
Rest assured, Arrow fans, this might not be the last time we see Tommy Merlyn on the show. "I'll tell you what I told Colin. I was up on set for Colin's last scene and his performance was so amazing, so I said to him, "I'm really glad the show does flashbacks,'" Guggenheim teases. "I wasn't even saying it to console Colin, I was saying it to console myself … We're not limited to flashing back only to Oliver on the island — there's every possibility that we'll see Colin Donnell on the show again."
What Can We Expect From Season 2?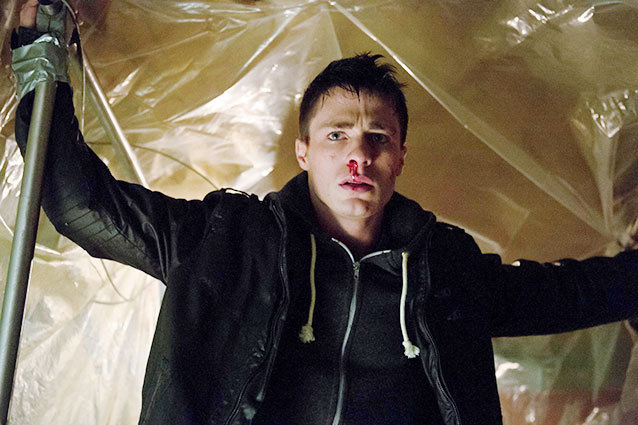 And as for the other major cliffhangers in the finale, we saw Oliver, Shado, and Slade successfully stop Fyers on the island, so what's next on the island? "Oh my God, things are just starting on the Island," Amell teases. "We're going to continue to carry that story line all the way through to where we found Oliver in the pilot, so clearly a lot more has to happen."
Now that The Undertaking occurred and The Glades have been destroyed via a man-made earthquake, will we pick up right away after the disaster in Season 2? "I think we're looking at a time jump," newly promoted series regular Colton Haynes (Roy) reveals. "I think it's going to be really interesting for the fans because they're going to want it right where we left off, but they're going to get so many answers and more right from the beginning. Also, since the devastation of The Glades, I think they're going to be assembling a little team to help out Starling City, so you can possibly draw your conclusions. You know the DC universe is very big so there might be a lot more characters coming."
Emily Bett Rickards, the fan-favorite Felicity, agrees, "I think a time jump would be smart, but also if we started off back in earthquake disaster I think it would work as well. There's so many directions the show can go and our creative team is so smart and fast. I mean, that's why the show is so action-packed and doing so well, they can do anything."
We're excited to see what the Arrow team thinks up for Season 2, but in the meantime, we'll be mourning Tommy by re-watching the entire first season. 
Additional reporting by Kelsea Stahler
Follow Sydney on Twitter: @SydneyBucksbaum
More:
'Arrow' Finale Scoop: Is Detective Lance Going to Die?
'Arrow' Showrunner Teases an Insane Finale Two Episodes
'Arrow': Emily Bett Rickards Teases Major 'Olicity' Action 
---
From Our Partners:


Zoe Saldana Strips Down For Magazine (Celebuzz)


33 Child Stars: Where Are They Now? (Celebuzz)