'Arrow' Flashback: Pre-Island Oliver Queen Was A Real Douche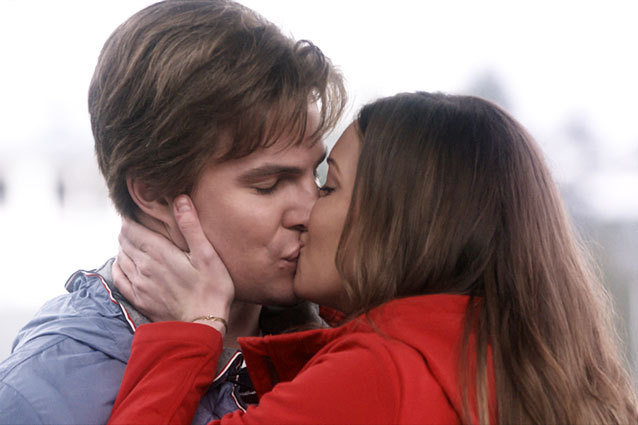 We've seen many different sides to Oliver Queen (Stephen Amell) on Arrow. His island self: a scared, reformed party boy in over his head trying to survive in a nightmare situation. His post-island self: a tough, brutal warrior trying to clean up Starling City by taking down the corrupt and evil. His post-island façade: the face he shows his family and the public, a light, happy-go-lucky party boy with a darker edge. And now Oliver is about to show us a new, never-before-seen side: his pre-island self.
In this hot new clip of Thursday's episode, "The Undertaking," we see just how much of a douche pre-island Oliver was… not that we didn't already have an inkling. This is a guy who cheated on his girlfriend, Laurel (Katie Cassidy) with her sister, Sarah, which led to said sister's death. Check out just how much pre-island Oliver sucked as he kisses Laurel goodbye — while Sarah sneaks on board the fateful yacht that will spark the events of The CW's newest hit show.
Watching Moira (Susanna Thompson) try to talk Oliver out of leaving with his father Robert (Jamey Sheridan) in the flashback makes us wonder: Did Moira know about the Queen's Gambit shipwreck before the Queen men set sail? We know she knew about the tampered boat after the fact, but would she really have let her son go if she knew he wouldn't return? Or is Malcolm Merlyn (John Barrowman) the real culprit behind the shipwreck? In the episode, Malcolm also reveals to Robert painful details surrounding his wife's murder, and how that shaped his plans for the Glades… meaning we will finally learn the details of his mysterious Undertaking scheme.
As if that wasn't enough drama to keep you hooked, Thursday's new episode also has Oliver finding it difficult to mend fences with Tommy (Colin Donnell) and Diggle (David Ramsey), so he instead focuses on crossing another name off the list. While digging through a crooked accountant's laptop, Felicity (Emily Bett Rickards) discovers a transaction that could help Oliver find Walter. To reconfirm the lead, Oliver gambles that Felicity can be counted on in the field for the first time. Meanwhile, Tommy stuns Laurel with the truth.
Arrow airs Wednesdays at 8 PM ET/PT on The CW.
Follow Sydney on Twitter: @SydneyBucksbaum
More:
'Arrow' Season Finale First Look: Oliver's Secret Is Out!
'Arrow' Scoop: A Pair of Villains Threatens to Tear the Team Apart
'Arrow' Season 2 Scoop: Will Seth Gabel's The Count Return? 
---
From Our Partners:


Miley Goes Braless for Magazine Cover (Celebuzz)


33 Child Stars: Where Are They Now? (Celebuzz)