'Arrow': Emily Bett Rickards Teases Major 'Olicity' Action and a Possible Lead on Walter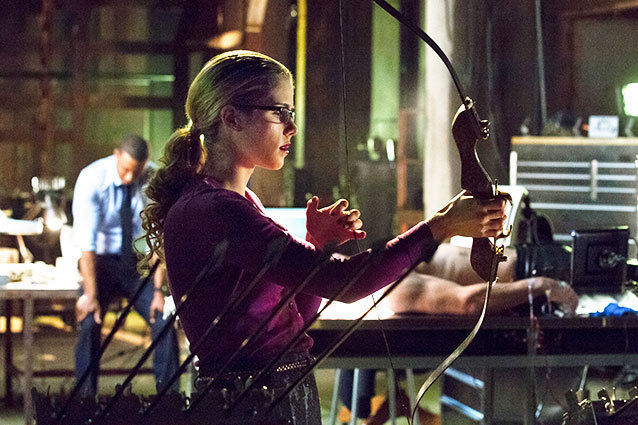 Everyone's favorite IT girl Felicity Smoak hasn't had the best experiences going out in the field. But all that will hopefully change on Wednesday's new episode of Arrow, "The Undertaking."
While "The Undertaking" features flashbacks of pre-island (and present douche) Oliver (Stephen Amell) as he boards the Queen's Gambit for that fateful boat trip with his father Robert (Jamey Sheridan), as well as Malcolm Merlyn (John Barrowman). As Malcolm reveals to Robert painful details surrounding his wife's murder and how that shaped his plans for the Glades (meaning we will finally learn the details of his mysterious Undertaking scheme), Felicity will also get her chance to shine.
Emily Bett Rickards, the woman behind Team Arrow's techie, revealed to Hollywood.com that while digging through a crooked accountant's laptop, Felicity discovers a transaction that could help Oliver find Walter. To confirm the lead, Felicity heads out into the field… hopefully with less bomb collars this time. "Since Episode 15 when she had the bomb collar on her neck, she's done some training and become more fully involved," Rickards tells Hollywood.com. "She's changed. When she goes out in the field in this episode, she volunteers because there is no other way for them to succeed or go on this mission unless she does go out in the field. There are no bomb collars, but she doesn't know that. She uses her power of intellect."
"She's playing a very dangerous game. I think we all like to play a dangerous game at some point," Rickards continues. "But she's trying to do it in a very honest way and she's trying to survive."
The catalyst that sends Felicity out in the field is her ongoing, always-present search for Walter, who has been missing (read: kidnapped after he asked one too many questions about The Undertaking) for months. "We're getting closer to Walter. What does Felicity do in her spare time? She's on her computer searching for Walter. She probably doesn't leave the computer too often," Rickards says. "She comes across this new evidence in the midst of searching for someone else, but I don't think it was an accident because her Walter radar is always turned on. She's never stopped looking."
While Felicity is out in the field, she utters a line to Oliver that executive producer Marc Guggenheim tweeted out weeks ago that sent "Olicity" shippers into a tizzy: "It feels good having you inside me." When asked to provide some context for that innuendo-laden quote, Rickards just laughed. "Love that line. Oh my god, what is going on, right? So flirtatious," Rickards teases. "She has to severely cover from that line. It's like word vomit. I think she almost threw up when she said that. It's just the funniest line."
Felicity might be embarrassed after letting slip that line to Oliver now, but if she had known him pre-island – which we will finally get to see tonight in a flashback – she might not have been so inclined to get to know him. "I don't think she would have liked him. I think she looks at people very judgmentally in the best sense of the word. She sees good things in people and sees whether or not the bad things are there," Rickards says. "I think there are certain things about pre-island Oliver that she wouldn't have respected. She might have liked him and thought he was a complete babe and womanizer. There's always that attraction. But what she wouldn't have had for pre-island Oliver is her respect and she does have that for the hood and Oliver Queen post-island."
Arrow airs Wednesdays at 8 PM ET/PT on The CW.
Follow Sydney on Twitter: @SydneyBucksbaum
More:
'Arrow' Flashback: Pre-Island Oliver Queen Was a Real Douche
'Arrow' Season Finale First Look: Oliver's Secret Is Out!
'Arrow' Scoop: A Pair of Villains Threatens to Tear the Team Apart 
---
From Our Partners:


Miley Goes Braless for Magazine Cover (Celebuzz)


33 Child Stars: Where Are They Now? (Celebuzz)