'Arrow' Star Celina Jade Teases Kicking Oliver's Ass and (Maybe) Stealing His Heart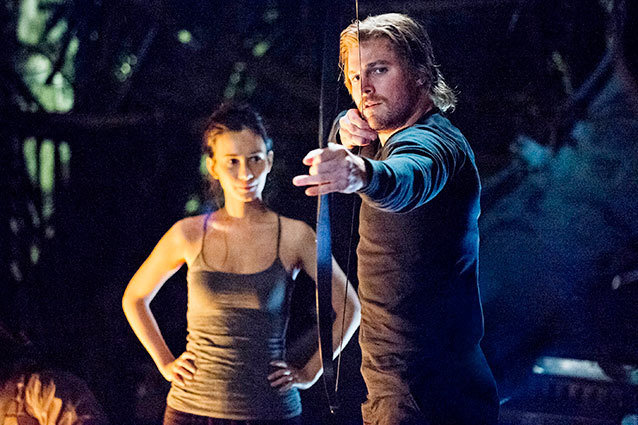 So far on Arrow, Shado (Celina Jade) has been a bit of an enigma. We met Yao Fei's daughter briefly and saw her hold her own in a fight with Fyre's men, but all we know so far is that she can throw a punch, was trapped on an island with Oliver Queen (Stephen Amell) and Slade Wilson (Manu Bennett), and flaunts the same tattoo as Oliver.
All that mystery is about to clear up tonight as "Unfinished Business" – which will see the return of the deliciously twisted Seth Gabel's The Count – focuses on Shado, both on and before the island. "Shado's going to be talking about her back story with Oliver, Jade tells Hollywood.com. "She talks about how she ends up on the island, about Yao Fei, and her intentions. There was a little bit of uncertainty whether or not Yao Fei was a good person or a bad person, [but] all of that is revealed [tonight]."
We will also find out where Oliver learned his badass archery skills… though it will be from a surprising source. "We didn't even know Shado existed until Episode 14, so it was hard to anyone to know that she [was] the person who [ended] up teaching him," Jade says. That's right — Shado is Oliver's mentor!
RELATED: 'Arrow' Scoop: Enemies and Friends
"Oliver, up until now, [was] incapable," Jade continues. "He's dragging the team down because he can't fight like Slade can. Now that Shado's joined the team, she becomes the mentor for Oliver on the island. She's the first person to really believe that Oliver has the potential to find the hero within himself, and the fighter that he can be… She was very much his influence, and taught him some of his signature moves that he uses in Starling City later on."
Obviously, before he can focus on using his newfound skills in Starling City, Oliver and Team Island must figure out a way to defeat Fyres. Jade says that Shado's badass presence will increase their chances. "With Shado, they've formed a really strong team to give them a real chance to fight Fyres," she says. 
Tonight's episode will feature many reveals, but you're going to have to be patient for at least one major mystery— the story behind the matching tattoos. "At this point, I don't know what the story is behind that," Jade says. "I'm not sure if we will find out this season or later on, but I'm sure we will at some point!"
It's safe to say the tattoos will be connected to the relationship between Oliver and Shado, a relationship that will evolve from a strictly mentor-mentee relationship into… something else? "There's definitely romantic tension between them," she says. "It's going to develop into something more, since anything is possible right now on the island." Color us intrigued! 
Arrow airs Wednesdays at 8 PM ET/PT on The CW.
Follow Sydney on Twitter: @SydneyBucksbaum
[Photo Credit: Cate Cameron/The CW]
---
From Our Partners


See 'Game of Thrones' as 'Mad Men' (Vulture)


Hayden Panetierre Bikinis in Miami (Celebuzz)