Ashton's 'Two and a Half Men' Haircut: "Jesus Wanted His Look Back"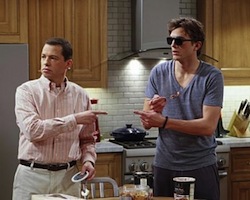 The world breathed a collective sigh of relief when Ashton Kutcher debuted a clean-shaven face and short hair at the TCA panel Jan. 11. And while we were all grateful for the much-needed change, the people who deserve the most credit are the writers of Two and a Half Men, who insisted Kutcher cut his hair for the show.
Of course, the star has another theory. When asked about his clean-cut look at a PaleyFest panel on March 12, the actor joked, "Jesus wanted [his look] back so I gave it to him." But kidding aside, it was the show's writers (not divine intervention) that were responsible for Kutcher's new do.
Kutcher's character, Walden Schmidt, was introduced during the show's ninth season premiere, where he debuted long locks and a shaggy beard. However, the writers felt the shaggy look no longer fit in with his character's progression and decided to actually write it out of the script.
"We wanted to tell a story about being in a relationship and being pressured to change," show creator, Chuck Lorre, said of Walden's budding relationship with Zoey (Sophie Winkleman). Lorre explained, "Walden pushed back and said, 'You can't change me. This is who I am.' But once she stopped trying he got a haircut and changed."
But regardless of the reasoning behind the hairstyle change, the look definitely suits him. And as for Kutcher's take, he said, "I actually was enjoying looking homeless." Unfortunately for him, he was the only one.
What Kutcher's look do you prefer: long and scruffy or short and shaven?
Source: People