'Avengers' Assemble… on TV! The Hulk Gets an ABC Series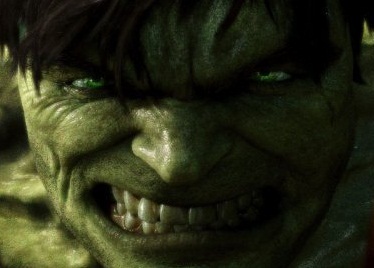 As The Avengers continues to attract wider audiences than that time Will Smith acted out the M*A*S*H finale during the Super Bowl half time show (that wasn't just a dream, right?), it's clear that people are interested in seeing more and more of these six Marvel heroes. While Captain America, Iron Man and Thor have their own cinematic sequels on the horizon, there's one character who is opting for a move to the small screen: The Hulk. It was announced in conjunction with the ABC Upfront event, by network Entertainment President Paul Lee, that Dr. Bruce Banner is being developed for a new television series.
The Hulk was first immortalized beyond his comic book fame by the 1970s-'80s live action CBS series, starring Bill Bixby as David (rumors are that intolerant producers were afraid that the name Bruce had homosexual connotations… wrap your head around that, if you dare) Banner, and Lou Ferrigno as his rage-induced alter ego, the Hulk.
The series is by far the most celebrated adaptation of Stan Lee's comic book character to date, considered vastly superior to Ang Lee's (three Lees! You get a prize) 2003 film, and the 2008 Edward Norton starrer. Hollywood.com's Movies Editor Matt Patches spoke to Ferrigno, who has been involved in each of these projects (as well as The Avengers; he provides the voice for the Hulk in all three movies). The Hulk agrees: the TV show was better.
Thinking optimistically, it will be even better this time around. Although the big screen world is arguably crumbling into a state of desperate unoriginality, the world is currently experiencing the golden age of dramatic television. Character development, well-crafted plot lines, and invigorating realities are at an all-time high. Bixby's The Incredible Hulk was ahead of its time. And now, time has caught up. So, a remake should fit right in (or advance creativity even further).
The personal attention a TV show can pay to Dr. Banner is far more suitable for the character than the overwrought big screen medium. If done well enough, ABC's Banner might even take the company of Television's League of Supreme Antiheroes: Dexter Morgan, Don Draper, Walter White, Tyrion Lannister, and (it might be too soon to make this claim, but so be it) Hannah Hovarth. Considering what people are tuning into these days, the troubled character could very well draw a heap of praise. The Avengers link doesn't hurt, either.
Paul Lee stated, "[The series] wasn't going to be ready this season but we hope it's going to be ready for next season … We're going to continue to develop aggressively."
More:
The Hulk Problem: Lou Ferrigno on Marvel's Struggles to Bring the Hero to Screen
Post-Avengers: What's Next for the Marvel Heroes
[THR]