'Awake' Finale: So Good, the Show Didn't Need a Second Season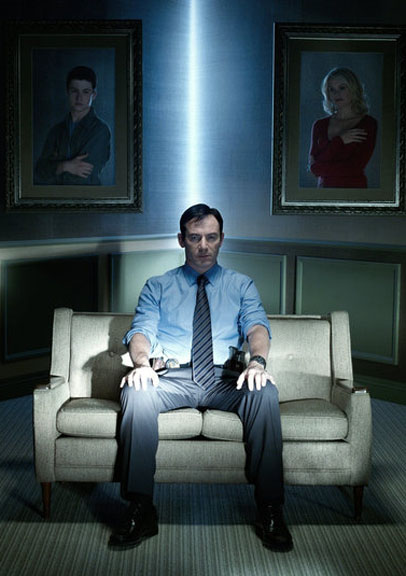 Minor spoilers for Awake to follow.
I was swept up and won over by writer Kyle Killen's Awake from minute one. The saga of Detective Michael Britten (Jason Isaacs) wasn't designed to be easily swallowed, layering the heady concept of split realities on top of an emotionally devastating event all under the disguise of a run-of-the-mill crime procedural. The unique spin made it simultaneously revelatory and destined to fail: anyone invested knew from the get go that the chances Awake would click with the masses and make it to season two were slim to none. Heck, even Killen knew that, often joking on his Twitter account that his show airing a third episode would be a gift from the gods (his previous effort, Fox's Lonestar, aired two of its six shot episodes). Thankfully, fans were granted a complete first season, one that concluded with last night's bittersweet finale "Turtles All the Way Down". And it was a perfect ending.
News came two weeks ago, during NBC's Fall 2012 upfronts, that Awake wouldn't be returning for a second season. Like that, each week went by like a countdown clock, nearing closer and closer to Awake's last hurrah. That gave little hope for closure; in a short span of time, Awake crafted a twisted mystery that had those following along eager to learn more: Britten was in a constant back-and-forth between two realities, one where is wife had survived a tragic car accident, the other where is son is the survivor. The two worlds had crossover, informing Britten of clues for the mysteries he was tackling as a comp, while also hinting that only one (or neither?) reality was real. At the end of the first season, Britten's life had spun completely out of control, the revelation that fellow police officers were the cause of his car crash in an effort to stop his discovery of their drug ring. The question at the beginning of the season was, "how will the writers possibly keep Awake going into Season Two?" As the drama escalated and it became clear that a second season wasn't happening, the question became, "how are the writers possibly going to end this on a satisfying note?!"
Perhaps Killen foresaw the show's fate when he scripted "Turtles All the Way Down", an hour of action and character that doesn't answer every question proposed along the way, but ends on a fulfilling, emotional note. Awake mirrors the bold conclusion of LOST — ending the series on the season one note makes it less about what was wrong with Britten and more about the character coping with his problems. Many fans of LOST detest the final episode of that show (note: I am not one of those people) because it failed to tie together all of the surreal subplots it presented over the course of six seasons. Awake could be seen as equally unsatisfying. "Turtles All the Way Down" does not explicitly explain the "why," but it does provoke us to ask questions, and more importantly, allow us to bask in the serenity of Britten's brief moment of closure. He nails the conspirators who killed his family. He breaks free of the emotional weight of being behind the wheel of that accident. He crosses over into a reality where both his son Rex and his wife Hannah are alive.
Whether his wife or son are actually there is up in the air — the dream state dialogue between Britten and Hannah late in the episode could drive one to believe that the "red world" was a conjured reality, while Rex's "green world" was real. But perhaps Britten died in the car crash too, and much like LOST, we were witnessing him struggle with his own personal limbo. Nothing is concrete, save for Britten's realization that his family will always be with him. The emotional impact of "Turtles All the Way Down" is greater than any plot revelation.
People are wondering where season two would have gone, but I'm not sure I would have wanted to see it. The arc of Awake was a journey I was glad to take, defying convention left and right as expectations were turned upside down and internal problems outweighed logic. Killen put character first with Awake and Jason Isaacs delivered full force with every single episode. Future seasons would have had to raise more questions, and while I think Killen is bright enough to have taken it somewhere compelling, I'm thankful the thirteen episodes he got crescendoed with a heartfelt bang. US network television is one of the few mediums where a creator can't just tell a story. If the demand for more is there, there will be more. Awake lucked out — it's the perfect slice of a story that could have kept going, but one that I'm glad ended when it did.
Follow Matt Patches on Twitter @misterpatches
More:
'Awake' 101: Star Jason Isaacs Gives Us 5 Reasons to Watch
'Awake' Star Wilmer Valderrama Previews Episode 2
SDCC 2011: Review, 'Awake' Pilot Is Riveting
[Photo Credit: NBC ]