'Awkward' Season 3: Ashley Rickards Teases 7 Things to Know About The Premiere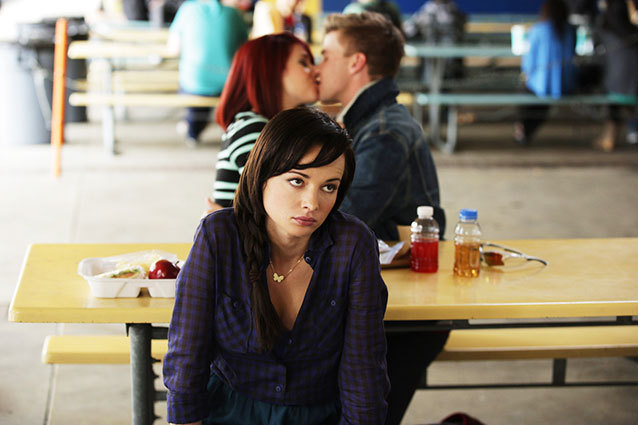 The one-and-only Jenna Hamilton is back, and she's ready to face her Junior year at Palos Hills High with dignity and grace — okay let's be real, this girl is going to stumble into countless awkward situations and we seriously can't wait. Now that our favorite braid-loving protagonist is firmly on Team Matty, high school is going to be a breeze, right? Wrong. This is Awkward!
With a sexy new kid in school, a terrifying teacher, and an MIA BFF, the Season 3 premiere is packed with new challenges and we've listed seven facts you need to know before watching tonight's double-dose of two brand-new Awkward episodes. Plus, we chatted with Ashley Rickards, Jillian Reed, and Brett Davern to bring you even more scoop on the adorably quirky comedy.
1. Love Rectangle: After two seasons of what seemed to be a never-ending love triangle, there's a new shape in the Awkward romance department: A BFF rectangle. Jenna had a sex-filled summer with Matty while Tamara and Jake discovered a whole new world together abroad — but now that they're all back in the same school, Rickards teases that the foursome is in for some new challenges this season.
"I think it's going to provide for some interesting dynamics," she says. "Luckily I think Jenna and Tamara went through it in a more mature way and they discussed it ahead of time. But that's not to say that Tamara is not going to be jealous, and there's not going to be very awkward moments on the show called Awkward."
2. Bonjour PDA: Get ready for some serious lip-locking, because Tamara and Jake are totally that couple. You know the one. That couple who comes back from a summer abroad and thinks that they are worldly, mature, and that PDA is totally acceptable 24/7. They new duo seems to have forgotten all the relationship faux pas — like creating a joint Facebook page. Blegh!
Plus, Tamara and Jake — despite that fact that they have not DTR'd — have already expressed their love for each other. That's right, even though it's in French, the new couple drops so many ily-bomb in front of Jenna that you'd wonder if they left their common sense abroad. 
3. Boys Don't Get Pregnant — Girls Do: There's a rumor going around that someone at PHHS is preggers, and if you've been watching the Awkward Season 3 promo trailers on repeat (like we have) then you know that Sadie is showing all the signs: She's bitchy — even more than usual if you can imagine — she's constantly eating, and she's spending an obscene amount of time hugging the toilet in the ladies room. All we can tell you is that when the truth is revealed in tonight's first episode, "Cha-cha-cha-changes", you'll have a newfound empathy for this heartless character — well, at least for an episode.
4. Terrifying Teacher: Jenna gets accidently placed in Creative Writing, one of the most horrific and difficult classes in school. Not only is the teacher a disgruntled, rude, and condescending man, but he'll also squirt you out of class. No we're serious, he has a squirt bottle and if you're not on your A-game, you'll be drenched by the time you're dumped in the hallway.
But what's the one great thing about this teacher? He's played by '80s legend Anthony Michael Hall! "He's a hard-nosed teacher in school," Davern explains. "He's so hard-nosed that Jake doesn't take his class, that's for sure. He's scary." But despite his terrifying façade, Rickards explains that this class is exactly what Jenna needs this season. "He definitely pushes her to a place that she probably wouldn't have gone on her own, and he really forces her to take a real look at herself an answer some tough questions," she says.
5. New Hottie in Class: One of the positives of being placed in Creative Writng? Jenna meets the kind-hearted Colin (Glee's Nolan Funk). Colin is the new kid in school, and although we barely hear from him in the first two episodes, his mysterious ways will be revealed as the season progresses. "True to Awkward form he is a good looking guy," Rickards says. "And [also] true to that form, drama ensues." Hmm, could we be looking at a new potential love triangle? Only time will tell…
6. Guilty Conscience: In the second episode of tonight's double dose of Awkward, "Responsibly Irresponsible," a death plagues Palos Hills High and it rocks the student body like a disgruntled hurricane. Many girls are feeling guilty over the passing of this one particular character, and while we can't reveal who will no longer be a part of the Awkward cast, we can tell you that they have a kegger and vigil-turned-roast to bid that soul adieu. A few fun tidbits you'll see in that episode: a voodoo doll, a demoted school official and Jenna spitting her food into the person's ashes.
7. YOLO: Acronyms have always been an important and special part of Awkward's unique dialogue. Reed says that she loves learning all of Tamara's quick-paced lines, and that Season 3 is packed with plenty of new acronyms to memorize. "Oh my gosh there's so many," she says. "But the one that has actually been circulating in the trailer is the BFGFBFF, which is pretty funny — it's the Boyfriend, Girlfriend, Best Friends Forever Double Date. The DD is implied. That was fun only because I impressed myself getting that out of my mouth." The popularity of another acronym — YOLO — will lead to one of our Awkward characters getting a permanent message of love tattooed on their body. Yikes!
Don't miss the one-hour Season 3 premiere of Awkward Tuesday, April 16 at 10 PM on MTV!
What are you most looking forward to this season on Awkward? Share your thoughts in the comments below!
Follow Leanne on Twitter @LeanneAguilera
MORE:
Tv Tidbits: 'Awkward' Gets A Season 3, 'ben And Kate' Vet Moves On
9 Strangest Hosts Of The MTV Movie Awards
MTV Movie Awards 2013: The Best And Worst Moments — Gallery