'Baby Daddy' Season 2: The Cast Spills 5 Reasons Why You Need to Tune in This Summer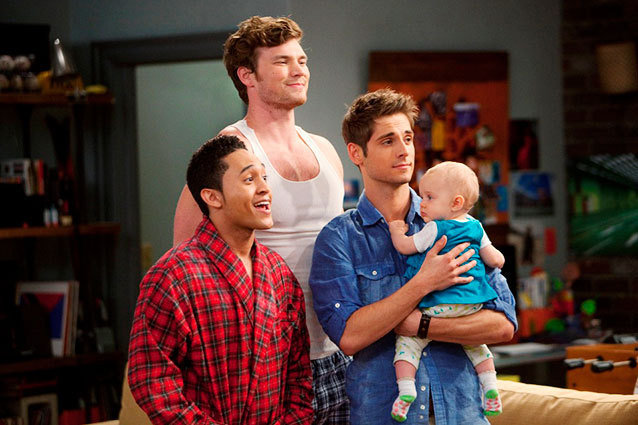 Oh baby! Did you hear the news? ABC Family's hit comedy Baby Daddy returns tonight with a smile-inducing, side-splitting, hilarious all-new episode — and we've got all the details on the Wheeler family shenanigans coming up this summer. Hollywood.com recently caught up with the cast and, after nearly crying from laughter, we've gathered the top 5 reasons why you need to tune into Season 2 of Baby Daddy starting tonight.
1. A TWISTED LOVE TRIANGLE
Okay you ready for this? Danny likes Riley, but Riley likes Ben, and now Ben is starting to like Riley, but Riley has found a new fella played by the wonderful Matt Dallas. Are you confused yet? Chelsea Kane teases that girls everywhere will fall for Dallas' character Fitch Douglas. "Matt Dallas comes on and he plays a saint. No really, he's perfect. He's saving children, he's a great dancer, he's pretty wonderful." Kane complains with a sarcastic smile that having three handsome guys vying for her affection can be draining on set. "It was a really hard season. They're all just so unattractive and they have no personality and they're all awful." Yes, that definitely sounds like the worst job ever!
2. THE TRUTH IS REVEALED
Last season, we all screamed at our TV screens when an oblivious Riley never realized that Danny, a handsome, Greek god of a hockey player, was head over heels for her. However, this season, one of the characters — either Riley or Ben — finally learns of Danny's true feelings. (We're just not telling you who!) Derek Theler reveals that things are about to get even more complicated in Season 2 after a voicemail from hell. "It's always evolving, the whole relationship with Riley and Danny," He says. "Ben is in the picture a little bit more now and he's developing feelings for Riley and it's tough. It's tough for Danny because she has the big crush on my brother, and Danny keeps missing that opportunity to get in there."
3. THE NOT-SO MEAN GIRL
There's a new girl joining the cast this season and we have a pretty good feeling that she enjoys toaster strudels, the word "fetch," and white gold hoop earrings. That's right, the one and only Lacey Chabert is returning to TV and it's looking like Danny is the lucky fella who gets to court the Mean Girls star. "Oh my God, Lacey was our favorite this whole season!" Jean-Luc Bilodeau exclaims. "She was only slotted to do three episodes in the beginning but they ended up hiring her for like six because she was so awesome and everyone loved working with her." Hmm, we wonder if she still wears pink on Wednesdays…
4. TUCKER'S OLD FLAME
Remember Vanessa? She was Tucker's ex-girlfriend that we always heard about but never saw. Well, now we're finally going to meet this mystery woman when she comes back into Tucker's life. Tahj Mowry explains, "Vanessa comes back in Season 2 and creates some havoc again. Tucker has a blind eye to women and sees nothing but boobs, so he's totally down for whatever." Mowry adds with a laugh, "Yes, Tucker is still a very deeply emotional and sensitive character." Unfortunately, not everyone is going to be thrilled with Vanessa's abrupt return and this will cause some serious problems between Ben and Tucker. Yikes!
5. A MORE MATURE BEN
We all fell in love with Ben last season as he struggled with the challenges of being a brand-new single father, and now we're going to watch him grow even more. "Along with discovering who he is as a father, Ben is growing and maturing. He's also figuring out this whole side of his life, his love life that he hasn't really experienced before with anybody," Bilodeau says. "I think that eventually you're going to see a different side of Ben and I think that'll be more compatible with Riley." Who do you think Riley belongs with? Cast your vote in the comments below!
Don't miss the Season 2 premiere of Baby Daddy Wednesday on 8:30 PM on ABC Family!
Follow Leanne on Twitter @LeanneAguilera | Follow Hollywood.com on Twitter @hollywood_com
More:
Matthew Rhys Will Be The New Mr. Darcy In 'Death Comes To Pemberley'
'Who Gets The Last Laugh' Sneak Peek: Trapped In Parking Lot Purgatory
Rob Lowe To Play John F. Kennedy, Or At Least Bill O'Reilly's Version Of John F. Kennedy
---
From Our Partners:


Zoe Saldana Strips Down For Magazine (Celebuzz)


33 Child Stars: Where Are They Now? (Celebuzz)