'Bachelor' Ben and Courtney: What If She Wins?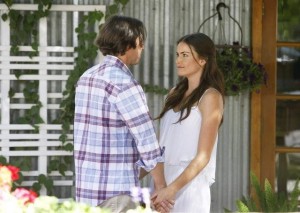 Season 16 of The Bachelor has proved to be one of the series' most controversial seasons to date thanks in large part to finalist Courtney Robertson. You can love her or hate her, but there's no denying this girl has become a dominate force in this year's string of bachelorettes, clearly standing out above the rest. And being that she's made it all the way to the final two, there's a very good chance she could actually win this thing — an outcome that would be a huge Bachelor upset.
We're talking about a girl who has created nothing but drama for her fellow female contenders and appears to see the show as more of a game than a chance to find true love. And yet Bachelor du jour Ben Flajnik seems completely enamored with her, despite the other girls' multiple warnings about Courtney's real intentions.
Sure we can turn to the age-old adage that claims "the heart simply wants what it wants," but it's doubtful Ben even knows exactly what he wants. Courtney is the polar opposite of Ashley Hebert, to whom he proposed to on the last season's finale of The Bachelorette. Either he has really diverse tastes in women or he has no clue what he's doing. But if he does, in fact, propose to Courtney in the end, it could mean serious trouble not only for his future, but for the show's credibility as a whole.
When Jake Pavelka became The Bachelor in Season 14, the show generated the biggest overall audience since Fall 2003, raking in an average audience of 12 million viewers per episode. However, during the finale, Pavelka created quite the stir by giving his final rose and an engagement ring to Vienna Girardi: a lesser version of Courtney. Since then, the series' popularity has steadily declined. The Brad Womack-starring premiere only received 9 million viewers during Season 15 and Ben's was even lower, earning a measly 7 million.
It's a bit of speculation, but these results seem to indicate that Pavelka's decision could have turned viewers off. The franchise prides itself on finding true love, and sure there's some drama along the way, but in the end viewers expect the best (and most likable) girl to win as a way to restore faith in series' credibility. So when the "bad girl" wins, it creates an uproar — a problem The Bachelor could face again if bad girl Courtney gets the final rose. And if the series suffers yet another substantial drop in ratings, it will definitely have a hard time recovering.
Everyone likes to see a contestant stir up trouble to keep the episodes meaty and interesting, but that same girl isn't supposed to get the guy. Viewers want to see a fairytale unfold; they don't want it to spiral out of control.
How will you feel if Courtney wins? Will you still tune in for future seasons?