'Bachelor' Finale Hits Ratings Low: Are Courtney and Ben to Blame?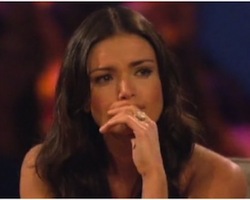 The finale of The Bachelor is always the show's highest-rated episode of the season, but last night's numbers were rather disappointing — not unlike Ben's Flajnik's pick. 
Last night's episode was watched by 9.1 million people, which is a considerable improvement over this season's low of 7.2 million. However, that's a 36% drop from last season's finale among the key 18-to 49-year-old group.
So, what caused the drop off? Some speculate that viewers never really connected with Ben. Or perhaps they just didn't want to tune in to see bad girl Courtney Robertson come out on top. It's also possible that the dip had nothing to do with the pair and their rocky relationship. The show lost its time slot to The Voice, which was watched by 5 million more viewers. 
Apparently America considers scoring a recording contract more prestigious than winning Ben's love.
Source: N.Y. Daily News