Arie Luyendyk Jr.'s 'Bachelor' Finale Blog: How It Felt to Be Lindsay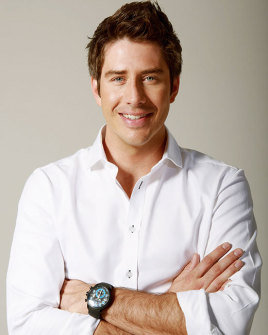 Last night for the Bachelor finale, I hosted a viewing party at Park West in Chicago. The turnout was incredible and the show didn't disappoint either. Jef also made a guest appearance — it was fun to watch our friend Sean get down on one knee. We have all watched his journey and during Sean's last night as a "Bachelor," he shared real emotion with us. He could finally let his guard down and tell Lindsay and Catherine just how he felt.
The dates for me were both amazing and I loved the time each of them shared with Sean's father. I think everyone watching at home wished they had Sean's dad as their father in-law. I think back on how it felt to meet Emily's parents and how nervous I was to talk with her father — you just want acceptance. I think Sean's dad really made each of them feel so comfortable and it was touching to see him and Catherine connect.
RELATED: 'Bachelor' Finale Recap: Married to Tears
Let's get down to the moment of heartbreak: Lindsay asked what every girl thinks but doesn't say and I loved her for it. "Was it me?" she painfully said as he let her go, and my heart broke for her. In that moment, your heart feels like it has tied itself into a knot. The breath leaves your lungs and all of a sudden the life you pictured vanishes and you're left with a huge amount of emptiness that is so hard to explain. I wanted to jump though the TV screen and give her a huge hug. I've been there, but standing up on the alter makes it that much more intense. Sean was more crushed to let Lindsay go than when Emily broke up with him. I could see that was extremely hard for him, but, sadly, that doesn't make it any easier. Hold your head up high, Lindsay. Life will have a way of rewarding you for being so open and loving. This is rare and don't let this change the woman you are.
Honestly, it's been hard to read Sean's connection with any of the women this season, but then again, it's Sean — he holds his cards close. I always knew he and Catherine shared a bond that was playful and unique. It was not until tonight that Sean could really reveal his true feelings, that I saw how much deep love he had for her. I have always told everyone how sincere and genuine a person he is and last night I was taken aback by how confident he was in their love for each other. I'm so happy for them!
RELATED: Sean Lowe Joins 'Dancing With the Stars'
The wedding announcement came as a surprise. But when you know you know. I honestly think these two are grounded and sincere and that's exactly why they will make it work above anything else and against all odds.
Sean, I wish you and Catherine the very best and I am really happy for you both. You deserve it!
RELATED: Desiree Hartsock Will Be Season 9's 'Bachelorette'
[Image Credit: Voorhees Studios]
---
You Might Also Like:


8 Male Stars With Tramp Stamps


Stars Who Have Lost Roles For Being Too Hot (Celebuzz)