'Bachelor Pad' Recap: Spell This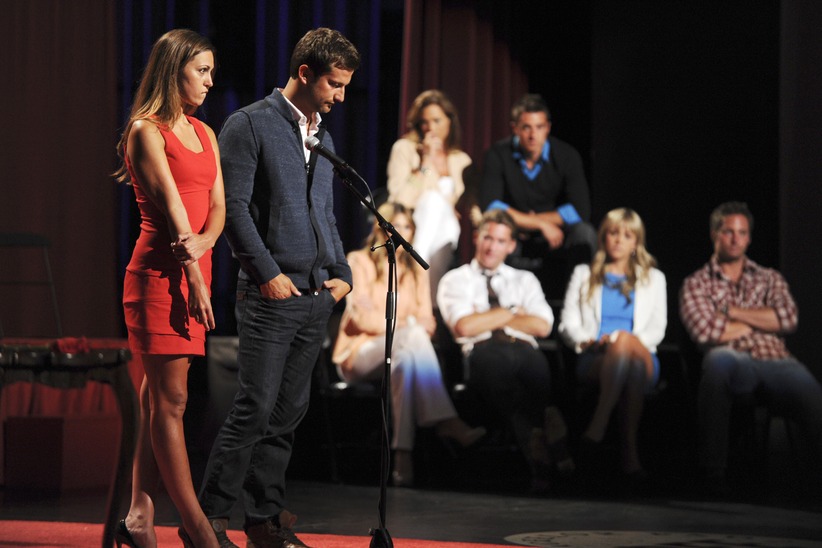 Bachelor Pad, Bachelor Pad, it's time for Bachelor Pad! Yes, I'm singing. And there are probably (there totally are) jazz hands involved. After last week's shocker of an elimination — Nooooooo Michael! — I'm actually pre-tty excited to see what drama is going to bubble over. Plus, all the promos for this week's episode feature the most intense spelling bee ever. I'm not ashamed to say that I watch the Scripps National Spelling Bee on ESPN every year. When the parents of those homeschoolers let them out of the cupboard they really know how to let loose.
But before we get to the promised spelling bee, Chris Harrison pops in to announce that from here on out, everyone will be playing as couples. Couples will vote together and leave together. Rachel is all, "Are you kidding me? You couldn't have done this last week?" And Nick is like, "Sheit, now I'm stuck with the crying girl." Sarah and Chris, meanwhile, can't believe they're still around (and neither can I). "Do you think people are upset that we're still here?" Sarah says. I am! I'm upset! Go home already.
Hey you guys! There's a school bus outside! We are getting so close to the spelling bee I can smell it. Ugh, you know what I just realized? This is Bachelor Pad, which means there's going to be a twist. Yep, there it is. The couples have to spell the words by alternating letters. This is going to be painful.
The first round of words is a gimme. The contestants power through words like love, rose, kiss, sexy, and heart. Round two, however, is not so easy. Engagement ring, jewelry, rose ceremony, obsessive, and elimination all trip up our geniuses. Ding! goes the bell with each wrong word. It's three strikes and you're out at the Bachelor Pad spelling bee, and all of a sudden it's down to Jaclyn and Ed vs Sarah and Chris.
Aphrodisiac — ding!
Philanderer — ding!
Boutonniere— ding!
Titillating— ding!
Flabbergasted— ding!
Entrepreneur— ding!
It's time for sudden death. First couple to spell a word correctly wins.
Soiree— ding!
Lascivious— ding!
Cockamamie— ding!
Serendipity
Chris and Sarah. UUUUGGGGGHHHHHH. And everyone is crying, myself included. Ed and Jaclyn get the consolation prize of a date, but no rose.
So here's the thing. As much as I can't stand Chris (and now Sarah), he must be doing something right. How is it that everyone in the house hates him and he's still there? The only answer is that his sneaky, swarmy ways are paying off. But, now that they're safe, this is the kind of conversation we have to sit through:
Sarah: I can't believe we won.
Chris: I can!
Sarah: Does this make us the smartest in the house?
Chris: We already knew we were the smartest.
Sarah: We already knew that, this just confirms it.
Sarah: We definitely are modest winners.
Excuse me while I gauge my eyes out with a blunt pencil.
Immediately following the spelling bee, gloating goats Chris and Sarah are swept into a plane and off to their romantic overnight date at a vineyard. They are snuggling and bragging and talking about nothing. It's scintillating television. Chris and Sarah "stumble" upon a picnic by the lake and decide to go for a swim. Good thing they're wearing their bathing suits under their cocktail attire. Like the Boy Scouts, contestants on Bachelor Pad are always prepared.
Back at the house… Rachel is a disaster. She spends an hour frantically applying concealer, but there's no fixing her puffy crying face. Nick is starting to realize just how f***ed he is.
On part two of Sarah and Chris' date (dinner! In a barn! With candles!) they decide to start talking about Emily. Christopher, honey, it's far too late for you to pretend to still be heartbroken over Mama Maynard. And it is far far far too late for you to redeem yourself in my eyes. You may be saying cute things now, but that doesn't mean you're not a dick.
As the sun sets on the Bachelor Pad mansion Blakeley, Jaclyn, and Rachel grab their snuggies, booze, and tubs of ice cream (okay not really, but they might as well) and reconvene by the pool to make some pliz-ans. They decide that Lindzi and Kalon have got to go this week. And whoa, they mean serious business, they are pinkie swearing. I kind of hope they can pull this off.
It's date time for Jaclyn and Mr. I-don't-want-a-relationship. I feel so bad for this girl. But there's no time to wallow in the pangs of unrequited love, because there is a biplane with their names on it. Not literally. The plane lands on some mystical island. Are we still in California, Toto? I stopped paying attention, and I have no idea what California looks like.
(Back at the mansion, we watch Tony and Blakeley have their own date on a blanket in the driveway, but this coupling is just too weird for words so there's no need to linger on it.)
Time for serious talks at the picnic for Ed and Jaclyn. Ed drops a major bomb: he has a lady friend back home. Poor Jaclyn is devastated, and I really can't blame her. "If I had known, I wouldn't have acted that way," she says. Which is code for, "You gigantic douchebag, I wouldn't have done the dirty with you and basically help you cheat on your sorta girlfriend if I had known." But they don't stop there. One outfit change and later, the two are arguing over dinner.
Jaclyn: I don't want to look like a whore.
Ed: I don't want to look like an asshole.
Jaclyn (again): I don't want to look like a whore.
Ed then tries to rationalize why it's okay for them to sleep in the same bed every night but not be a Bachelor Pad couple. Against her better judgement, Jaclyn decides to say screw it and continue to, well, screw him.
The ever-changing Facebook status quality of Jaclyn and Ed's unraveling relationship was so compelling, the producers decided to cut out the part where they furthered the game by giving Jac and Ed roses. Jaclyn and Ed don't get to keep the roses, though, they have to choose another couple on which to bestow immunity. Cue the a** kissing. To a swelling score of classical music, each couple pleads their case to the great and mighty Ed and Jaclyn. "Oh, spare us from cruelty! D!eliver us immunity! Bequeath us the all-powerful rose!" they chime. Much to Chris' chagrin, Ed and Jaclyn choose to give the rose to Blakeley and Tony.
And that brings us to the rose ceremony. Old married couple Lindzi/ Kalon and newbie pair Rachel/Nick are on the chopping block. Kalon is trying to be sneaky (again) and "plant seeds" of sending Rachel/Nick home to the other players. I have a sneaking suspicion this is going to backfire, if only because things never turn out how the "masterminds" envision it. Exhibit A: Michael Stagliano.
Chris Harrison calls out the couples who will be staying:
Jaclyn and Ed
Rachel and Nick
So Kalon and Lindzi are going home. They climb into their separate limos, and Lindzi is pretending to worry that she is never going to see Kalon again. "Stop the limo!" Kalon yells to his driver, who I'm not even sure is in the car yet. He bounds out of his still-parked limo and climbs into Lindzi's. They're in love! They're the winners in this game because everyone else is a loser they found love in a hopeless place.
(What's the over/under on their relationship? Three months?)
Follow Abbey Stone on Twitter @abbeystone
[Photo Credit: ABC]
More:
'Bachelor Pad Recap': Love Don't Come Easy
'Bachelor Pad' Recap: Survey Says, Love's a Game