'Bachelor' Recap: Love is a Battlefield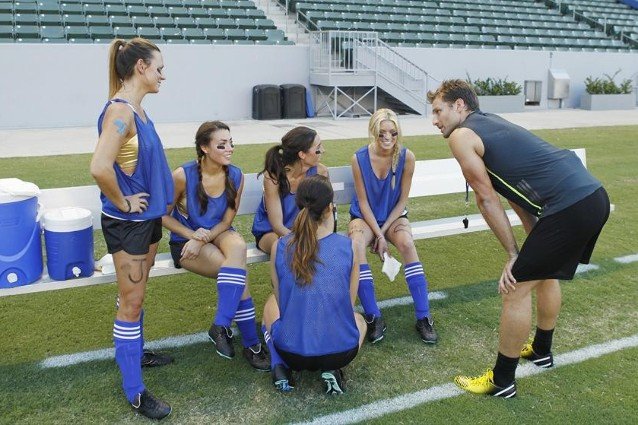 ABC Television Network

Here's the burning question everyone wants an answer to, or maybe it's just the people on my FB feed because all the men in my life love them some boys: Is Juan Pablo a homophobe? Well, that depends. Does calling gay people "more pervert in a sense" make you an idiot? Absolutely. Was it taken out of context? Probably not. He said that while he respects LGBT parents (point Juan Pablo), he doesn't "think it's a good example for kids who watch that on TV." Right, because a man swapping spit with eight drunk girls a night makes such a great role model. Dimwitted comments aside, Juan Pabs could be onto something. Check out this brilliant satire of gay bachelordom from Jesse Tyler Ferguson and George Takei. Only, it's okay for them to mock the situation because they're actually in the tribe.
Juan Pablo, going forward, please restrict your interview topics to empanadas and soccer cleats.
Now, let's get back to that highly moral show.
Cassandra's Date: The One Where All Expenses Were Spared 
Just in case it didn't click the four times she repeated it, this one-on-one was Cassandra's first date since she was 18 (so, since her baby daddy). To celebrate the occasion, JP took her on land and sea in a sexed-up duck boat and then back to his house for a no-frills dinner. Guess she's not worth an ice rink or a private concert. Over his "secret" pasta, she unveiled her dead mama drama. Lacking topics to chat about, JP gives her – the ex-pro dancer – a salsa lesson. Actually looks like she needed it. In the end, Juan Pablo, who was just about hitting puberty when young Cassie was born, rewards her the rose on behalf of her hotness.
Group Date
Kelly, Renee, Sharleen, Danielle, Alli, Lauren, Andi, Christy, Lucy, and Nikki take to the turf so they can watch Juan Pablo be cute playing soccer. A ball whacks Sharleen in the head but she keeps playing because she's a great sport. Or robot. Juan Pablo sucks face with Andi in a kitchen. Then he makes a mid-field picnic for Sharleen – victim of ball abuse – so all the pissed-off ladies can watch them have what appears to be the worst kiss in Bachelor history. Sharleen wonders why this process doesn't feel "organic." You want a normal date, Shar Shar? Get off the show. "I don't feel secure in my connection with him. It both surprises and bothers me that I care as much as I do," said the automaton. Nikki, one of the gals he hasn't groped, gets the rose. The lesson? Keep your tongue in your mouth, ladies.
Chelsie's Date: Binge Eating and Bungee Jumping 
They force-feed each other fried cheese and then head to the nearest bridge. Chelsie has a panic attack, because a) why would you hurdle yourself off a perfectly good bridge and b) she just wolfed an empanada. "Do it for me," he pleads, sweetly encouraging her to risk death for a cheap stunt. It works and off they plunge. He steals an upside down Spiderman kiss. Hopped up on adrenaline and a solid misattribution of arousal, she says, "Thanks for talking me off that ledge." No, Chelsie. That's not how that saying works. For dinner, she's treated to a candlelit City Hall-scape and then yet another concert by a band no one has ever heard of.
The Pool Party:
In a deft move, Juan Pablo goes to the mansion early to cook the girls breakfast and peep them without makeup. As luck would have it, most of them looked adorable in their eye glasses, skank morning breath and "piyamas." The chicas who were late to rise were warned that JP was in-house so they'd have time to apply foundation. That's sisterhood. Instead of a proper cocktail party, the crew transitions to the pool for some day drinking. Sharleen gripes that she isn't in her element. "My soul wants to be left alone." Good grief, woman. More unappetizing fishy kisses follow.
And the roses go to:
Andi, Renee, Kelly, Sharleen (rocking a seriously unladylike boob window), Elise, Kat, Alison, Clare, Lauren, Danielle
R.I.P
Naked Lucy (I'll actually miss her a smidge) and Christy, who I've never seen before.