'Bachelorette' Finale Recap: Emily Maynard + Jef Holm = ?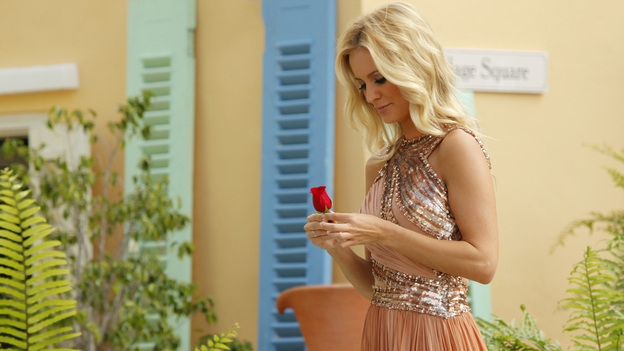 It's been a long, teary-eyed, awkward trip to love for Emily Maynard, but at last, we know who the man is for her. And no one is really surprised here, right? I mean if this has been a few weeks into the season and you told me that (SPOILER ALERT) Jef With One F was the dude she'd end up with, I would've thrown his skateboard at you and laughed and laughed and laughed. Barbie Emily with Wannabe-hipster Jef With One F? Ha! You slay me, ye fools! Because obviously her one true reality love was Arie! But It's not May, it's July and Jef With One F is the only be-pompadoured dude for her.
The show's set-up is super bizarre this go around, as the "After the Rose" special will be preceding the episode, live. So, we have Chris Harrison workin' overtime this week with random interjections from his life studio audience in Los Angeles bookending commercial breaks.
So let's get right to it, America! According to television scientists and Chris Harrisons everywhere, this very finale is apparently the most anticipated television event of the summer you guys! And what better way to start off the television event of the summer than with two terrible meeting-of-the-parent segments? Yeah? OK! Both of the dudes met Emily's parents, her brother, and future sister-in-law. First up was Jef, and everyone seemed well and smitten with Jef's soft-spoken charm. And then it was Arie's turn! And guess what…everyone likes him, too! Though some more than others: Suzy (Emily's mom) thought he was going to be kind of a d-bag, but Ernie (Emily's brother) had such a boner for Arie it was hilarious. You KNOW after it was all over he sheepishly asked Emily if he and Arie could like, hang out or whatever. Hashtag BROMANCE, amirite?!
Both of the dudes ask for–and get–permission from Emily's dad to ask for her hand in marriage. Which is a nice thing. And though Emily is mad that her family won't give her a straight answer as to who they like better (they're both just so great! But different! Hey Emily, can Arie take us to some races?! Be quiet, Ernie!), her dad believes that you cannot love two people at once–though Emily disagrees. She does say that she loves them both in different ways, which, duh: with Jef it's all cupcakes and puppies and with Arie it's all bedknobs and broomsticks (and I mean that as a total euphemism).
The next day is her day-long date with Jef. He gives Emily a book about Curacao! And he drew a bunch of stick figures of them together on some of the pages! Jef With One F is so twee he could probably beat Zooey Deschanel in a Quirky Cute-Off. In a totally surprising moment, Emily decides that Jef should meet Ricki after all. Now if that didn't solidify for everyone that she was picking Jef, I don't know what would've. Homegirl knew that Jef was the dude for her and she wasn't going to introduce Ricki to anyone she wasn't totally sure she was going to have in her life for the long-term.
So the next day comes the moment that I TOTALLY CALLED in last week's recap, you guys! (Now who's going to send me those Samoas, America?) Emily loves Jef, and knows that Arie's time is up. But! She just doesn't know how to talk to Arie about all this. She cries! A lot! The mention of Arie's name sends her into an emotional tailspin, since she knows the right thing to do is to send Arie home before the final rose ceremony.
Also can we have a moment for what a weird crier Emily is? She's all like, awkward smiles with a hint of grimance. That flipper of hers is really front-and-center, huh?
So off Emily goes, to meet Arie in what he thinks is going to be his day-long date. He's created a love potion he wants to give her! (Oof; this is like that time Doug kissed Emily when she was breaking up with him.) After about thirty-six seconds of weird banter about the love potion, Arie realizes something is wrong. Not like it was hard, since she was a total snifflebot the second she got out of the car. Homegirl was a geyser this episode, jeez. Anyway, She can't even say it, which really annoys me. She can't even man up enough to tell Arie the words "I've fallen in love with someone else, and that love is more than the love that you and I had." Which, I think, is cowardly. I understand that Emily is a people pleaser, but people need closure, man. Instead, Arie just had to know what you meant through all the tears, which sucks. I'm glad she told him all ahead of time, but she should've, you know, actually said the words rather than just cry and say she was sorry.
Needless to say, Arie is shocked, and gets a bit teary himself. The poor dude is truly heartbroken. Emily tries to console him by saying a bunch of inconsequential things like "I thought it was you from the beginning" and "I always thought it was going to be me and you." Yo, Emily, this doesn't help anything–if anything, you're just making it worse for Arie. You're not softening the blow, you're twisting the knife he's about to fall onto by doing that. Girls of the world: just be honest. Just say what you feel. It sucks in the moment, but ultimately is better for everyone. Don't be scared of saying the words you need to say, y'all. That person deserves your respect and to hear your words. OK, now that my romance advice guide is over, let's go back to the heartbreak hour! When the two hug goodbye, you can hear someone's heart beating very fast–I'm betting it's Arie's. At one point in the car ride confessional, he admits that he feels stupid and naive. Aww, Arie boo, c'mere and let me console the s**t out of you. He really handled that like a gentleman, I think.
So then it's the end! We're at the proposal! We know what's going to happen so it's all very anticlimactic, isn't it? Jef With One F proposes and Emily waits ten seconds before saying 'yes' and Ricki shows up and they stroll along the streets together to the sweet, sweet sounds of Peter Cetera. (Seriously, could the music on this show BE any cheesier? It's like a damn fromagerie up in this show.) They even do the walking in slow-motion!
Then it was onto the live portion of the evening! Emily would have to face Arie, and we'd see the marmoset couple in public for the first time ever! And actually learn a tidbit or two (I know! I was as surprised as you are that we would learn anything new!) Emily came out all googly-eyed happiness about her engagement, but that wouldn't last for too long, as Arie was the first dude to come out and chat with Emily and Chris first. When it came to getting closure on the two of them, Arie said that "watching [the show] really helped" and that "it was good for me" to get that. He stands by the fact that he was "completely taken by surprise." But Arie wasn't without criticism of Emily, explaining that he wished "she could've just said [what she'd said to Chris earlier] to me … that would've helped." Emily asserted that she was trying to protect him. Which, he is a grown-a** man, Emily. He doesn't need protecting, you know?
Anyway, the juicy bit came next, when Arie revealed to everyone that he was so upset and wanted closure off-camera, so he flew to Charlotte. Homie say what?! And ABC didn't know about it! SCANDAL! TWIST! But, unfortunately for us, he got to Charlotte and realized he had too much respect for Jef, and for Ricki to put Emily in a bad position. "It didn't feel right," he explained. Instead, he left Emily the journal she suggested he keep while on the show, and went home. But! Emily didn't read it, and Arie looks slightly annoyed at first. In the moment, Arie thought he could change things. But did he end up getting closure? Yes, but not from Emily! What?! Well, you see, Jef and Arie actually spoke (the two are admittedly buds) and Jef helped Arie get through his heartbreak. Wow. Anyone else really sort of annoyed that Emily couldn't just nut up and talk to Arie like an adult? Maybe?
Anyway, Emily and Jef are so super in love! And they're going to Africa! Jef is moving to Charlotte! They're getting married in Charleston, SC! Which is perfect, because that means I can have my mom and sister give me all the gossip. Oh and Jef's parents can be there since their "prior church commitments" (aka Mormon Mission!) have them in that area anyway.
The best (worst?) part of the show were all the awkward live-shots (and integrations! did you hear the plugged-in audience laughter during the proposal? So awkward, guys!) were. Those women looked like they just watched their puppies get shot in cold blood in front of them when Arie was sent home. Why so serious, you guys?! Did Chris Harrison actually kill something on stage to get that reaction? Over the top doesn't even begin to cover it. Former Bachelorette Ashley Herbet was also there with her still-engaged manfriend J.P. (glad those kids are really makin' it work), as well as a few other rando has-beens to remind everyone that Bachelor Pad starts tomorrow. Hooray integration!
Overall, it was an interesting season. In the end, Emily was certainly one of the most respectable bachelor/bachelorette contestants on the show: she stuck to her guns, kept her daughter at the forefront of her mind, and always made decisions with Ricki's best interest in mind. And like Jef said before, he's ready for a family and he "can't wait to be a dad and I can't wait to spend time with my kids and have a family."
What do you think about Emily's choice? Do you think Jef and Emily are built to last? Are you happy with this season of The Bachelorette? Have you ever heard of pink gold before? (Seriously, Neil Lane, can you send me a pink gold ring? What's the difference between that and rose gold? Girl's got questions and a love for baubles.) Sound off in the comments!
[Image Credit: ABC]
Follow Alicia on Twitter @alicialutes
More:
'The Bachelorette' Men Tell All: Much Ado About Nothing
'The Bachelorette' Recap: The Crying Game
'The Bachelorette' Recap: Homeward Bound