'Bachelorette' Scandal: 5 Things to Know About Arie's Secret Girlfriend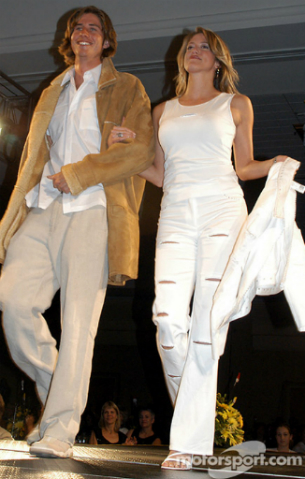 Nice-guy race car driver Arie Luyendyk, Jr has been one of Emily Maynard's frontrunners since the first episode of 
The Bachelorette
 (we all know how Emily loves the NASCAR circuit). 
But, on tonight's episode, she finds out that Arie hasn't been completely honest. In fact, he's been hiding a secret ex-girlfriend — right under Emily's nose. 
The other woman at the heart of the scandal is a Bachelor and Bachelorette producer named Cassie Lambert. Who is she? Here are 5 things to know: 
1. Arie and Cassie dated briefly in 2003. 
2. She's engaged to another fellow Bachelor producer, Pete Scalettar. And the show's host Chris Harrison will officiate the ceremony. Must have roses. And dramatic music. 
3. She looked great with Arie (evidence at left: a photo of the then-couple from Motosport.com).
4. She's a do-gooder. She's a co-founder of the charity
@Drop in the Bucket
, which helps kids in Africa by building wells and sanitation systems in schools. 
5. She once worked as a field producer for BBQ with Bobby Flay. And you know what they say: If you can't take the heat, get out of the Fantasy Suite.